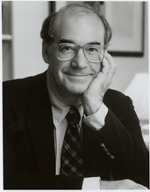 Journalism
Haynes Johnson, an appreciation
Haynes was not just the best of the old school but of any school, a shoe-leather reporter before most of today's reporters were born, a giant in political journalism whose work shaped the nation, a devoted teacher who went out the way he wanted to, working to the end.
He was a Washington Post powerhouse, a frequent best-selling author, a TV analyst and a Pulitzer Prize winner for his civil rights coverage. But in the decade I worked with him, I never heard anyone call him anything but Haynes. His work took him to the top of America. But he was always down-to-earth. This week was no exception. Not quite 82 years old, he finished the semester at the Philip Merrill College of Journalism. On Monday, he went to graduation ceremonies. But by Friday he was dead.
Many will cover the details of his career. I'd like to focus on Haynes the professor. Haynes was a Knight Chair, holder of one of only two dozen such positions across the country. As such, he wrote us every year about his activities and thoughts about journalism.
Last year, he taught a class on presidential elections, using multimedia tools to show how they'd changed in the more than half-century since he'd become a reporter. His students looked critically at the coverage, comparing the 2012 treatment of issues such as race to the elections of the 1960s.
Excerpts from his final report to the Knight Foundation:
"I believe that journalism has become drastically focused on sensationalism in its reporting. Unfortunately, during the presidential campaign this issue was present … my students wrote about [it] extensively. That said, there are many great talents thriving in the field, which is what excites me the most. Seeing young reporters practicing traditional news values and developing great skills in engaging the public is a hopeful perspective."
"The most important factor in my classes is to have students discuss issues as if we were running a newspaper. … Journalism students here at the University of Maryland … apply what they've learned in the classroom to real-world reporting scenarios, often working beside and in competition with professional journalists."
"During the presidential election I realized how young reporters such as my students are using social media. Ignoring these significant changes will isolate those who are not skilled in new media. I find that traditional news values can only be respected if journalism schools integrate those values with new news reporting skills."
Haynes was born in 1931, when the hot new media technology was radio. He adapted and thrived through television, the internet and social media.
Most journalists would be happy with one best-selling book, never mind winning a Pulitzer for civil rights reporting that helped change a nation. But it wasn't enough for Haynes. He had six best sellers. And in winning that Pulitzer he became the first journalist in history to be a second generation winner, following his father, Malcolm Johnson, whose New York Sun series later became the movie On the Waterfront.
It boggles the mind to imagine what our communities and our lives would be like if every journalist could be that good.
Recent Content