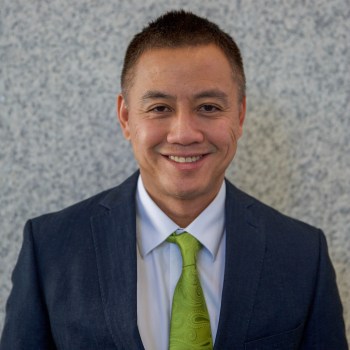 About
Kenny Ma joined Knight Foundation in October 2019.
Ma has more than 20 years of experience as a journalist and communications leader in higher education. Before joining Knight, he was the director of media and public relations at Portland State University. In that role, he led a team focused on delivering impactful stories about the university's research in areas such as climate change, as well as its role in developing and transferring technology from the lab to the marketplace and supporting entrepreneurs. His memorable team projects include the development of urban heat maps in Portland, Washington D.C., and many other cities; collaboration with NASA to livestream the 2017 solar eclipse across Oregon with high-altitude balloons; and construction of sleeping pods in the city to address homelessness.
Ma has also worked at The University Texas System, Nova Southeastern University and Lawrence Livermore National Laboratory, part of The University of California System. He led efforts to raise awareness of research, such as finding a cure for Zika; develop new technologies, including neural sensors to record and restore active memory; and commercialize lab technology into startups by connecting industry investors to researchers.
Ma began his career delivering his hometown newspaper, the Honolulu Star-Bulletin. He later became a reporter for newspapers including the Los Angeles Times and Orlando Sentinel, covering local news on beats such as politics, education, social services and minority affairs.
He holds a bachelor's degree in economics from the University of Hawaii and an MBA from Nova Southeastern University.