At Knight Foundation, we see digital storytelling as essential to engagement in the 21st century. Digital and mobile technologies are helping democratize storytelling, providing new platforms and new perspectives for journalism, community engagement and the arts. As platforms evolve, we are exploring the challenges in access, techniques and ethics for newsrooms and for residents in telling their stories in the digital age.
DIGITAL STORYTELLING IS INTERACTIVE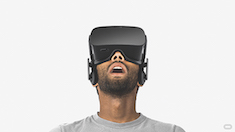 report
Journalism underwent a flurry of virtual reality content creation, production and distribution starting in the final months of 2015. INTERACTIVE LINK Viewing the Future? Virtual Reality in Journalism, report by Patrick Doyle, Mitch Gelman and Sam Gill on Medium.com, 3/13/2016 "Virtual Reality in journalism: New report provides an overview of a growing platform for […]
Viewing the Future? Virtual Reality in Journalism
VIRTUAL REALITY FOR JOURNALISM
In 2015, Knight gathered journalists, technologists and educators to discuss virtual reality storytelling for journalism at SXSW.
DIGITAL STORYTELLING IS ABOUT MEETING AUDIENCES WHERE THEY ARE
REPORT
DIGITAL STORYTELLING IS ABOUT MORE THAN JOURNALISM
NEWS CHALLENGE
Through efforts like the News Challenge and Prototype Fund, Knight has funded innovators in data, mobile tech, journalism and libraries that often address digital storytelling techniques.
Grants
article
Vicki Krueger is director of interactive learning at The Poynter Institute, where she manages News University, an online journalism and media training program that launched in 2005 due to funding from Knight Foundation, which has provided substantial ongoing support. For a decade, journalists and the educators who teach aspiring ones have turned to Poynter's News […]
Poynter's NewsU reimagined: Training for anyone, anytime, anywhere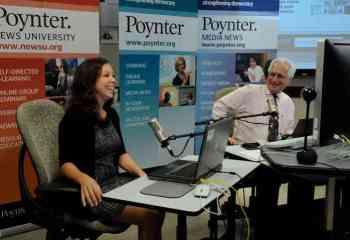 article
Knight supports The Poynter Institute's NewsU to enhance journalists' digital skills. Here Vicki Krueger, its director of Interactive Learning, highlights some of its accomplishments. Above: Ellyn Angelotti, faculty, Digital Trends and Social Media; and Howard Finberg, director of Training Partnerships, Alliances and Founding Director of Poynter News University. Photo Credit: Jim Stem. With more than 275 training modules and users in more than […]
Teaching journalism skills in the digital age