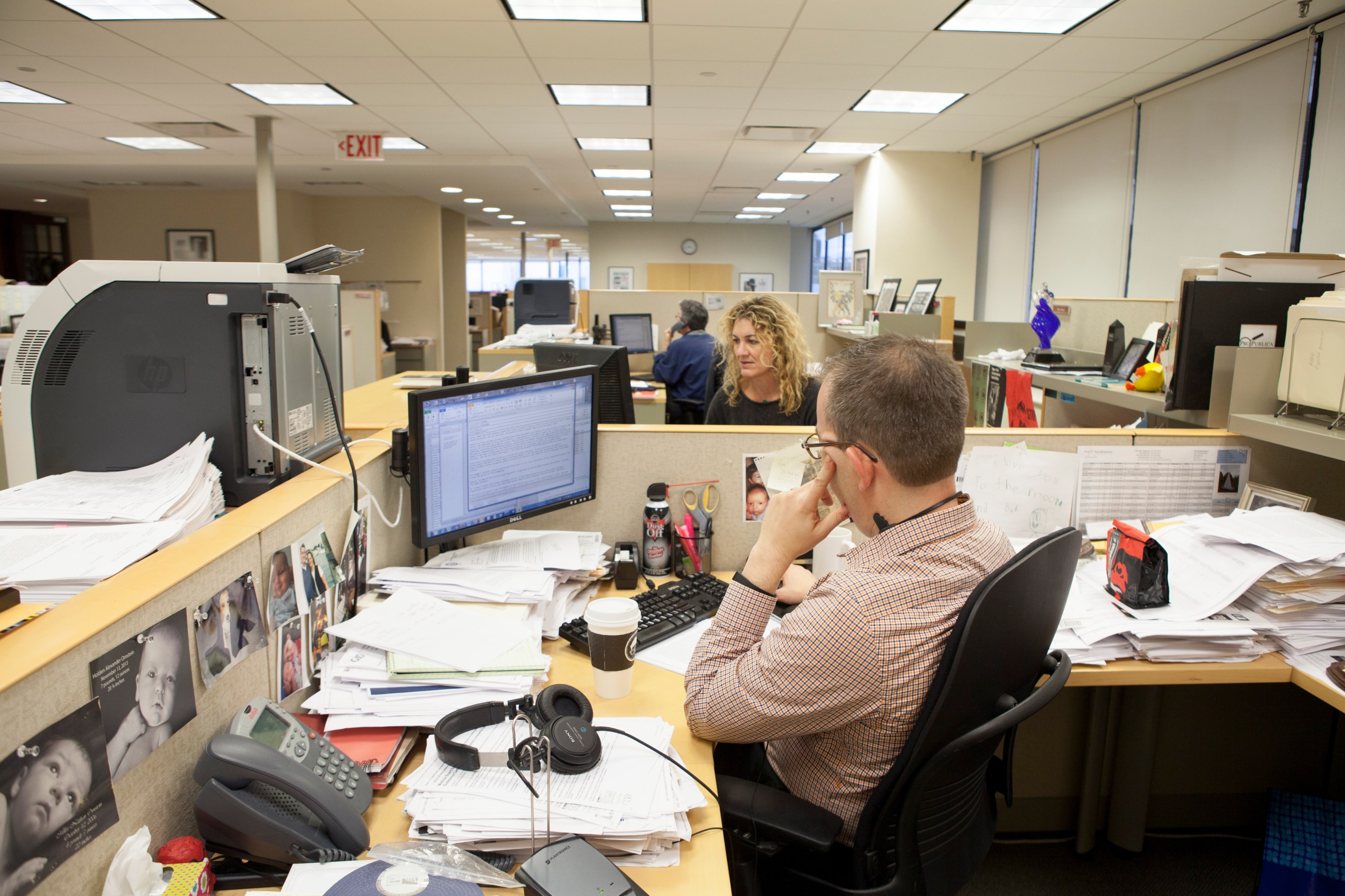 Journalism
A community of news: ProPublica expands crowdsourcing, exchanging expertise with other newsrooms
Amanda Zamora is senior engagement editor at ProPublica, which Knight Foundation supports to advance excellence in journalism and to help news organizations inform people in communities of all sizes through experimentation, innovation and leadership. Above: Charles Ornstein and Tracy Weber at work. Photo credit: Lars Klove for ProPublica.
Over the next year, with the support of Knight Foundation, we will be working to improve how we engage communities to help us create journalism that spurs change.
From our inception, two things have distinguished our journalism: our focus on deep, investigative reporting and our use of data to explain how systems meant to serve the public can often fall short. We employ classic investigative reporting and big data techniques to both expose problems and illuminate potential remedies.
ProPublica reporter Marshall Allen and Deputy Data Editor Olga Pierce are great examples of this strategy in action. The pair spent the better part of three years investigating the root causes of patient harm in U.S. hospitals (the third-leading cause of deaths in America, by one estimate), talking to hundreds of medical providers and patients and poring over tens of thousands of medical records to eventually produce Surgeon Scorecard. For the first time, patients can explore the complication rates of nearly 17,000 surgeons to determine a possible likelihood for mistakes before they entrust their lives to a doctor. A key ingredient in making this project possible? Our community.
ProPublica launched its patient safety investigation with a call for help that has now garnered more than 1,000 responses from patients and their loved ones. Many of these readers are also active in our 3,000-member Facebook group, an open forum for people impacted by patient harm to connect with one another. Doctors and academics lent us their expertise as well, helping to model our complication rate data in the most responsible and useful way possible.
At a time when the news industry mostly measures engagement in clicks, shares and retweets, it's awe-inspiring to see the way ProPublica's patient safety community has grown. When the Senate convened a hearing last year on the persistence of preventable deaths in U.S. hospitals, patient advocate Kathy Day was quick to notice two of the panelists were fellow members of ProPublica's patient safety community.
Which leads me to a third thing that distinguishes ProPublica: For us, engagement is as much about cultivating communities as it is about getting people to click on our stories. It's no secret that ProPublica's chief goal is impact. We want our journalism to make a difference, and we see our community as active collaborators in that mission.
As journalists, our role is to gather the news and report it as objectively and artfully as possible. But anyone watching knows our journalism isn't contained to the pages we produce each day. Our readers are grateful for the work we do, but they want to know what can be done to make things better. They're clamoring for action.
One way we facilitate action is by asking people to tell us what we don't know. These "callouts" are a standing feature of Get Involved, which offers our readers the opportunity to share stories, to connect with us and with each other. With more than 10,300 contributions since 2009, our callouts have become a growing resource for our reporters and the backbone of our community-building efforts. We hear regularly from people thanking us for simply taking an interest in them. People who want to get their stories out. People want to see change.
Which leaves us asking ourselves: How can we do better by those who entrust their stories to us? How can we channel their passions and perspectives into meaningful action? And how can we connect readers not only to each other, but also to our colleagues collaborating in newsrooms across the country?
We'll be tackling these questions over the next year with the support of Knight Foundation, which is helping us expand Get Involved to better engage communities, online and off, in creating journalism that spurs change.
One of our first areas of focus will be our partners in journalism. We're not the only ones enlisting the help of audiences to tell important stories. The Guardian's crowd-sourced police shootings project, The Counted, is just one recent example. There are many collaborative journalism efforts in the United States and around the world that we hope to both learn from and share with our community. With Knight's help, we'll be open-sourcing even more resources from our own investigations, but also facilitating outreach among fellow journalists using digital tools to tell stories with and for their communities.
We're starting today with the creation of the Crowd-Powered News Network, a forum for journalists and others proactively engaging communities in storytelling to share ideas, practical support and best practices.
Recent Content