Christine Amer Mayer
Trustee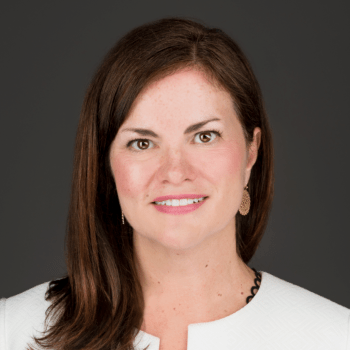 About
Christine Amer Mayer was elected to Knight Foundation's board of trustees in September 2016. She serves on the Governance and Program Committees.
Mayer was named president of GAR Foundation in Akron, Ohio in 2012. An Akron native, she practiced commercial litigation and business law for eight years with Buckingham, Doolittle & Burroughs before joining GAR in 2001 as a program officer.
Mayer is the immediate past Chair of United Way of Summit County, where she remains involved in its transformation to a community impact model. In recent years, she has focused considerable efforts on Summit County's arts and cultural assets, helping to lead the Summit County Arts and Culture Assessment. That countywide study led to the creation of ArtsNow, a sector-strengthening initiative for which she served as a board officer for the past six years. She is also involved in economic development work, sitting on the steering committee of the Elevate Greater Akron effort, on the Akron Growth Council, and on the executive committee of Fund for Our Economic Future.
Inside Business magazine has named Mayer to its Power 100 list six times. She was named a 2019 Woman of Note by Crain's. Mayer has received the Summit County Historical Society's Woman of the Year award and the Project GRAD Akron 2019 Community Service Award.
Mayer earned a bachelor's degree in English from Duke University and a law degree from The Ohio State University.