 Assets and grantmaking
| Year | Assets | New Grants | Approved | Payout |
| --- | --- | --- | --- | --- |
| 2022 | $2,529,635,008 | 270 | $128,159,492 | $114,141,000 |
| 2021 | $3,089,444,600 | 358 | $95,853,815 | $114,231,066 |
| 2020 | $2,674,252,731 | 381 | $71,731,889 | $123,809,334 |
| 2019 | $2,424,843,251 | 488 | $155,146,399 | $133,711,354 |
| 2018 | $2,271,386,220 | 425 | $157,028,547 | $105,335,420 |
| 2017 | $2,473,340,121 | 623 | $88,528,014 | $117,929,820 |
| 2016 | $2,256,756,854 | 482 | $93,859,603 | $127,865,430 |
| 2015 | $2,301,502,477 | 599 | $150,688,190 | $126,796,384 |
| 2014 | $2,443,818,246 | 531 | $148,564,966 | $130,284,911 |
| 2013 | $2,395,608,862 | 434 | $80,483,204 | $120,694,865 |
| 2012 | $2,179,634,480 | 414 | $92,352,685 | $112,063,584 |
| 2011 | $2,192,836,756 | 380 | $77,999,962 | $112,604,594 |
| 2010 | $2,305,269,825 | 318 | $79,299,067 | $104,920,549 |
| 2009 | $2,191,136,614 | 276 | $141,693,088 | $105,887,097 |
| 2008 | $1,972,507,394 | 263 | $140,243,278 | $116,206,414 |
| 2007 | $2,618,700,006 | 290 | $162,068,078 | $121,267,122 |
| 2006 | $2,342,624,401 | 191 | $73,479,294 | $104,310,000 |
| 2005 | $2,142,876,996 | 286 | $78,224,147 | $92,577,000 |
| 2004 | $1,939,340,905 | 329 | $98,274,880 | $90,358,608 |
| 2003 | $1,845,869,048 | 349 | $119,795,670 | $90,400,477 |
| 2002 | $1,718,236,238 | 459 | $80,949,242 | $85,617,981 |
| 2001 | $1,900,829,942 | 319 | $86,433,075 | $85,569,297 |
| 2000 | $2,198,985,122 | 356 | $93,365,465 | $69,983,125 |
| 1999 | $1,888,543,168 | 311 | $69,541,641 | $53,142,772 |
Target Asset allocation (12/31/2020)
45% Global Public Equity

25% Private Investments

15% Hedge Funds

10% U.S. Core Bonds

5% U.S. TIPS
Diversifying investment management:
Woman- and minority-owned firms currently manage 37% of the Knight Foundation endowment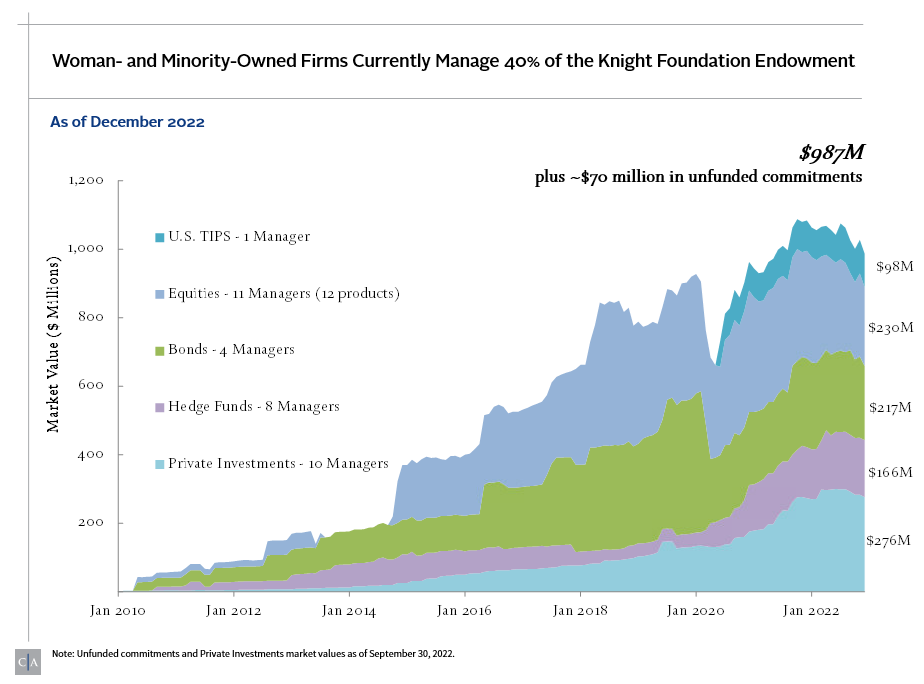 Since 2010, Knight Foundation has intentionally sought diversity in the ownership of the asset management firms where it invests. As of December 31, 2021, the foundation had invested $1.07 Billion, not including approximately $50 million in unfunded commitments, with firms that are substantially- or majority-owned by women or minorities, representing 37 percent of its endowment.
Summary of Knight Foundation Woman- and Minority-Owned Managers


Research
---
Financial Resources
Tax returns ( Form 990-PF )
Tax Return Investment Appendices
As required by the instructions to the 990PF tax return, Knight Foundation provides a detailed list of all its investment managers investing in Corporate Stock (Part II, Line 10b), Corporate Bonds (Part II, Line 10c) and Other Investments (Part II, Line 13) and the fair market value of those investments.
Though it is not required in preparing the tax return, but in an effort to provide additional transparency, the Foundation has prepared a separate INVESTMENT APPENDIX that provides a detailed list of its investment managers with balances in Savings and Temporary Cash Investments (Part II, Line 2), U.S. and State Government Obligations (Part II, Line 10a) and Other Receivables (Part II, Line 15).
Audited financial statements
More information