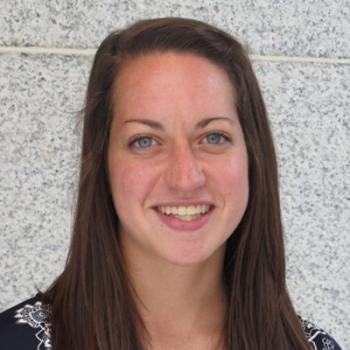 About
University of Notre Dame '12, English and Political Science
Hometown
Eden Prairie, Minnesota
Class
Summer 2012
Elise Garton joined the Knight Foundation as a 2012 summer intern in Strategy and Assessment. She spent a semester abroad in Toledo, Spain, which led to a research focus of immigration and integration in Western Europe. Elise has previously interned at the Inter American Press Association. She is a Minnesota native.
In Elise's Words: After interning for a former Knight Foundation grantee last year, I wanted to see if the grass was greener on the other side of grant-giving , which led me to the Strategy and Assessment department at Knight Foundation. As part of this team, I help design, implement, and disseminate evaluations of some of Knight Foundation's largest projects. Our goal is to help the Foundation, our grantees, the wider network of philanthropic organizations, and the public learn as much as possible from our work. Every day brings something new – I've researched and designed metrics for grantees, planned large-scale evaluation projects, helped other Knight Foundation departments determine their own strategies and visions, and created blog posts, reports, and infographics to share our findings with the public.
The initial perks are obvious: Knight Foundation provides a paid summer internship in a dynamic and highly networked field, an opportunity to contribute meaningful and interesting work, and a pretty amazing ocean view from the 33rd floor of a downtown Miami office. Beyond all that, however, the best part of my experience here at Knight Foundation has been the people. I earn from and collaborate with dozens of intelligent, engaged, and exceptionally passionate staff members. That passion is infectious and I've found myself fascinated by everything the Foundation does, from metrics design to communications outreach to endowment management. And even better, those staff members are willing to share their interests and expertise with me and encourage my exploration.
As for my initial curiosity regarding the differences between working for a traditional nonprofit and a large philanthropic organization, I still haven't come to a concrete conclusion. Both internships have taught me a great deal and I remain interested in a future career in either type of organization – but there is definitely more free food at Knight Foundation.