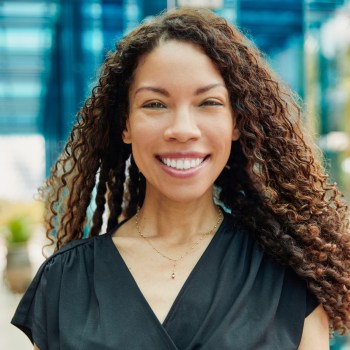 Convenings Project Manager
About
Jeannine Escobar joined Knight Foundation in 2023 as convenings project manager. She brings over a decade of industry experience across digital content creation, new product development, and brand management for lifestyle brands domestically and internationally. In her role at Knight, she proactively partners with departments to orchestrate internal and external convenings from conception to completion.
Although Jeannine is a Miami native, an extended tenure in London, England after graduate school led to her serving on creative teams that launched digital products for a UK-based media publisher, one of which included a news project with Google UK. She oversaw the launch of the initial digital edition of the Stylist Magazine app, which debuted at number one in the Apple App Store UK. The app was later awarded launch of the year at the Digital Magazine Awards and shortlisted at the Professional Publishers Association digital awards.
Jeannine led the strategic brand management team responsible for launching one of Europe's best-selling beauty cosmetics brands into the US market. She also worked for The New York Post, re-launching the news app with enhanced functionality, optimizing the user experience across devices. She has served as a creative consultant for award-winning brand innovation projects with Time Out North America and Booking.com.
Prior to joining Knight, she oversaw the daily operations and led bespoke scent development projects as the creative director of the artisanal scent studio she founded in 2016.
Escobar holds a Bachelor of Science in Sociology from the University of Central Florida as well as a Master of Arts in Digital Media from Goldsmiths, University of London.