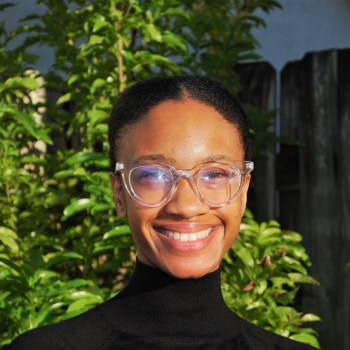 About
Nhadya Lawes joined Knight Foundation in July 2022. She is the associate for the arts program.
As a scholar and arts professional, Nhadya values multidisciplinary perspectives at the intersections of creativity, placemaking and redress. Her research has focused on Black female intellectuals, the influence of migration and family or community history in artistic practice and the relationship of arts ecosystems to their local communities.
Inspired by poet Dudley Randall and writer bell hooks, Nhadya curated the student photography exhibition In Our Glory / A Different Image for the Creative Studio Gallery at UM Libraries. In addition, she designed a showcase for the University of Miami's Center for Global Black Studies that features key moments in Black university history and coordinated RELAX RELATE RELEASE, an on-campus artmaking collaboration with artist Stephanie J. Woods.
Prior to Knight, Nhadya interned at several arts organizations locally and nationally including the Lowe Art Museum, Miami Museum of Contemporary Art of the African Diaspora (Miami MoCAAD), Perez Art Museum, Cooper Hewitt, Smithsonian Design Museum and The Studio Museum in Harlem.
Born and raised in Broward County, Nhadya graduated from the University of Miami in May 2022 with a bachelor's in english literature and minor in sociology, art history and Africana studies.