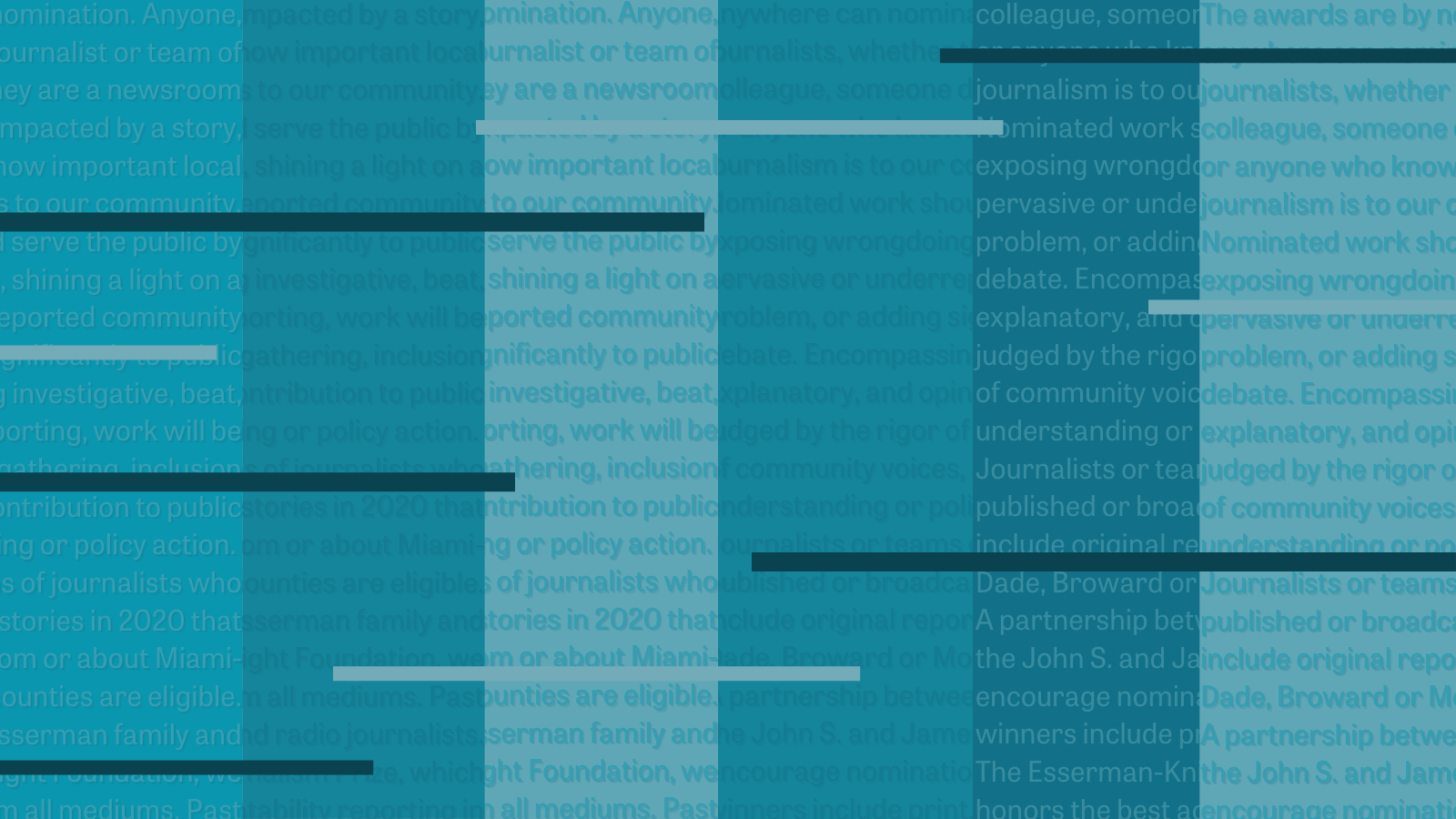 Esserman-Knight Journalism Awards
The Esserman family and Knight Foundation created these awards to highlight the local journalists whose work has demonstrated the power to change laws and lives
Nominations for the Esserman-Knight Journalism Awards, honoring the best public service reporting in South Florida, are closed for 2021. The recipients were announced in May.

WINNER $7500
MONIQUE O. MADAN, THE IMMIGRATION PANDEMIC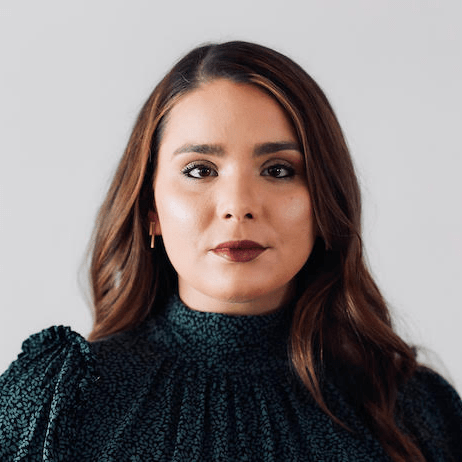 Monique O. Madan, who began her reporting for the Immigration Pandemic while she battled COVID, interviewed more than 370 ICE detainees behind bars during the course of a year. She chronicled some of their living conditions as cases climbed in facilities. Her reporting also revealed major gaps in immigration procedures, including concerning a man detained for 11 years — so long other inmates called him "abuelo." Another piece uncovered that ICE was coercing detainees to self-deport, a process that was halted after the story was published.
WINNER $7500
TAYLOR DOLVEN, EMILY MICHOT, SARAH BLASKEY, NICK NEHAMAS, ALEX HARRIS, FORREST MILBURN AND JANE WOOLDRIDGE, COVID CRUISES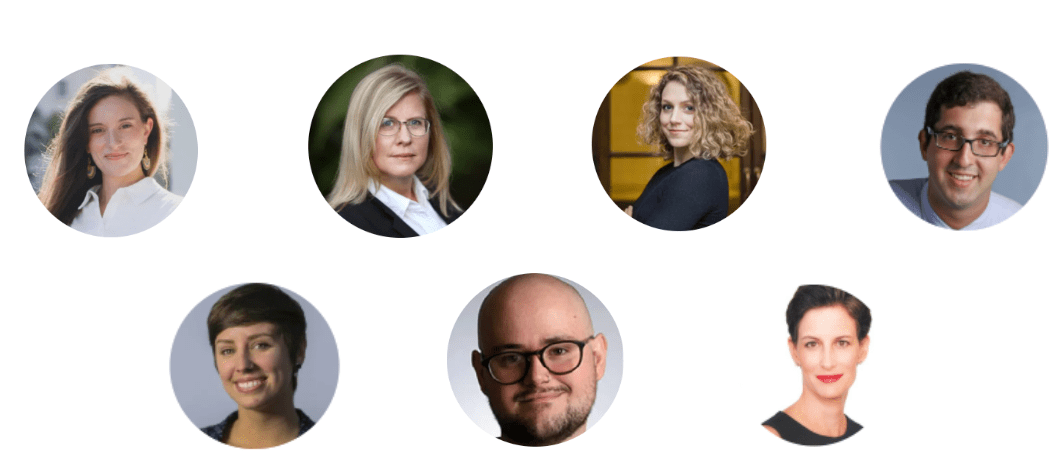 A Herald team, led by tourism reporter Taylor Dolven, unveiled the extent of COVID-19 cases on cruise ships at a time when executives insisted ship-board infections were few. To determine the truth, the Herald created and published a database of outbreaks, finding at least 3,908 COVID-19 cases and 111 deaths linked to 87 cruise ships. In addition, the team told the story of crew members forced to stay at sea during the pandemic, creating a WhatsApp newsletter and serving, for many, as their only link to news from the outside world.
RUNNER-UP $5000
GLENNA MILBERG, MARIO ALONSO AND NATALIE DE VARONA OF WPLG LOCAL 10 NEWS FOR "THE SHILL SCHEME"
Last fall, incumbent State Senator Jose Javier Rodriguez lost his senate seat by just 34 votes. When Milberg probed further, she ultimately uncovered that someone planted a shill candidate who shared Rodriguez's last name to siphon off votes, a pattern she also found in another Florida senate district. Milberg tracked down the "shill" candidate Alex Rodriguez, revealing he actually lives two counties away in Palm Beach. The story continues as both Alex Rodriguez and the man accused of masterminding his run, a former Republican state senator, have been arrested for campaign finance violations.
---
Honorable Mentions ($1,000)
Jacqueline Charles, The Miami Herald: Charles' work, in part, explored the impact of COVID-19 on Miami's Haitian-American community, where the stigma of the disease aided in its spread. Charles also conducted an exclusive interview with former President Bill Clinton on Haiti, and wrote about the impact of the earthquake in Port-au-Prince on its ten-year anniversary.
Dan Christensen, the Florida Bulldog: Christensen uncovered Broward Sheriff Gregory Tony's startling secret – that as a teenager growing up in Philadelphia, he'd been arrested and charged with murder after he shot and killed a man. Gov. Ron DeSantis had rushed to appoint Tony as sheriff after the Parkland massacre, leading to an incomplete background check that did not find the Philadelphia murder nor additional troubles.
Mario Ariza, Cindy Goodman and David Fleshler, South Florida Sun Sentinel: As Florida fought COVID-19, the Sun Sentinel looked at Gov. Ron DeSantis' efforts to suppress information that would threaten his popularity or the re-election of President Trump. The reporters found that state health departments were ordered to stop issuing public statements about the pandemic until after the Nov. 3 election, the administration sidelined mainstream scientists and that a major source of scientific disinformation on COVID-19 was from the governor's own spokesman.
---
In addition, the following nominations were named finalists for their outstanding public service journalism:
---
Photo (top): first responders evacuate sick crew members from two cruise ships, the Costa Favolosa and Costa Magica at the U.S. Coast Guard station at the Port of Miami in Miami, Fla., March 26, 2020. Carlos Barria