Eric and I both appreciate your kind introduction.
Back in our Miami Herald days, I could easily have imagined you at the helm of The Washington Post and me at Knight Foundation. It would have been a reach to imagine Jeff Bezos buying the Post or Knight Ridder disappearing.
Congratulations to all the team at Spotlight and The Boston Globe for what you achieved for the community and for journalism in America.
Thank you, Tim Armstrong and Lee Bollinger, the chairs of tonight's dinner. You are both friends and partners in too many important ways to count.
Congratulations to Tom Brokaw for a lifetime in the First Amendment, and to my friend, Eve Burton, and the law department at Hearst. Under her leadership, Hearst has become indispensable in the daily fight for free speech and open records. I am proud to say that—and prouder still that their First Amendment counsel is Susana's and my son, Diego. So, congratulations to him, as well.
Eric and I respect and thank the Reporters Committee. Defending journalism and journalists—especially journalists asking uncomfortable questions and writing difficult truths—can be a thankless job. But it's a cause we believe in, and, for more than 45 years, the Reporters Committee has fought for journalists'—and therefore, for everyone's—right to know.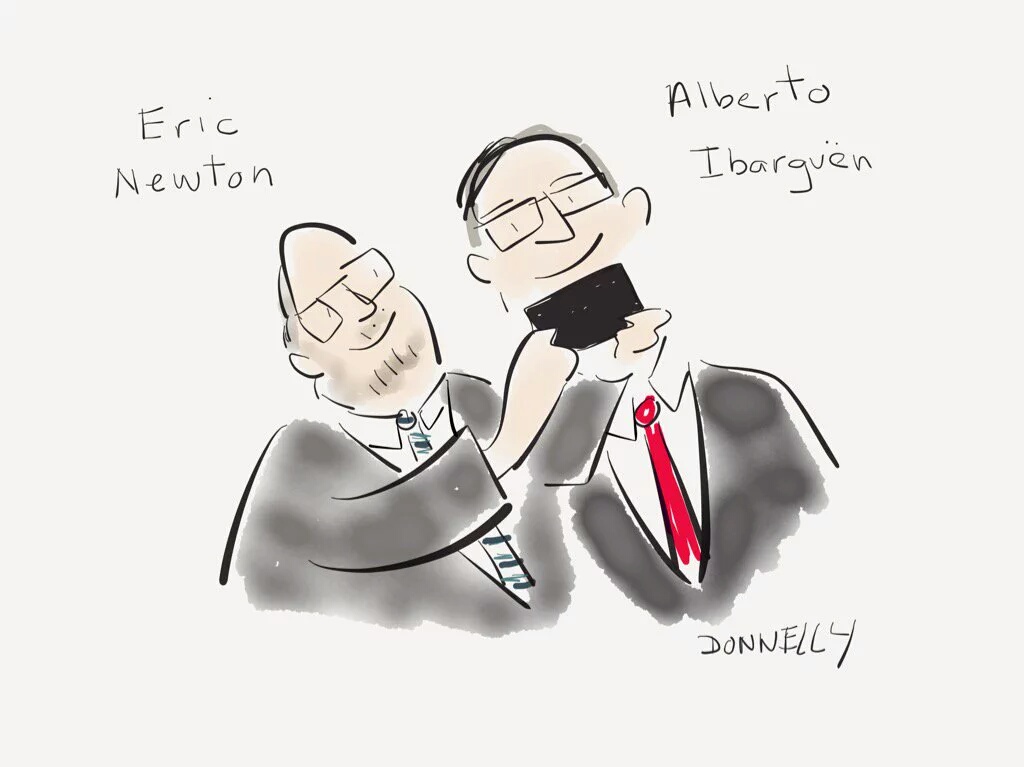 Cartoon: Eric Newton snaps a selfie with Knight Foundation president Alberto Ibargüen before they accept the 2016 Freedom of the Press Award from the Reporters Committe for Freedom of the Press. Cartoon by Liza Donnelly.
We are both proud that Knight Foundation has been among the committee's strongest supporters. We expect your Knight Litigation Fund will be a permanent battlement from which to defend the First Amendment.
We accept this award at a time of transition from media we have known, to new media that is at once powerfully democratic and a tool of science fiction-like thought control.
We accept this 2016 Freedom of the Press Award at a moment when the law of First Amendment in the digital age is far from settled. As our lives move into cyberspace, how will our freedoms move with them? As interpretations of the First Amendment evolve, who will fight for a broad definition of free expression in the tradition of American newspapers?
Half the leading newspaper editors responding to a recent poll said the industry was no longer prepared to play its historic role of First Amendment defender. Companies that traditionally stood up for free press are stressed, and new media companies are apparently still figuring out whether this is their fight.
We believe what Jack Knight wrote more than 40 years ago, that, "We cannot free the minds of men, if at the same time we accept limitations upon free speech or the right to express our opinions through the printed word or electronic media. The American press must resist with all the strength it can muster any governmental or other restrictive measures designed to negate or dilute our individual freedom…."
In that spirit, Knight Foundation and Columbia University have agreed to partner, as Lee Bollinger mentioned in the video, to form the Knight First Amendment Institute at Columbia University. It is a $60 million commitment to free speech in the digital age, funded half by Knight and matched by Columbia, intended to permanently support free speech while constantly evolving to stay relevant with the times and with technology.
Lee Bollinger is a noted First Amendment scholar. Under Lee, Columbia brings unique ability to unite world-class law, journalism and engineering expertise.
Challenges to free expression go well beyond those making news at the moment, like political promises to toughen libel laws, or a presidential administration that has widened surveillance powers and turned down record numbers of Freedom of Information Act requests. They extend to the algorithms and curation by private technology companies that increasingly determine the news we see and don't see, what we know and think we know, and international court rulings supporting the so-called "right to be forgotten" and straight-up political censorship.
We believe it's critical that a financially independent, institutionally powerful advocate stand up to maintain, at least in this country, the gold standard of free expression. The Knight Institute at Columbia will champion free expression through domestic litigation, research and scholarship with the goal of producing significant legal victories and informing discourse, scholarship and debate on free expression.
The institute's board will include the deans of the law and journalism schools and our co-honoree, Eve Burton. We have begun the search for an executive director, who will report directly to President Bollinger. I am delighted to tell you that Ford and Hewlett foundations have already agreed to support the institute. Our family grows.
Eric and I aren't the type to wring our hands and lament that the world has changed, or that power seeks greater and greater control of information. Power and change have always been there. We accept the challenge.
But the truth is that we don't yet fully understand the implications of our lives in digital, or know the way future generations will interpret the First Amendment. So our vision is that the Knight Institute, devoted to principle and able to evolve with technology, will effectively advocate in favor of the right to know and the right to tell, for freedom in a future we can't yet imagine, and against the enemies of free expression, who want the power of control.
Free speech, free press as befits a free people.