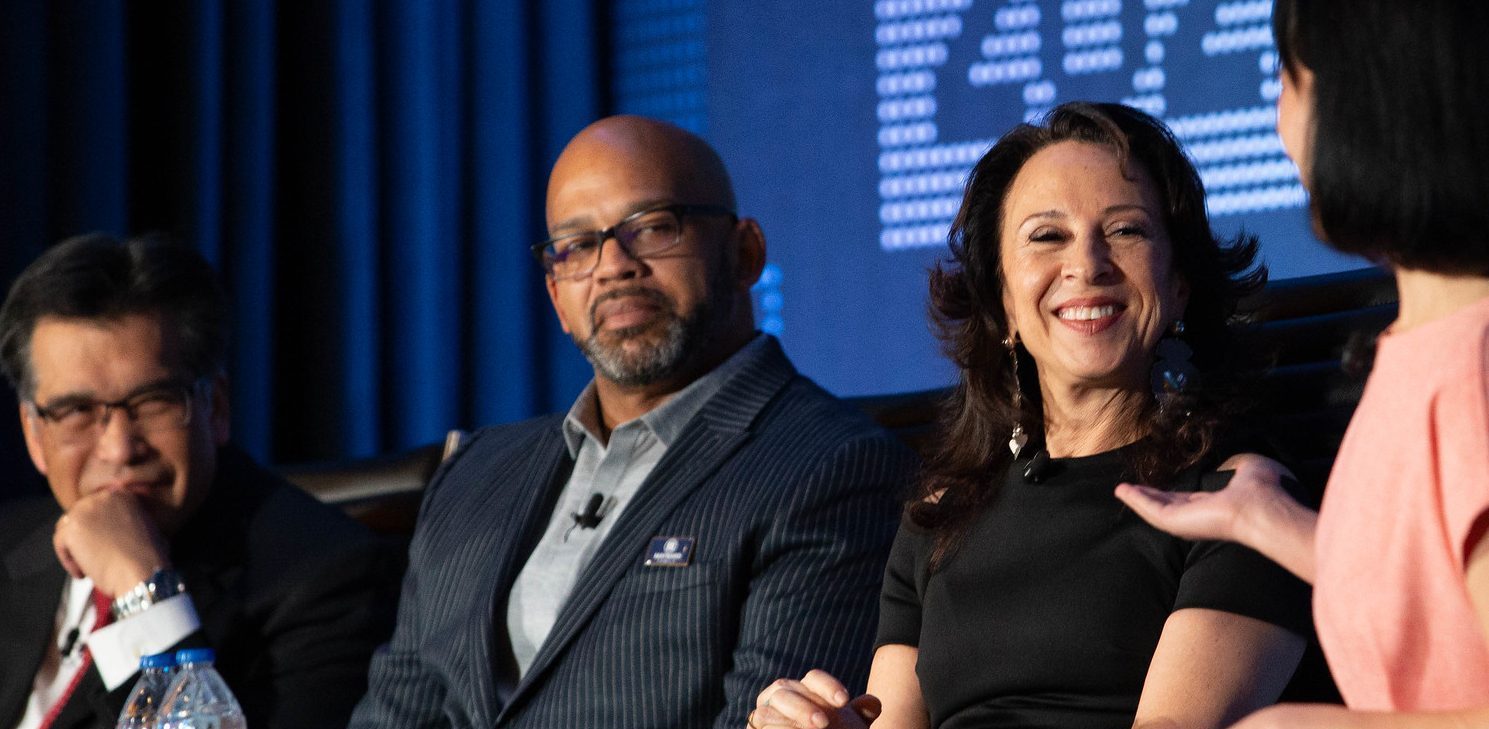 March 2-4, 2021
#kmf21 | knightmediaforum.org
Lilly Weinberg, Knight Foundation and Knight Media Forum Day 1 Host
Alberto Ibargüen, Knight Foundation
2:30 – 3:15 p.m. ET: Cesar Conde, Chairman, NBCUniversal News Group
Conde has been at the forefront of diversifying the workplace to reflect our society and will share his observations.
3:20 – 4:20 p.m. ET: Breakout sessions
Community Media
Meaningful approaches to supporting founders and owners of color
Moderator: Tracie Powell, Borealis Philanthropy
Presenters: Graciela Mochkofsky, Craig Newmark Graduate School of Journalism, Hilda Gurdian, La Noticia (Charlotte) and Sonny Messiah-Jiles, Houston Defender Network
Local Funder-Grantee success story: American Journalism Project
A look at a venture philanthropy organization dedicated to local news, and how it could work in your community
Moderator: Karen Rundlet, Knight Foundation
Presenters: Courtney Bengtson, Wichita Community Foundation, Sarabeth Berman, American Journalism Project and Ken Ward Jr., Mountain State Spotlight
Case Studies: Community Foundations and Local Journalism
A look at efforts in Seattle and Fresno, California to support local journalism
Moderator: Joaquin Alvarado, The Seattle Times
Presenters: Michele Matassa Flores, The Seattle Times, Ashley Swearengin, Central Valley Community Foundation and Mary Snapp, Microsoft
Funders Responses to Crisis: From COVID to Racial Reckoning
Two community foundations address COVID and place race, equity and inclusion at the center of their investment
Moderator: Raul Moas, Knight Foundation
Presenters: Rebecca Fishman Lipsey, The Miami Foundation and Lisa Adkins, Blue Grass Community Foundation
Funders Addressing Polarization
Strategies for finding common ground in communities
Moderator: Paul Waters, Democracy Fund
Presenters: Sarah Ruger, Stand Together and Daniel Stid, William and Flora Hewlett Foundation
Countering the 2020 Infodemic
The latest research on misinformation and the way forward
Moderator: John Sands, Knight Foundation
Presenters: Jevin West, University of Washington and Claire Wardle, First Draft News
4:25 – 5:10 p.m. ET: COVID-19: Navigating the World's First Infodemic
Leading players in the field talk about how communities can manage the copious amounts of information – and misinformation – surrounding COVID.
Moderator: Dr. Helene Gayle, The Chicago Community Trust
Presenters: Deborah Blum, Knight Science Journalism Program, MIT, Renée DiResta, Stanford Internet Observatory and Elisabeth Rosenthal, Kaiser Health News
5:15 – 5:45 p.m. ET Knight Foundation Grantee Showcase
Discover the stories of previous grantees
1 – 1:55 p.m. ET: Breakout sessions
New Solutions to Rebuild Local Journalism
Strategies for communities to support local journalism
Moderator: Paul Cheung, Knight Foundation
Presenters: Elizabeth Hansen, National Trust for Local News, S. Mitra Kalita, URL Media and Steven Waldman, Rebuild Local News and Report for America
COVID-19 Funds: Informing Underserved Communities
Getting news and information to communities of color
Moderator: Nate Wallace, Knight Foundation
Presenters: David Rousseau, Kaiser Family Foundation, Roxann Stafford, Knight-Lenfest Local News Transformation Fund and Courtney Stewart, Missouri Foundation for Health
Building Community Engagement that Powers Journalism
Ways to work across silos and develop programs that inform community work
Moderator: Charles Thomas, Knight Foundation
Presenters: Ashley Alvarado, KPCC /So. California Public Radio, Cynthia Benjamin, Rochester Democrat and Chronicle and Seth Ervin, Charlotte Mecklenburg Library
NewsMatch: The Gift that Keeps on Giving
Collaborations between funders, newsrooms and industry experts that strengthen nonprofit newsrooms' funding capabilities
Moderator: Barbara Raab, Jonathan Logan Family Foundation
Presenters: Pahoua Yang Hoffman, Saint Paul & Minnesota Foundation, Courtney Hurtt, NewsMatch and Alice Dreger, East Lansing Info
Local Funder-Grantee success story: Report for America
A case study on the national service organization placing journalists in local newsrooms across the country
Moderator: Kyle Kutuchief, Knight Foundation
Presenters: Zoë Jackson, Minnesota Star Tribune, Greg Farmer, The Kansas City Star and Marian Kaanon, Stanislaus Community Foundation
2 p.m. – 2:45 p.m. ET: In conversation: Thomas Chatterton Williams, author and cultural critic, and Professor Henry Louis Gates, Jr., Harvard University
These two speakers will explore the themes in Chatterton Williams' book, "Self-Portrait in Black and White," a meditation on race and identity in America.
2:45 – 3:35 p.m. ET: Stories from the Field: Funders and Local Journalism
With place-based funders increasingly investing in local journalism, three media and philanthropy leaders provide their insights into emerging best practices.
Moderator: Karen Rundlet, Knight Foundation
Presenters: Laura Frank, Colorado News Collaborative (COLab), Tom Gougeon, Gates Family Foundation, Angelique Power, The Field Foundation and Tiffany Walden, The TRiiBE
3:40 – 4:25 p.m. ET: Dismantling Systemic Racism: The Way Forward for Funders and Newsrooms
As the racial reckoning in the U.S. continues, we look at ways that funders and newsrooms can work together to dismantle inequities in news organizations.
Moderator: LaSharah Bunting, Knight Foundation
Presenters: Alicia Bell, Free Press, Michelle Morales, Woods Fund Chicago, Cara Reedy, Disability Rights Education & Defense Fund and Lea Trusty, Democracy Fund
4:25 – 5:15 p.m. ET: Can Democracy Survive Social Media?
How can we as a nation preserve free expression, while also safeguarding U.S. democracy?
Moderator: John Palfrey, John D. and Catherine T. MacArthur Foundation
Presenters: Jameel Jaffer, Knight First Amendment Institute, Columbia University, Tristan Harris, Center for Humane Technology, Dr. Latanya Sweeney, Harvard University and Carole Cadwalladr, The Guardian
5:20 – 6:00 p.m. ET: Networking and Happy Hour
Thursday, March 4, 2021
2 p.m. ET: Host Jennifer Preston, Knight Foundation
2:15 – 3 p.m. ET: In Conversation: Microsoft President Brad Smith and Alberto Ibargüen, Knight Foundation
Smith and Ibargüen will explore the future of journalism on changing platforms and the role of technology and information in our democracy.
Introduction by Jennifer Preston, Knight Foundation and Knight Media Forum Day 3 Host
3- 4 p.m. ET: Isabel Wilkerson, author and former journalist
Pulitzer Prize-winner Isabel Wilkerson, talks about how castes have fundamentally shaped American society.
Introduction by Stephanie Bell-Rose, Knight Foundation Trustee