Communities
2020 Poll: College students favor Biden and mail-in voting, but worry about election legitimacy

Just months away from a historic presidential election being held amid a deadly pandemic, a national reckoning on race and an unprecedented economic collapse, young people—especially college students—could help decide who wins the White House.
A poll of 4,000 students, taken Aug. 9 to 12 and funded by the John S. and James L. Knight Foundation, "College Students, Voting and the COVID-19 Election," offers the newest, best insights into what college students think about this unusual election, how they're likely to cast a ballot, and whether they will trust the outcome. This poll was inspired by The 100 Million Project, a landmark study released in February that surveyed 12,000 persistent nonvoters in order to explore the underlying challenges of electoral participation.
The poll's findings paint a stark picture: Most college students plan on voting, and they heavily prefer Joe Biden over President Trump. They favor mail-in voting, especially Democratic students, during a time when questions are being raised about the U.S. Postal Service's ability to deliver ballots on time.
They also have major doubts about the legitimacy of the election and are likely to doubt the election's outcome. By far, they say COVID-19 is the most serious issue facing America, but many feel they don't have enough information about politics—especially women and voters of color.
Major findings from the August poll include:
Most students—led by college women and Democrats—say they are "absolutely certain" they will vote this year. About seven in 10 (71%) students say they are absolutely certain they will vote in the upcoming election, with female students expressing greater certainty than their male counterparts by a margin of 10 points. Students who identify as Democrat are the most likely to be absolutely certain they will vote (81%), followed by Republicans (74%) and Independents (63%).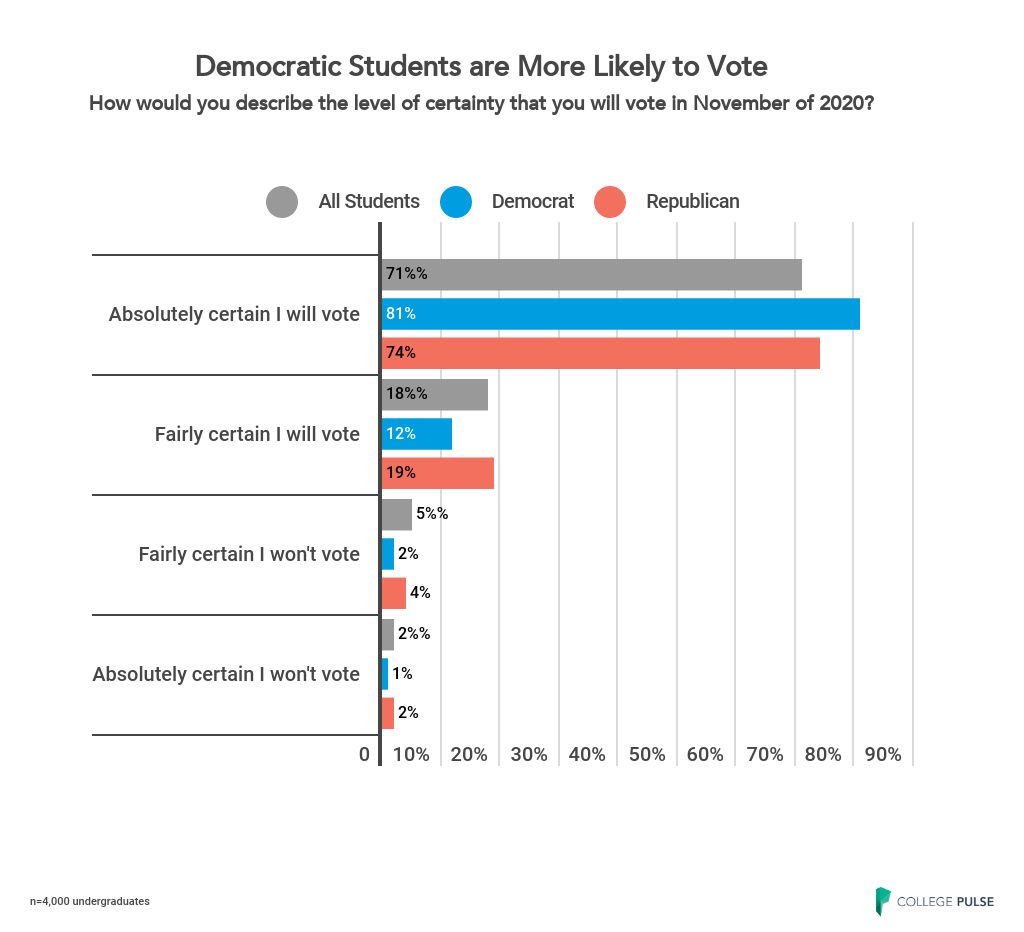 Students lack confidence in the legitimacy of the 2020 election. Nearly half (49%) say it won't be fair and open, and a majority (55%) say it will not be administered well. A full 81% say special interest groups have more influence over election outcomes than voters.
Students — particularly women — are likely to doubt the results of the presidential election. Half say that problems at polling places such as long lines or broken voting machines would lead them to have major doubts about the fairness of the election; followed by evidence of foreign interference (48%); the election winner losing the popular vote (46%); and low voter turnout (46%) or if most voters cast ballots by mail (31%). And 74% will have major or minor doubts about the fairness of the election if it takes weeks to count.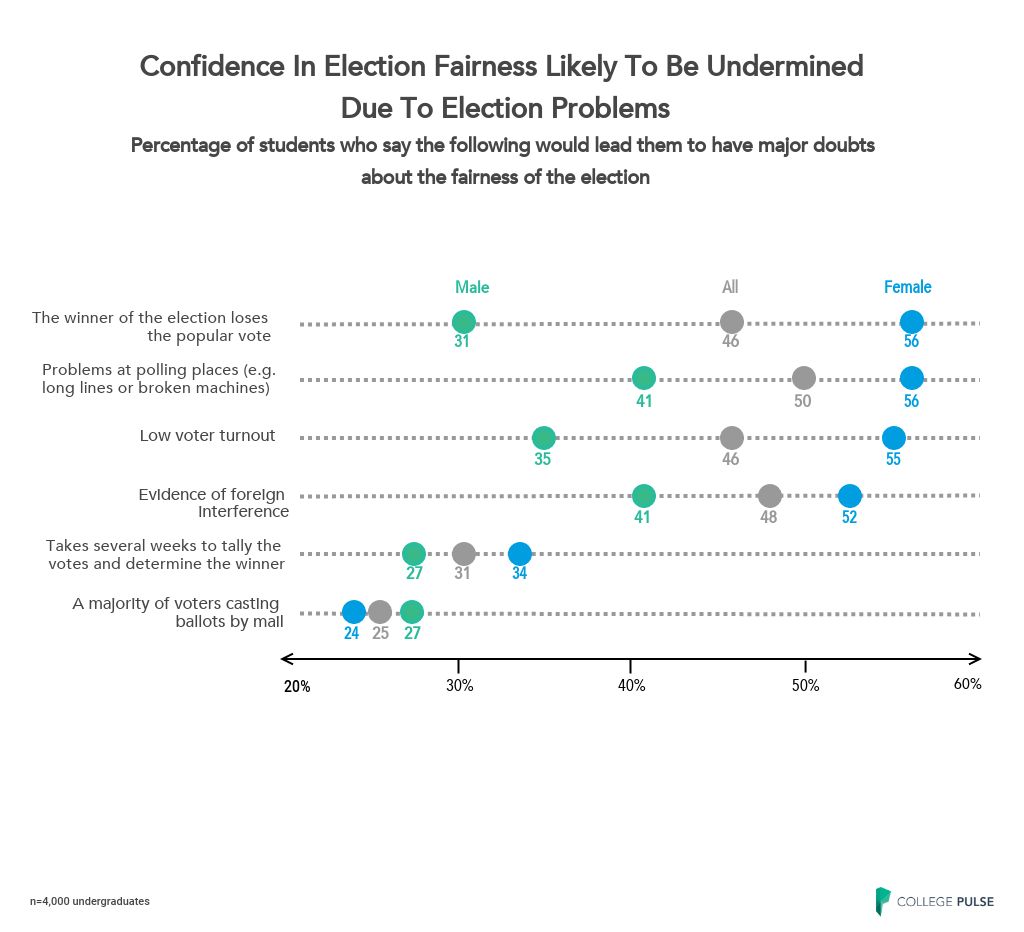 Students plan to vote for Joe Biden by a wide margin, but enthusiasm is low for both major candidates and their parties. A full 70% say they will vote for Biden, versus only 18% for President Trump. But only 49% have a favorable impression of Biden, versus 51% unfavorable; for Trump, those numbers are 19% and 81%, respectively. When it comes to the two major parties, male college students view both about equally negatively, while female students express much more positive views of the Democratic Party.
Just over half of college students plan to vote by mail, with large partisan splits. The majority (63%) of Democratic students say they would prefer to vote by mail or absentee, compared to 31% of Republican students. Thirty nine percent of all students plan to vote in person.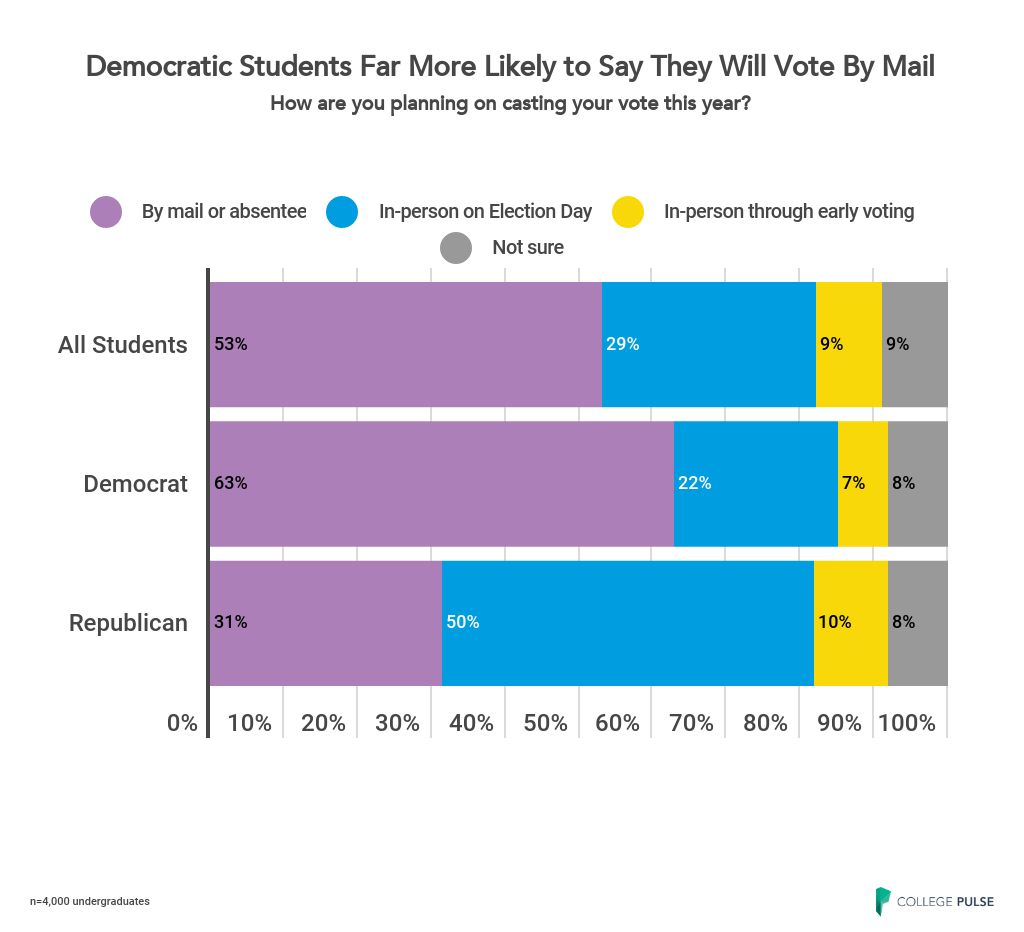 Students see COVID-19 as the main issue facing the United States. Nearly one in three say that the pandemic is the most serious issue facing the country today, beating all other issues by a wide margin. Students say they are following the news around COVID-19 much more closely than news about the 2020 election.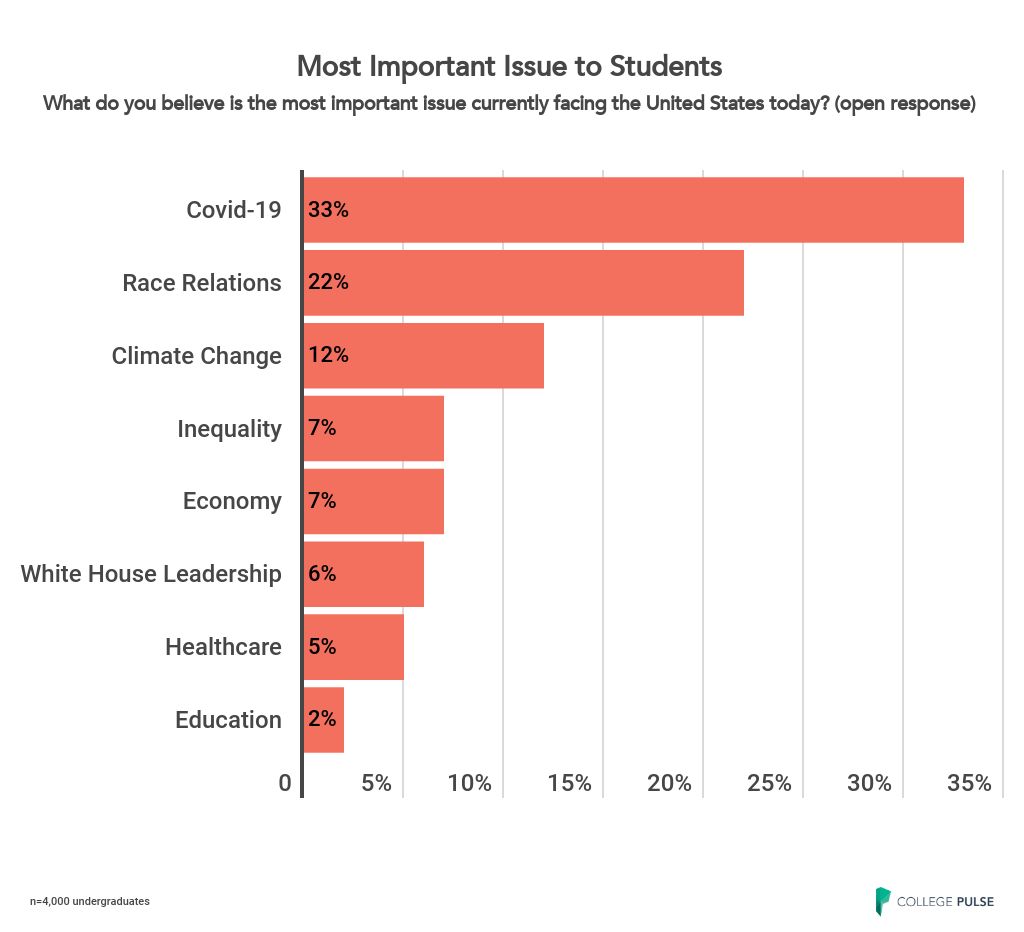 These findings on how students are likely to vote and how they'll view the election's legitimacy have massive implications for Nov. 3 and its aftermath. Altogether, they point to an election in which students know the stakes are high, one in which they plan to vote, and one in which they overwhelmingly favor Biden. Yet, at the same time, the report finds disturbing evidence that students are likely to question the legitimacy of the election, and that they already harbor doubts about how it's being administered.
The poll was commissioned by the Knight Foundation conducted by College Pulse—a survey research and analytics company dedicated to understanding today's college students—from Aug. 9 to 12. It surveyed a nationally representative sample of 4,000 students and is the most recent and comprehensive poll of students' attitudes and behaviors in 2020.
This latest polling research builds on The 100 Million Project, a landmark survey of 12,000 American non-voters released in February that included a companion survey of 18 to 24-year-old eligible voters. At that time — pre-pandemic — only 59% of this young electorate group said they were "absolutely certain" they would vote in November, compared to the much higher 71% of college students who now say they will cast a ballot for president according to data from "College Students, Voting and the Covid-19 Election."
About the John S. and James L. Knight Foundation
Knight Foundation is a national foundation with strong local roots. We invest in journalism, in the arts, and in the success of cities where brothers John S. and James L. Knight once published newspapers. Our goal is to foster informed and engaged communities, which we believe are essential for a healthy democracy. For more, visit kf.org.
---
Recent Content