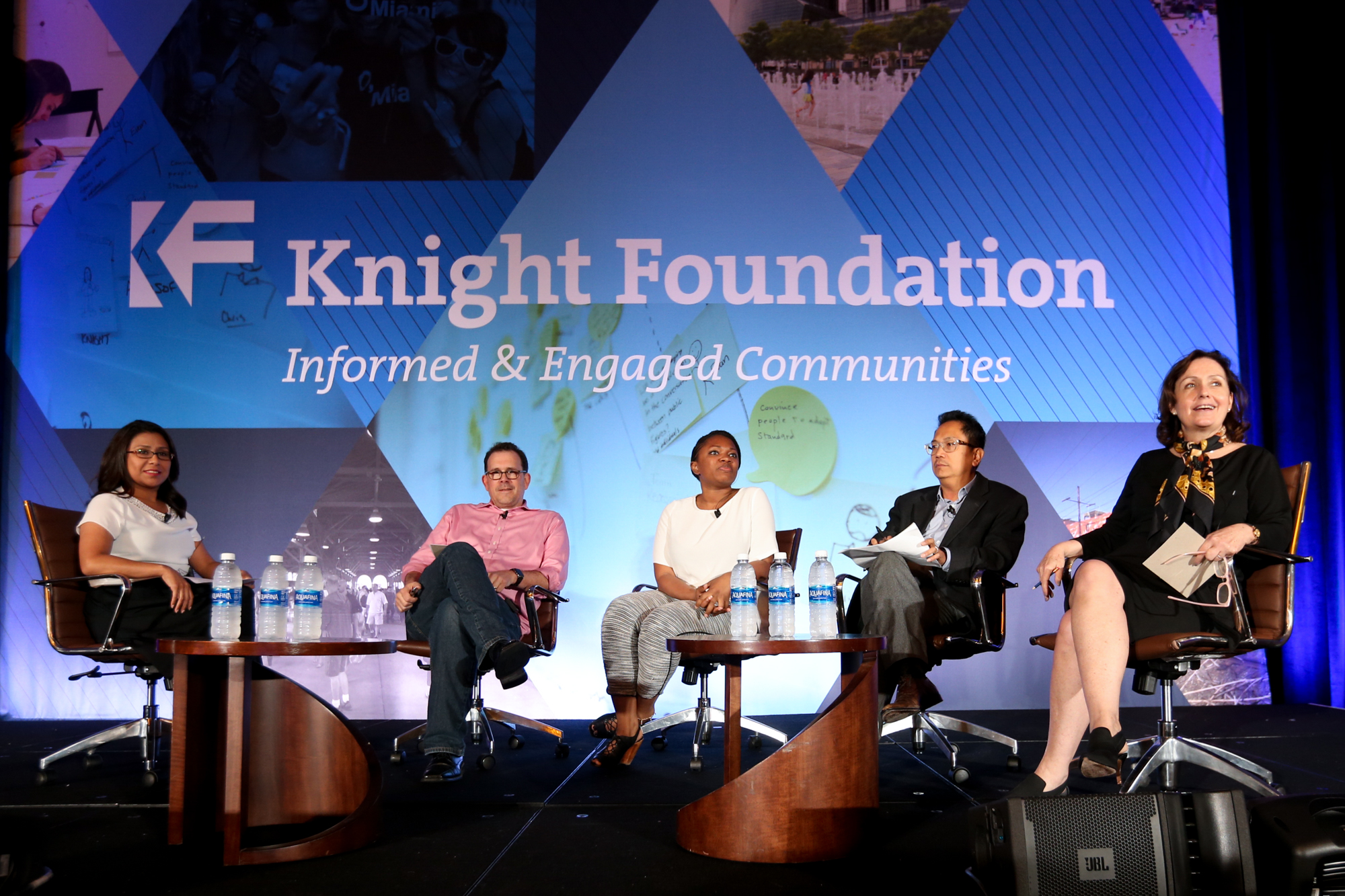 Communities
4 lessons for mobile and social engagement from the Media Learning Seminar
Knight Foundation's Media Learning Seminar convenes leaders in media, tech and philanthropy to identify how community foundations can best meet community information needs. And it should come as no surprise that mobile and social media were at the forefront of many discussions of the first day of the 2016 seminar held at the J.W. Marriott Marquis hotel in Miami.
On May 2, speakers often took a high-level view when discussing how to engage audiences using new media strategies. Below are some of the key takeaways from the mobile and social media engagement sessions at the 2016 seminar. For tips and insight from presenters, watch the discussion below.
Don't just rely on the megaphone
News organizations have evolved to focus on mass distribution, getting as many eyes on content as possible (and hopefully monetizing those views). But increasingly, audiences—in particular, younger audiences—are abandoning the many-to-many social channels for one-to-one conversations. Research from the Tow Center for Digital Journalism at Columbia Journalism School and Pew Research Center shows that more people use messaging apps on mobile phones than social networks.
Redefine the terms of engagement
For the past five years or so, news organizations have been so focused on the term "engagement" that "sometimes it feels like it's lost meaning," said Jim Brady of Billy Penn, a Knight-supported mobile-first news startup based in Philadelphia. Broadly, however, engaging is answering: "You should spend more time listening than talking," Brady said.
And when applied beyond the newsroom to civic life, for Andrew DeVigal, chair in journalism innovation and civic engagement at the University of Oregon, engagement is a concept that is rooted in authenticity.
Don't separate journalism and community
And true to the roots of the Media Learning Seminar, DeVigal opened the panel on a relevant note that tied journalism to communities: "We're creating media for communities, and so you shouldn't leave communities out of that process."
Panelists throughout the day stressed meeting audiences where they are. "We cannot engage our community if we don't use the platform that they use," said Cynthia Perez of the Hispanic Families Network and Dallas Morning News Facebook project. The initiative trained parents as citizen journalists to report on early childhood education issues—thereby also addressing a community need.
Have clear intent and communicate it well
"We went from a world when you spent a half-hour reading the paper or watching the news to where news is with you all the time," said Brady during a breakout session on the rise of mobile phones for news and information delivery. And as such, users don't want to be inundated with news or information they weren't interested in or already searching for with features such as pop up ads.
Brady suggested that before embarking on a strategy for engaging users on mobile platforms, or the latest and trendiest app (think Snapchat), understanding how people use that platform is key to success. "But, when you go after a mobile platform, you have to go after it with everything you've got," he said.
Recent Content