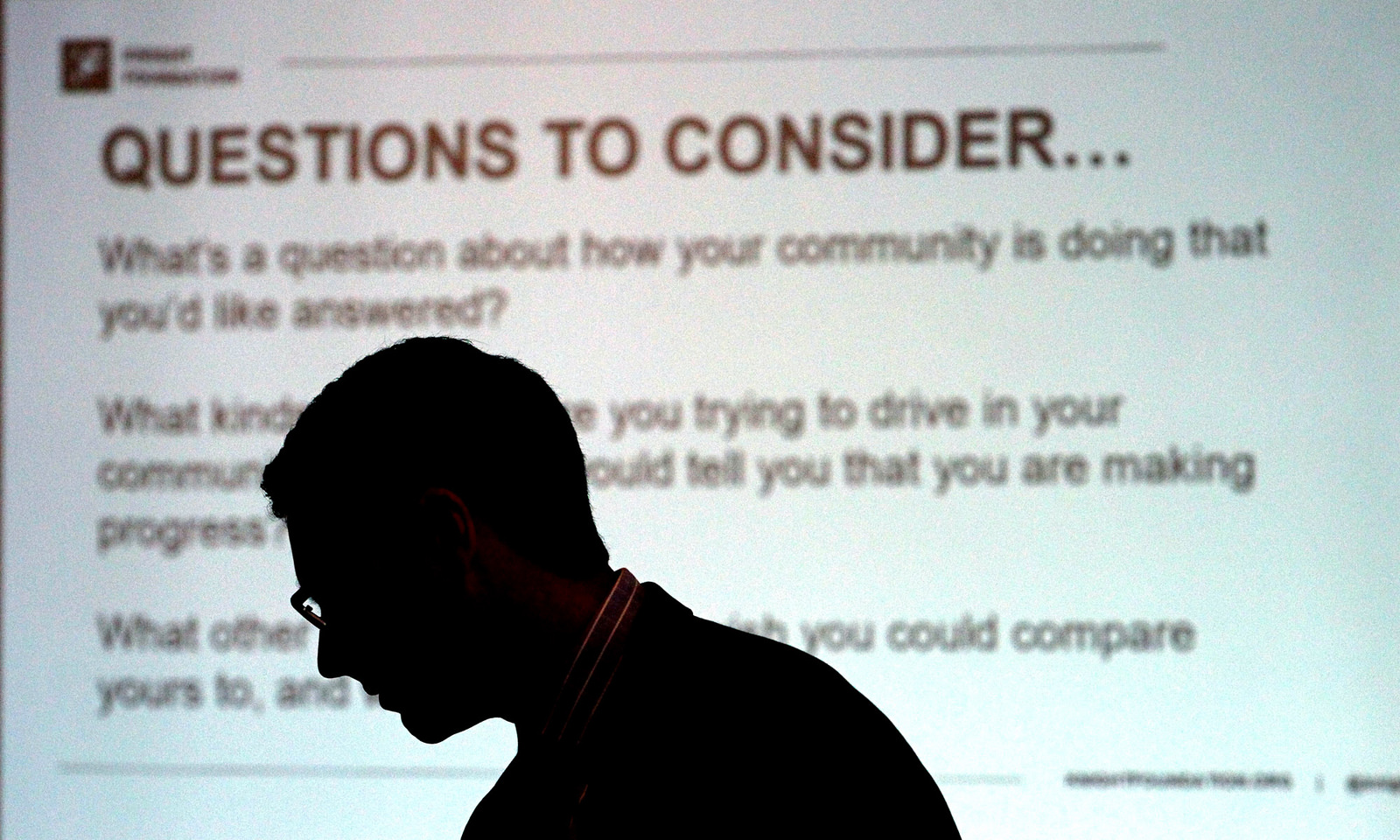 Communities
4 Local funders will use design thinking to fill local news gaps
We live in a time of disruption for local news and information. Local media continues to shrink, trust in journalistic institutions is at an all-time low, and people can't even agree on what constitutes a fact. It's a difficult time to navigate, especially if you believe like we do that good, accurate and contextual information is essential to strong communities and a healthy democracy. Local news and information is particularly important to our lives. How else can you learn about your children's school system or the pollutants in your neighborhood lake?
Since the digital disruption, funders across the country have been investing in solutions to help bridge these information gaps at the local level. Over the past eight years, Knight has invested $22 million and partnered with nearly 88 community and place-based funders in this effort. However, this is just a drop in the bucket. The work is far from over. And while many of the projects have been successful at informing and engaging communities, they were less successful in getting local funders to embed information as a core part of their work.
With billions of dollars to spend, the time is now for local funders to step up to this challenge.
That's why we've invited four locally-focused funders on this journey of the Knight Community Information Lab, where they will be looking at the information gaps in their communities and finding ways to fill them.
This fall, each is going to embark on a path, one without a chosen destination. It's a bit of a leap of faith. The lab is an 18-month, human-centered design training to help them identify what sources of information are missing in their communities, and how they might help bridge those gaps. Unlike most grant programs, the participants aren't coming in with a specific project in mind. We're asking them to take a few steps back, and use design thinking to work with the community to identify the problems then test and ultimately build a solution.
You can learn more about them, and the issues they hope to address, below.
We hope they leave with an impactful project to fund, but we also have a more long-term goal. Our hope is that the foundations will leave the lab with the desire to, and the ideas for embedding news and information funding at the core of their work.
With this new process, we will learn as we go and share out what we are learning together. We also will be reinvigorating our annual seminar on local information needs. It has a new name, Knight Media Funder's Form and we're inviting leaders and board members of all types of foundations – be they community, place-based or national foundations – to participate. Registration will begin in the fall.
Congratulations to our four Community Information Lab participants! Here's more about them:
Baltimore Community Foundation: The foundation promotes the success of Baltimore's young people by supporting effective public schools and equipping neighborhoods with the resources they need. To effect positive change, the foundation seeks to address racial inequity, and ensure that all of the city's diverse communities have access to the information they need to contribute to civic dialogue and shape their city.
Cleveland Foundation: The world's first community foundation, the Cleveland Foundation will use human-centered design strategies to expand its impact in Greater Cleveland, by bridging information gaps in economic development, neighborhood revitalization, education reform, and/or health and human services.
Community Foundation Boulder County: The foundation works to advance equity and access to opportunity for all people, and is committed to standing with Boulder County's most marginalized and vulnerable residents. In the lab, the foundation is going to partner with people left out of the county's economic success, particularly Hispanics and other people who make up 25 percent of the population, so they can gain the skills and knowledge they need to promote social change.
Lancaster County Community Foundation: With a focus on thoughtful risk-taking and engaging the community in problem solving, the foundation has launched several initiatives – from a successful giving day to a business plan competition that raised funds for social enterprises. Next, the foundation wants to ensure there is a space for civic dialogue and broad and inclusive information exchange as part of the process of finding solutions to local challenges.
r
Recent Content