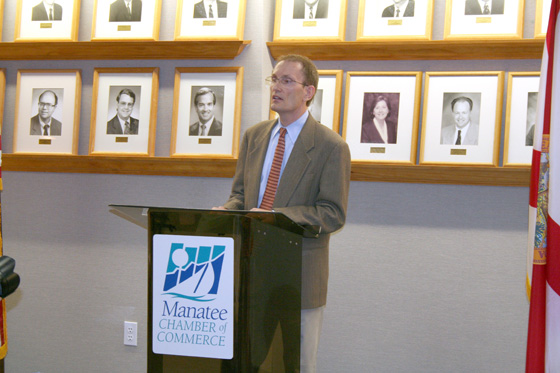 Communities
Announcing the BCBA and a grant to the Manatee Chamber Foundation
Editor's note: Meredith Hector is the Program Director for the Knight Foundation community program in Bradenton and Assistant to the V.P. of Communities.
Like most Florida communities, Bradenton is struggling to weather the 'perfect storm' of property tax increases, rising insurance costs, housing market declines and budget cuts (the county just announced $44 million in cuts and the elimination of 88 positions). So it was nice to be at a press conference yesterday to help deliver a bit of good news on the economic front.
Along with Mayor Wayne Poston, Manatee Chamber of Commerce president Bob Bartz, and Bradenton's Downtown Development Authority executive director Mike Kennedy, I announced the newly formed Bradenton Cultural and Business Alliance (BCBA).
BCBA will work to strengthen the local economy and transform downtown Bradenton and Manatee County into an exciting cultural destination. The efforts of the thirteen BCBA members will build upon Bradenton's existing cultural assets, including the Manatee Players, the South Florida Museum, ArtCenter Manatee, and the Village of the Arts.
The grant monies made it possible to hire Bill Bulick – a noted arts consultant from Portland, Oregon who will lead the efforts to create a cultural plan in the coming year.
Additionally, the grant enables the BCBA to visit another community that has a successful cultural plan, as well as providing operating and marketing support to the Arts Council of Manatee County and the key cultural organizations mentioned above.
At the same time we made the BCBA grant, Knight also made a $20,000 grant to the Manatee Chamber Foundation so the Foundation could hire Americans for the Arts to conduct an economic impact study that will gauge the financial scope of the arts and culture in Manatee County.
Results are expected in early 2009, and combined with the work of the BCBA and Bill Bulick, should provide critical knowledge and help leverage the talents of key business leaders, city officials and cultural institutions for the economic benefit of the community.
Recent Content