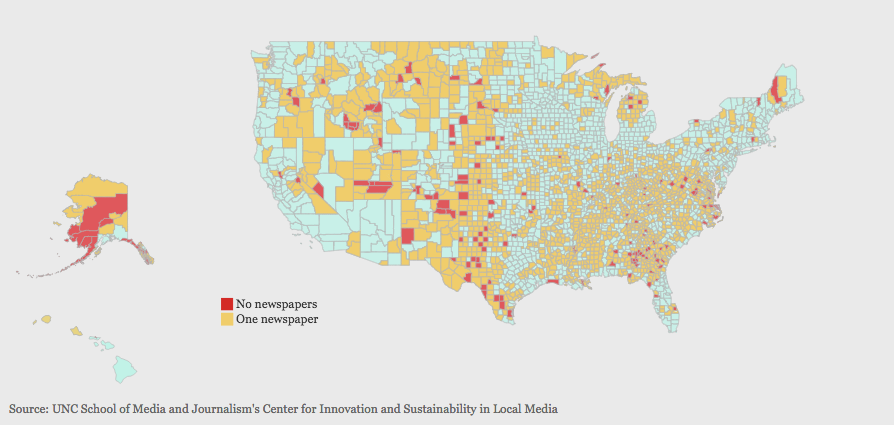 Journalism
As news deserts expand, new approaches to local news are taking root
If news and information are part of the fabric of democracy, then the fabric of U.S. democracy is in tatters. That's the conclusion that leaps off the map in the 2018 The Expanding News Deserts report, which shows that 171 U.S. counties do not have a local newspaper, and nearly half all counties – 1,449 – have only one newspaper, usually a weekly.
The report by Penelope Muse Abernathy, Knight Chair in Journalism and Digital Media Economics at the University of North Carolina, shines the light on a silent phenomenon, the disappearance of 1,800 newspapers since 2004, and drop by half of the number of reporters covering local news.
"The historic role of newspapers – informing, nurturing and improving communities, both large and small – is vitally important in the digital age," Abernathy writes on the website of UNC's Center for Innovation and Sustainability in Local Media. The belief that informed and engaged citizens are vital to healthy democracy is also deeply held by Knight Foundation, a supporter of the Center.
The broad story of the collapse of the business model for local news is well known. Print advertising revenues have plummeted, while proportional gains in digital revenues have been captured mostly by Facebook and Google.
This report, which builds on the first News Deserts report in 2016, delves much deeper into the story. It explores the impact of hedge funds and private equity investors in hollowing out newspaper staffs, and the impact of consolidation on local coverage.
If there is good news, it's that more than 500 digital news outlets have sprung up across the country, filling part of the void. Many of these news outlets were founded during the recession in 2008, by investigative reporters who wanted the public service mission of journalism to continue. These journalists grew into their role as publishers, but they and their fledgling organizations now need to take the next steps toward maturity. They need . the resources and skills that will help them establish a permanent presence within their local news ecosystems.
Building their capacity and sustainability is a major area of focus for Knight, which is among several partners that supports NewsMatch. This matching grants program for nonprofit news sites, many of them local, works with partners such as the Institute for Nonprofit News and the News Revenue Hub. NewsMatch also works to raise awareness on the need for communities to support news, journalism and civic information, in the same way it would support any other public good.
Recently, we teamed with Democracy Fund to provide a planning grant to the American Journalism Project, an ambitious plan to raise a venture-like fund to invest in revenue-generating capacity of nonprofit news sites to provide civic news on the local and statewide level.
Knight Foundation staff recently returned from LION Publishers Summit 2018, held in Chicago this past weekend. This event brings hundreds of locally focused independent digital news organizations together to focus on training, education, and peer-to-peer learning around sustainability, excellence in journalism and building community. Workshops focused on topics like advertising rates, events production, libel law, and audience engagement.
In addition the Knight-Lenfest Newsroom Initiative is helping dozens of legacy newspaper brands strengthen their local coverage by sharing best practices for digital, as well as elevating innovation by local and regional TV stations, a key source of local news. Knight Foundation also supports the Investigative Reporters and Editors to produce regional trainings to strengthen the broadcast and digital journalists in television newsrooms. The next one will be held in Philadelphia in early 2019.
It is true that digital platforms have, in a large part, been responsible for swallowing much of the ad market,; however they can also be a vital part of the solution for local news organizations. To this end, the Facebook Journalism Project and Google News Lab are increasingly focusing on tools to help local news organizations get their reporting out to the public, which in turn helps them attract more funding .
But as the report points out, much of this news innovation is taking place in metro hubs and wealthier communities, while information dries up in rural areas.
"The residents of America's emerging news deserts are often its most vulnerable citizens. They are generally poorer, older and less educated than the average American," the report notes.
Local news sits at the heart of democratic engagement, providing people with the information they need to contribute and shape their communities. Without it the future of our democracy is in peril. That's a call to action for us all.
Karen Rundlet is director/journalism at Knight Foundation. Follow her on Twitter @kbmiami.
Recent Content