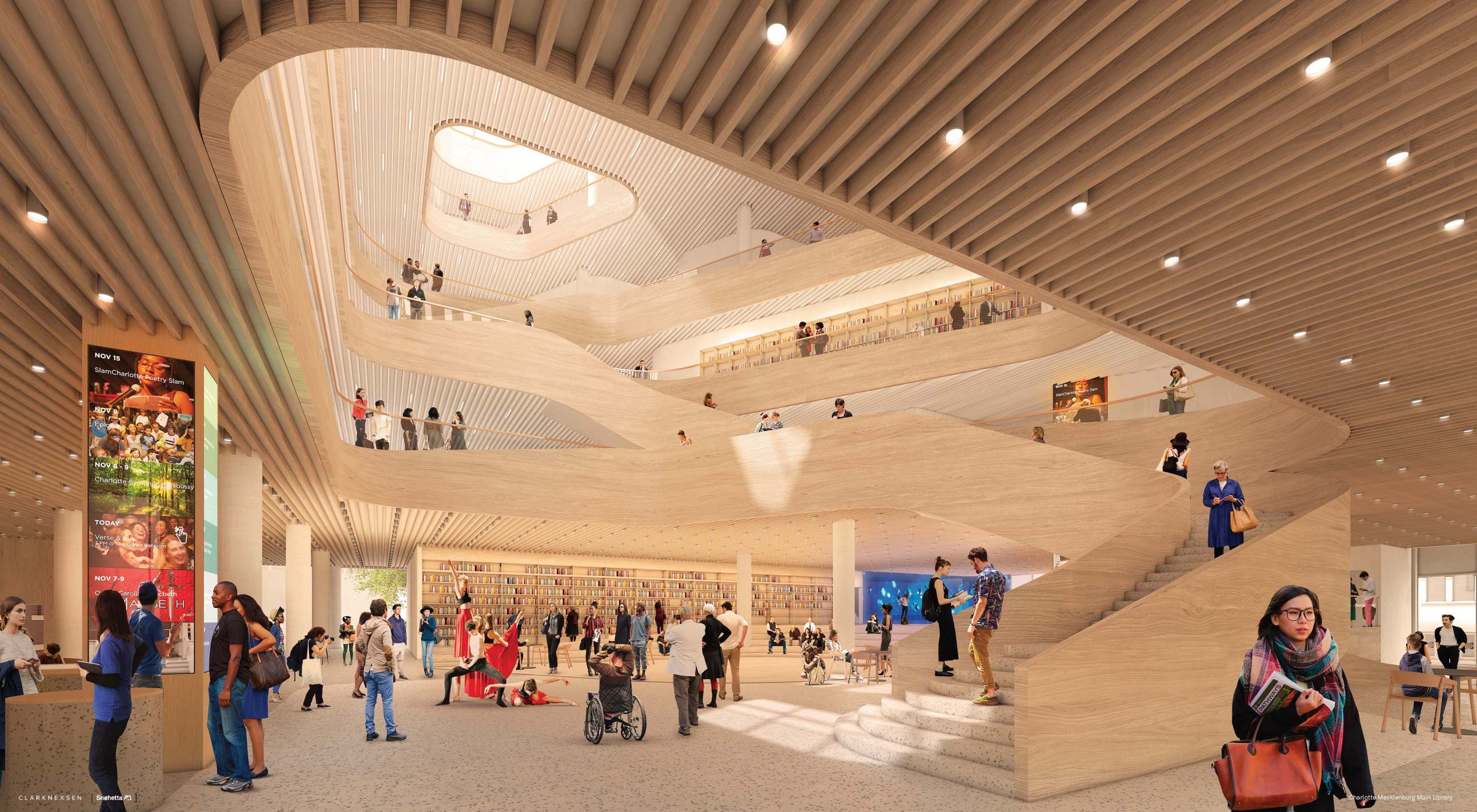 Communities
Beyond Books: The Transformation of Charlotte's Main Library, With $10m From Knight
Image: Rendering of new Main Library design. Design Architect: Snøhetta; Architect of Record: Clark Nexsen; Rendering: LMNB Copyright: Snøhetta
Today, Knight Foundation announced a $10 million investment in a new library for downtown Charlotte—the first private contribution in a $135 million campaign to create a state-of-the-art public space that can serve not just as a repository for books, but as a true commons for all the city's residents.
At Knight, we have long recognized the power of libraries to support more informed and engaged communities. Libraries are not just sleepy citadels of knowledge. They are vibrant spaces where we come together to access information, share experiences and collaborate to build a stronger community. The best libraries are a commons, a meeting place of equals that we own and share together.
Charlotte is about to take a bold leap in challenging our ambition for just what a library can do. The reimagined New Main Library, set to open in 2024, will evolve from a traditional temple to books into an iconic and inspiring space that becomes a true 21st century public commons. It will be a tech-forward gathering place and civic destination for Charlotteans to come together, connect and engage in the life of the city. It will provide a best-in-class technology infrastructure that improves the experience for patrons and residents and creates new ways to engage with the community.
"The best libraries are a commons, a meeting place of equals that we own and share together."
The new library will expand the spectrum of services for visitors, moving them beyond just access to information, to the opportunity to participate and shape civic discourse. The design of the building and technology will blend seamlessly to improve the patron and resident experience, providing tools like digitally streamlined social services, a community media lab, mobile access to information and engaging audiovisuals. Patrons will participate in self-guided and collaborative learning and workspaces that connects people from different backgrounds to the information they need.
In the words of Knight President Alberto Ibargüen, "The library is modern. It is open. It is inviting. And it is focused on digital. That's the way of the future. And that's where we want to be."
The $10 million investment is Knight's largest commitment to date in Charlotte. And it's a fitting one, coming at a key time for the city.
Charlotte is soaring, bringing in new people, ideas, investment and prosperity. It is also a challenged city, struggling with intensifying economic stratification and inconsistent opportunity.
In this vital time, the New Main Library can serve as a forum for Charlotteans to chart a course towards a prosperous and equitable city. With technology at the forefront, this project will play a transformational role in the development of our city, while serving as a model for libraries of the future.
On a personal note, as a native Charlottean, the library has played an important role throughout my life – from studying and checking out music to starting a business and taking my kids to the library. I'm thrilled it will evolve to remain a transformative institution for generations to come.
Charles Thomas is Knight's director in Charlotte. You can follow him on Twitter at @cthomasclt.
YOU MAY ALSO BE INTERESTED IN…
Recent Content