Building an Akron with people and for people
Communities / Article
Suzie Graham is president of Downtown Akron Partnership, a nonprofit organization that builds and promotes the vibrancy and value of downtown Akron. Below, she writes about undertaking focused public space improvements in the downtown to improve neighborhood life. Downtown Akron Partnership is receiving $1.5 million in new support from Knight Foundation.
Visualize a vibrant city. Several features typically come to mind: authentic architecture, distinctive destinations, inviting green spaces, delicious and diverse food, intriguing art, a variety of transportation options and one critical and consistent element— ever-present people. The ways that people interact with a place, and with other people in that place, define the character and quality of a city.
Akron has a right-sized amount of all the makings of a vibrant city. Our eclectic blend of architecture includes historic buildings, a Masonic Temple, an atmospheric theatre and the first public building in the United States designed by internationally acclaimed design firm Coop Himmelb(l)au. The city is also anchored by the University of Akron and major corporations, and boasts a multitude of independent restaurants, high quality green spaces, local and international public art, a Leadership in Energy and Environmental Design-certified transit center, a minor league ball park, a national park and a host of charming small businesses. These are all set against a backdrop of canal spillways and passing trains, signaling the city's rich history as a major U.S. transportation hub and meeting place.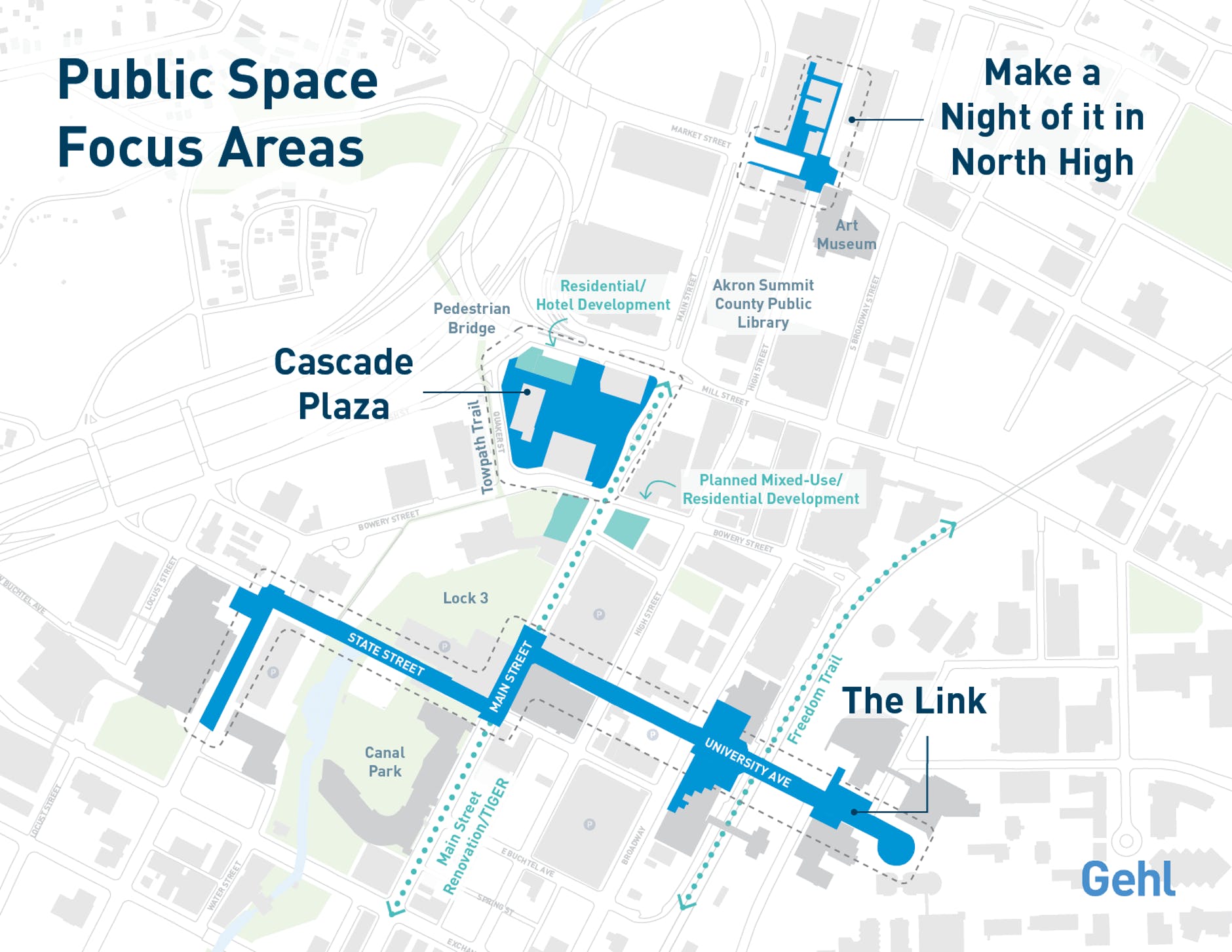 Despite these amazing and much-loved amenities, plus 23,000 students, 47,500 employees and 3.7 million annual visitors, it doesn't often look like there are lots of people in the city. With the help of Gehl Studio, the U.S. affiliate of Gehl Architects, a global leader in people-centered urban design, the Downtown Akron Partnership set out to find out why. Over the last 18 months, Gehl Studio led Downtown Akron Partnership and a team of volunteers through a study and a series of prototype projects to measure downtown Akron's public spaces, neighborhood life and the potential to improve both. The study found that to bring more vibrancy to the city, we need to strengthen resident connections with downtown and create more opportunities for people to enjoy it. The best way to make this happen is through our public spaces.
Improvements to public space have a broad effect on overall city success. Business attraction, private investment, perceived and actual safety, talent retention and attraction, greater connection to place and walkability are all influenced by the way we set the table for human interaction in public spaces. Our streets, sidewalks, street furniture and environment influence how long we stay, how we socialize and how we feel about a place.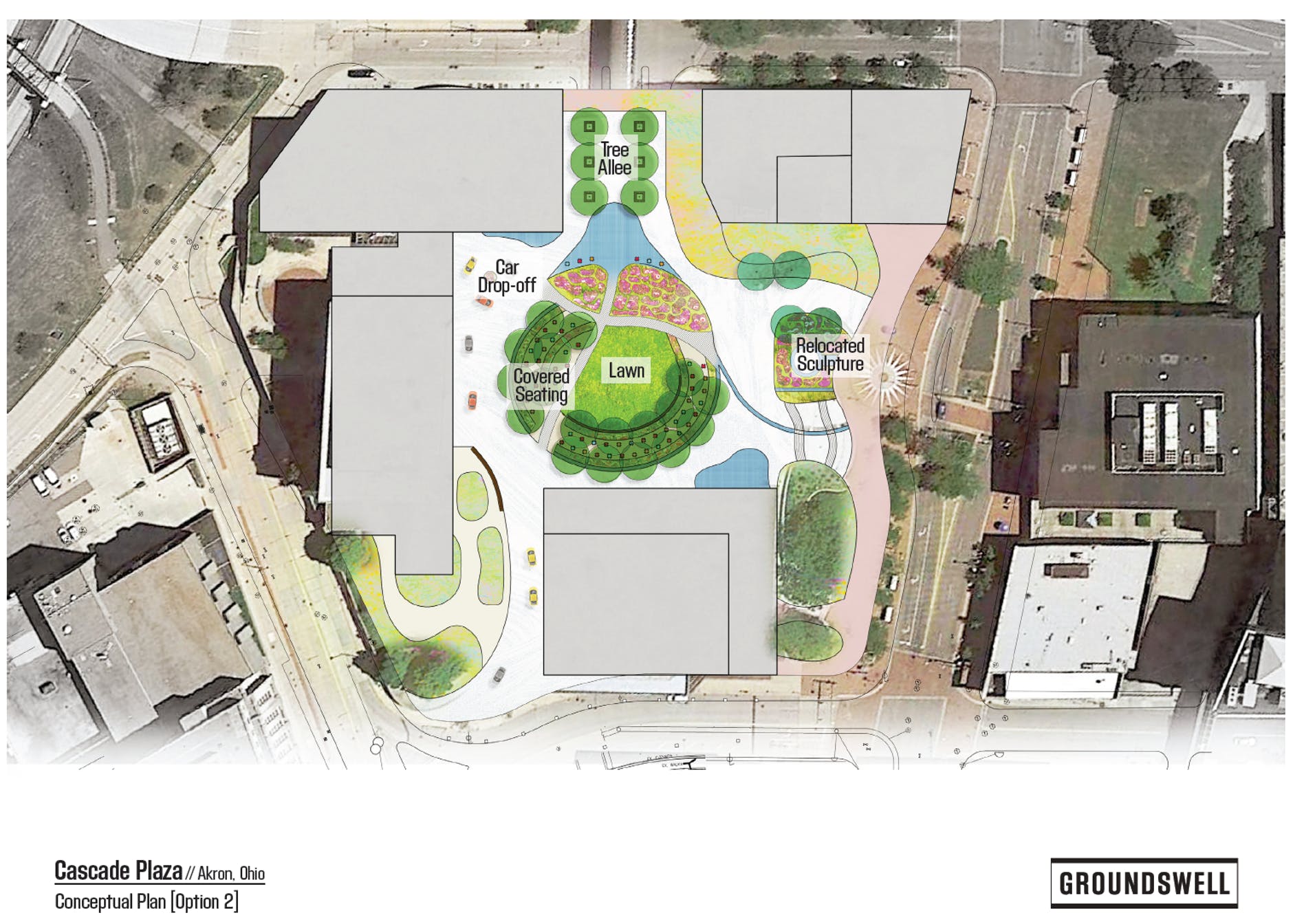 With this in mind, and building on the work we've done with Gehl, Downtown Akron Partnership is now embarking on a plan to improve key public spaces in Akron, with the goals of increasing foot traffic, diversifying activities in our public spaces, building connections to downtown among people and students, improving environmental design and spurring private investment. The efforts will be shaped by insights and inspiration from Gehl Studio, Better Block and Groundswell Design Group, while taking cues from the city's Downtown Vision and Redevelopment Plan and enhancing public and private development already in progress.
This new support from Knight Foundation will also allow Downtown Akron Partnership to build capacity. In alignment with Gehl practices and the Knight-supported national Reimagining the Civic Commons initiative, improvements will include designing with people who currently use and invest in the space, gathering community feedback through a series of "test and learn" demonstration projects, and an impact analysis.
Jan Gehl, founding partner of Gehl Architects, is known for quoting a 1,000-year-old poem by Hávamál who said: "Man is man's greatest joy." In this spirit, we hope to build an Akron with people and for people in the hopes that they will love its public places, enjoy connecting with each other and know the city as their own.
Recent Content