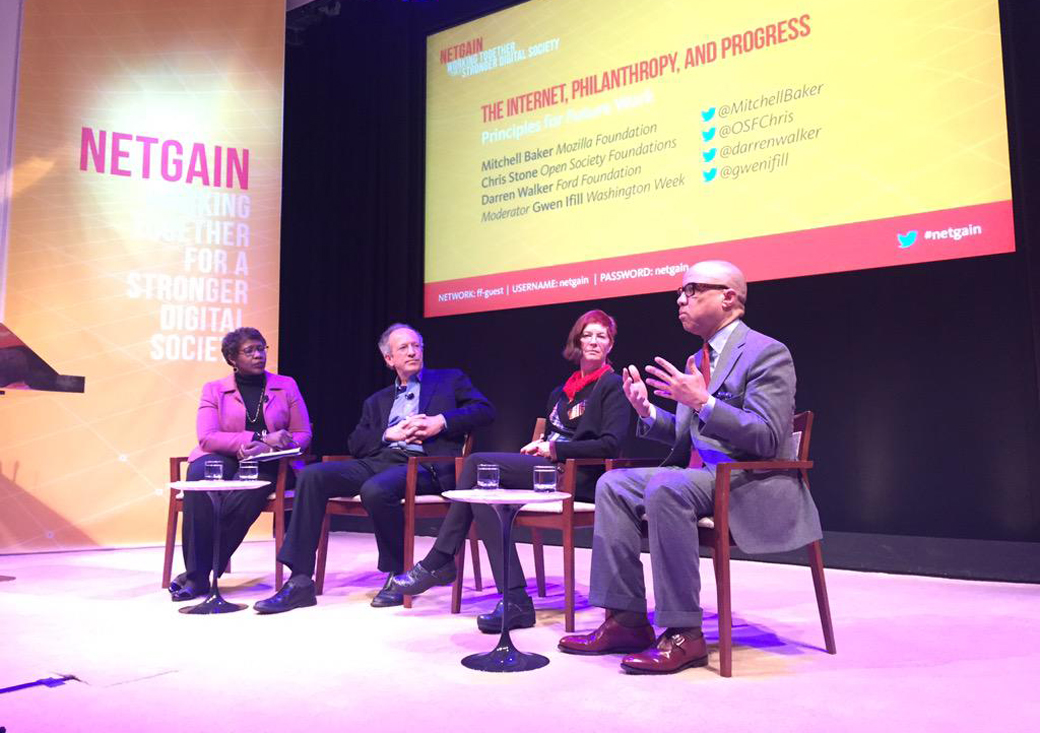 Journalism
Five foundations collaborate on building better digital society
How well individuals and communities fare educationally, in the job market and other key spheres that increasingly are digitally driven partly depends on how easily they can access and navigate the Internet.
With that belief in mind, Knight Foundation and four other international philanthropies are collaborating on how to expand Internet capacity and literacy. Access to an open Internet, foundation leaders say, is fundamental to our economic, civic and personal lives.
"I'm not talking about the shiny new technology, the hot new wearable, the Internet of things … I'm talking about ensuring that the privacy and protections that were afforded in the analog world are equally distributed and protected in the digital world … Internet rights as civil rights," said Darren Walker, Ford Foundation president.
Walker offered that during NetGain, a meeting of philanthropic and tech leaders, digital scholars and activists this week at Ford's New York headquarters. The conference explored ways in which Ford, the MacArthur Foundation, Open Society Foundations, open-source software innovator Mozilla and Knight—within their respective missions and frameworks—can help bridge a digital divide caused by several factors.
Among them is Internet subscription costs that aren't affordable for all.
"The analog age wasn't necessarily a time of great inclusion or equality or fairness. We can't do worse than that. We must do much better than that," said New York Mayor Bill de Blasio, the event's opening speaker. "… Young people really don't get to be in the game if they don't have high-speed Internet. Literally, people will not get to first base if we do not solve this problem."
Presently, New York is transforming old pay telephones into public Wi-Fi hotspots. It is lending, thus far, 1,700 Wi-Fi devices through public libraries and hopes to have 10,000 circulating by year's end, de Blasio said. He hopes, he added, the Big Apple—where more than a fifth of residents live below the federal government's poverty line–will become a model for some of the best methods of filling in digital gaps. (Both the New York and Chicago public libraries won funding from Knight last year to begin lending Wi-Fi hotspots to residents as part of the foundation's News Challenge on strengthening the Internet.)
Knight Foundation President Alberto Ibarguen, among other conference attendees, said he expects NetGain wide-ranging efforts to bear fruit, with various foundations and other non-profits advancing different aspects of the mammoth endeavor.
"This partnership is based on shared values and respect … and community interests," Ibarguen told the NetGain audience. "As we're forming this federation, it's really important to understand where we differ. It's really important to understand [commonalities.] This convening is a useful first step toward eventual action."
Knight funds projects that promote journalism excellence and media innovation, with a focus on stronger, more informed communities. In 2014, Knight invested more than $5 million in two related News Challenges; one on ideas for strengthening the Internet, the second on libraries as an on-ramp to the digital age.
Emily Bell, director of the Tow Center for Digital Journalism at Columbia University, a Knight grantee, was among the speakers at NetGain. In addition to equipping journalists to produce reliable news in an age when information flows 24/7 from disparate sources, Tow also aims to hone the general public's skill at parsing what's true from what's not and understanding what the average person's information-sharing means in the broad scheme.
"We're putting world-changing events on the Internet faster than we're thinking about it … " Bell said, specifically citing everyday citizens' filming of Paris' Charlie Hebdo office slayings and the Staten Island police slaying of Eric Garner. "We're working in a world where the free press doesn't look like me" nor is it entirely shaped by older journalists steeped in older newsgathering styles.
Likewise, World Wide Web founder Tim Berners-Lee, director of the World Wide Web Consortium, told NetGain attendees that the digital world continues to shape-shift. Its data load is a double-edged thing, he said, responding to one attendee's complaint about "the explosion of hate on the Internet."
"The job of technology is to mirror humanity … The type of site we build can change the balance," said Berners-Lee, whose projects have been funded by Ford and Knight, among others. He also is co-founder of the Open Data Institute, based in London where he lives.
They discussed everything from the role of social media in social justice and human rights campaigns; to mobile telephones as essential Internet devices in the developing world; to the assorted costs of bringing more Internet coverage to those cash-strapped regions.
To extend that and related conversations, the five collaborating philanthropies launched the NetGain Challenge. An arm of the ongoing NetGain collaboration among the five foundations, the challenge solicits everyday people's ideas about how to balance Internet security and privacy concerns, archive and access Internet data and employ technology "to make democracies more participatory and responsive."
Recent Content