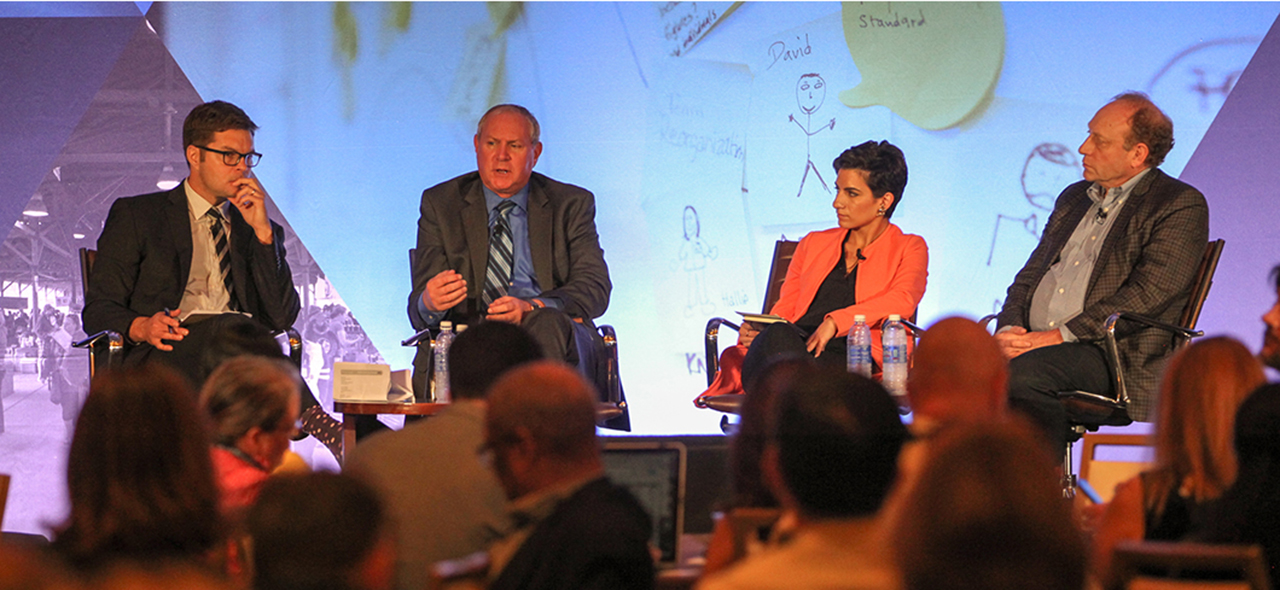 Communities
Five insights for public media newsrooms in the digital age
Above: Knight's John Bracken leads a panel on the role and responsibility of public media at the Media Learning Seminar.
In 1967, when President Lyndon B. Johnson signed the Public Broadcasting Act, he noted that Americans want more in life than to create new goods and new wealth.
"We want most of all to enrich man's spirit," Johnson said.
Johnson's words in launching the Corporation for Public Broadcasting set the tone for a discussion on public media in today's digital world at Knight Foundation's Media Learning Seminar.
"That's a little bit of the role we have today in thinking about what is public media's role in enriching man and women's spirit in our country, and ensuring a thriving and informed democracy," said Knight Foundation's Vice President for Media Innovation John Bracken kicking off the conversation with representatives of NPR, Detroit's WDET and St. Louis Public Radio.
While public media continues to be guided by the spirit of Johnson's remarks, the digital age has brought huge changes to the kind of information people want and the way they access it, pushing news organizations to meet new information demands, the panel agreed. Yet while Americans are inundated with news and content, "it's not true that all our information needs are met," said Mike Oreskes, senior vice president, news, and editorial director at NPR.
The biggest unmet need is in local journalism, he said.
"We are conveners of conversation and fact-gathering and information that a community can use to try and make difficult and important decisions," he said. "I don't think there's ever been a time when that was more needed than now."
Today, public media has an increasingly large role to play in creating stronger, more engaged communities, the panel agreed. With this in mind, they discussed five important insights for newsrooms:
Connect your communities with your journalism
The panel examined the gaps that public radio can fill, as well as the need for the industry to embrace new, innovative ways of connecting with their community. Drawing from her experience at WDET, General Manager Michelle Srbinovich emphasized the need to work with people on the ground and "sound like the community" to stay relevant. A project called "Framed by WDET", for example, she said, pairs audio producers with photographers to go deep into a community and build stories with its residents. The content is presented on air, but also in physical spaces in the community, tackling issues such as entrepreneurship, immigration, or land use in the context of arts and culture.
"It brings people together in a way that they can convene around a conversation that might be difficult but it can build empathy and [allow them to] feel that connection to the the place that they are from."
Tim Eby, director and general manager, St. Louis Public Radio, added that community foundations have a big role to play in shaping content that takes into account community needs. "Aligning the interests of a community foundation with public media can deepen the impact and influence of what we are doing," he said.
As public trust in the government and media organizations continues to falter, the panel emphasized the growing role public media can play in engaging the community around news and journalism.
Eby pointed to the significance of St. Louis Public Radio's merger with online nonprofit news startup The St. Louis Beacon just prior to the controversial shooting of Michael Brown in nearby Ferguson, Missouri. He emphasized that the added capacity of bringing two newsrooms together and the recognition of public media as "fair and fact-based," allowed the newsroom to provide deep coverage and gain the trust of both the public and police officers.
Oreskes reinforced the example stating, "In communities all over the country there are now groups of journalists, usually under the umbrella of public radio but often working in collaboration with other not-for-profit news organizations, who are beginning to create an important part of the community engagement around news and journalism."
Building a larger infrastructure for collaboration, like the kind seen in St. Louis, and fostering more opportunities for connection, played prominently into the discussion. In addition to appointing collaboration managers, Oreskes charged editors with taking on the responsibility of working with reporters, making stories stronger, bringing several outlets together and building relationships with the community.
"We have to be able to do this and if we don't we won't be able to become what we are capable of becoming," he said.
Use data to get to know your audience
Public media outlets need much better data to help understand their current and potential audiences, the panel said.
"We as a system are so far behind many other places and industries in understanding and getting the details of our audience and who they are," said Eby, reinforcing that St. Louis Public radio is currently working with other public media outlets to aggregate data and gather more meaningful information on audiences.
Oreskes agreed that public media organizations should "operate as one business," whether that means working together as a system to leverage their power to negotiate with social media platforms, or using social as a data resource to understand audiences.
Newsrooms need to bring in younger and more diverse voices to represent the many faces of the community, the panel said. They also need to work to strengthen relationships with people and organizations, said Srbinovich. That transformation has to happen organization-wide, she said.
"It is important to have somebody at your station who is that [community] convener," she said, "But if that's the only person at your station that does that, and nobody else does, then you don't systematically change the way the work is done."
Panelists also discussed a reluctance on the part of news organizations to forge more partnerships. "I think news organizations particularly are pretty headstrong about their independence and their authority," said Eby. "You may have to give up a little bit to get where you need to be." In this regard, Oreskes said the crucial ingredient is to have the confidence that you won't end up financially worse off than you started. This is an area where funders can help by backing stronger collaboration among public media organizations.
You can see the entire panel in the video above, or watch other panels from the seminar, a gathering of leaders in philanthropy, media and technology looking at ways to promote more informed and engaged communities, on Vimeo.
Recent Content