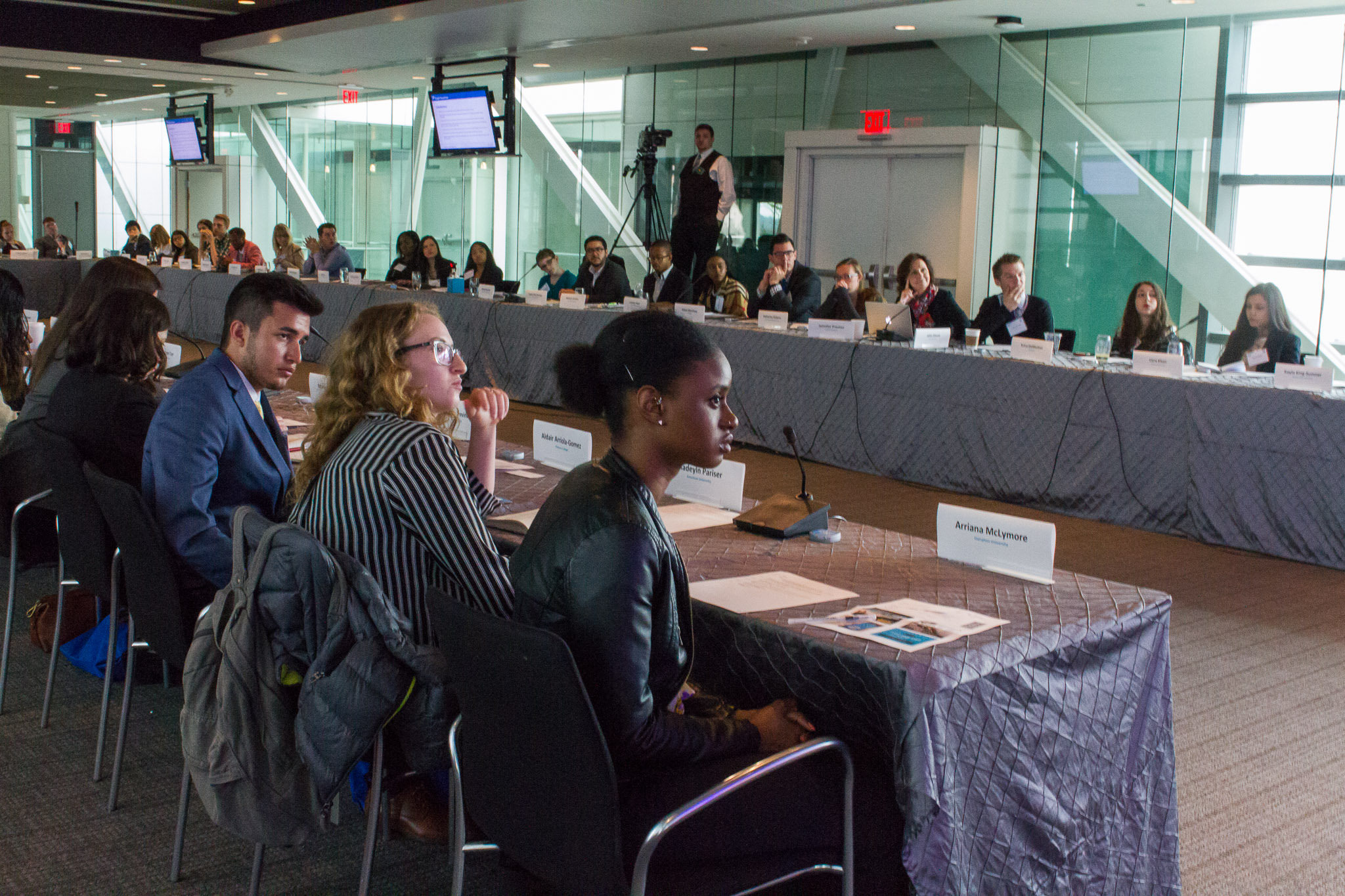 Journalism
'Free Speech on Campus' conference explores student attitudes toward First Amendment
Above: Students discuss First Amendment rights at the Newseum on Saturday. Photo (cc) by Mark Schierbecker on Flickr.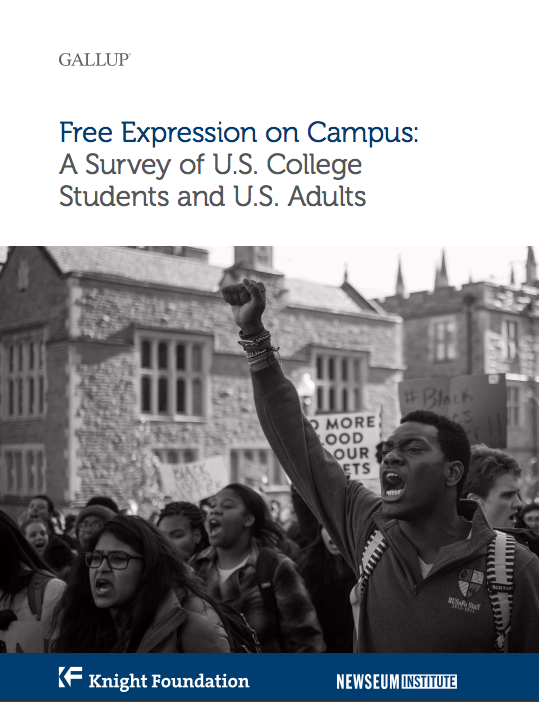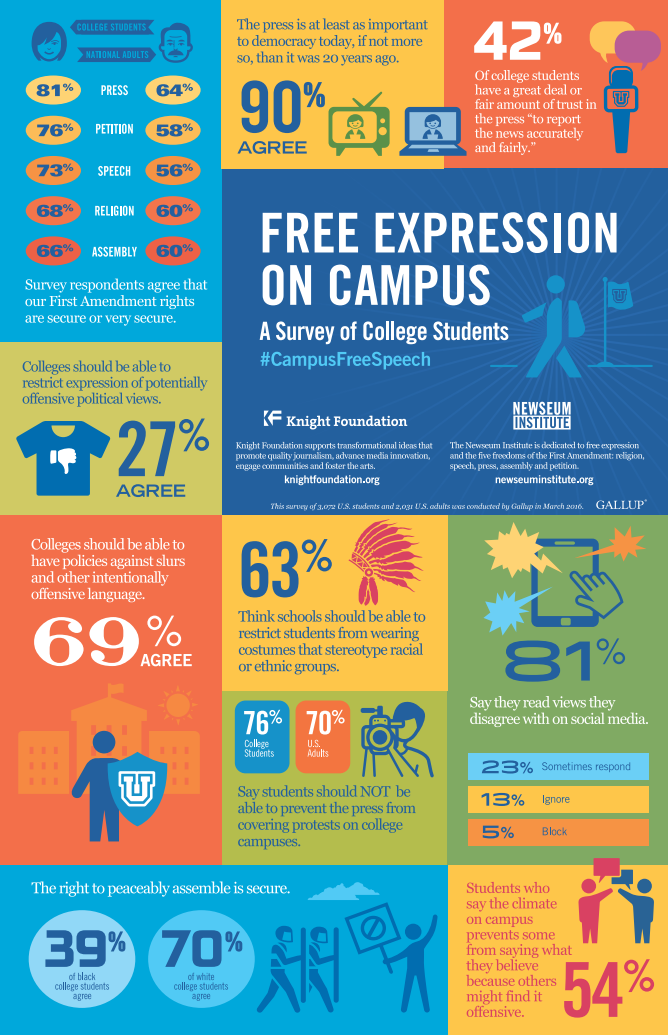 On Saturday, April 2, Knight Foundation and the Newseum Institute gathered college students from around the country for "Free Speech on Campus, a daylong conference of panel discussions and conversations at the Newseum tied to a new Gallup survey about the exercise of the First Amendment on college campuses.
That survey—released Monday and sponsored by Knight and the Newseum Institute—polled 3,000 students at 32 U.S. colleges and universities. It found that 81 percent of students surveyed were confident in the security of the freedom of the press, 76 percent in the freedom to petition the government and 73 percent in the freedom of speech. But it also highlighted racial differences in students' attitudes, their significant distrust in the press, and a belief among many students that sometimes restrictions on rights are justified.
During Saturday's program, Sam Gill, vice president of learning and impact at Knight Foundation, presented these findings and others, including results that revealed the role race sometimes plays in students' interpretations of the First Amendment. For instance, black college students were less likely than white students to believe in the security of the right to assemble peacefully, 39 to 70 percent.
"The reality of our constitutional rights, the reasons we have them, is so that we can continue to … think anew about what they mean as the world changes," Gill said.
Knight and the Newseum Institute plan to explore the issue of freedom of expression on campus throughout 2016. The Newseum plans to hold a "Free Expression Fair" in D.C. later this year, and the partners hope to develop a "Guide to Free Speech on Campus."
Saturday afternoon students participated in a roundtable discussion with Jeff Herbst, president and CEO of the Newseum and Newseum Institute. Herbst and the students shared questions on a number of issues, including how to foster a "marketplace of ideas" on campus and acknowledging racial slurs as a form of violence.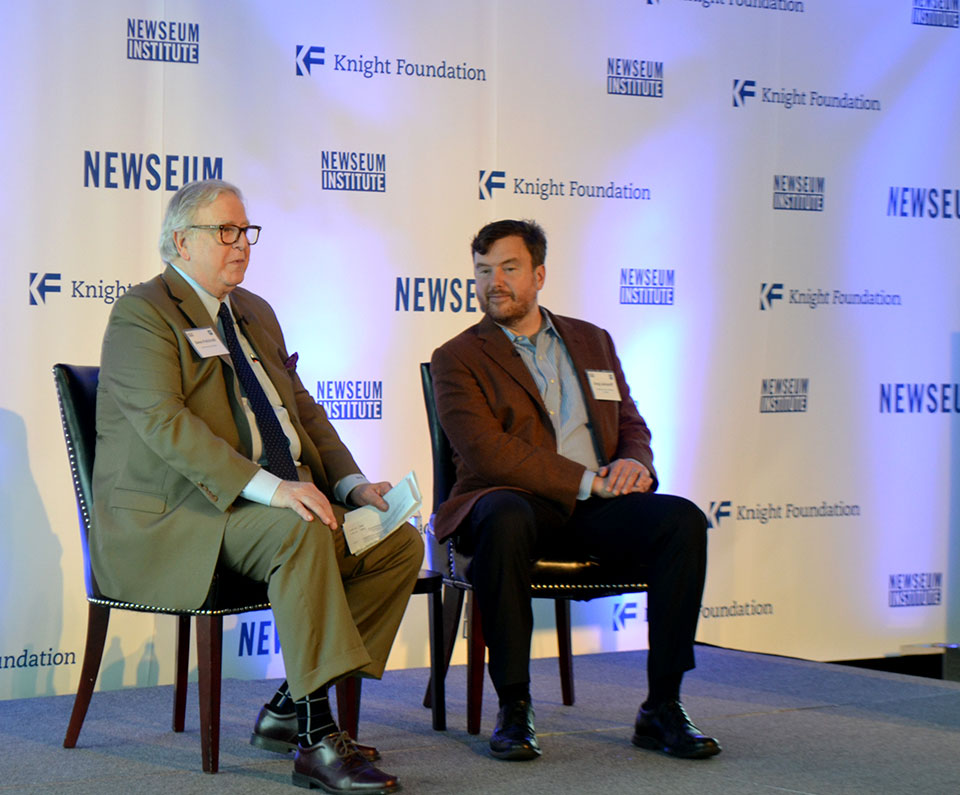 Gene Policinski, COO of the Newseum Institute and Greg Lukianoff, president and CEO of the Foundation for Individual Rights in Education at the "Free Speech on Campus" conference at the Newseum on Saturday. Photo by Macy Freeman.
For one of the central conversations Saturday, Greg Lukianoff, president and CEO of the Foundation for Individual Rights in Education (FIRE) joined moderator Gene Policinski, COO of the Newseum Institute, to discuss such topics as social media as an engagement tool, "microaggressions" and the use of "trigger warnings" to alert students to ideas and material that may upset them and prevent trauma and backlash.
In "The Coddling of the American Mind"— a widely discussed article co-written by Lukianoff and New York University Prof. Jonathan Haidt for The Atlantic last year—the authors explored the idea of oversensitivity in college students and the evolving climate of the classroom.
"From talking to professors across the country, the list of things that people have requested or demanded trigger warnings for is huge," Lukianoff said Saturday. "They are starting to just avoid controversial topics, because they're afraid that there's no way to say the right thing at this point."
In their joint article, the authors explored the detrimental side of trigger warnings and on Saturday Lukianoff expressed his belief that through their use, administrators may be teaching students intellectual habits that "go along with anxiety and depression."
"Our argument is not that trigger warnings are stupid and bad people use them; our argument is that there's no research to indicate that they're actually helpful, and there's lots of mainstream psychological reasons to think that they might actually be harmful," he said.
The students who participated in Saturday's program came from schools across the country, including American University in Washington, D.C., Yale University, Boston University and Temple University in Philadelphia (Knight Foundation and the Newseum Institute subsidized their costs).
The conversation also explored students' concerns about professors who might be using the classroom to deliver their personal point of view on issues. At one point the discussion shifted toward the controversy surrounding former Yale lecturer Erika Christakis, who resigned from teaching at the college last year following protests spurred by an email she sent regarding whether or not to bar students from wearing Halloween costumes that might be deemed offensive or culturally insensitive.
A former Yale undergraduate student in attendance questioned whether Christakis' email, the university's response and student dissent represented "a really healthy back and forth of free speech given that the university didn't cave into forcing anyone to quit," and "in its response was pretty measured and took action that was not punitive toward anyone."
Lukianoff went on to pose several questions about the role of the college classroom on Saturday.
"Is it supposed to be showing you the world as it is; is it supposed to be for adults?" he said. "Is it supposed to be about keeping you in your comfort zone or taking you out of it?"
Macy Freeman is a freelance writer and an editorial aide at The Washington Post. Her work can be found at macylfreeman.com.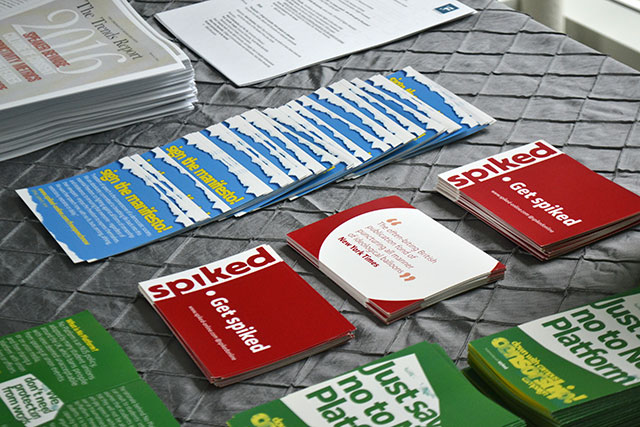 Recent Content