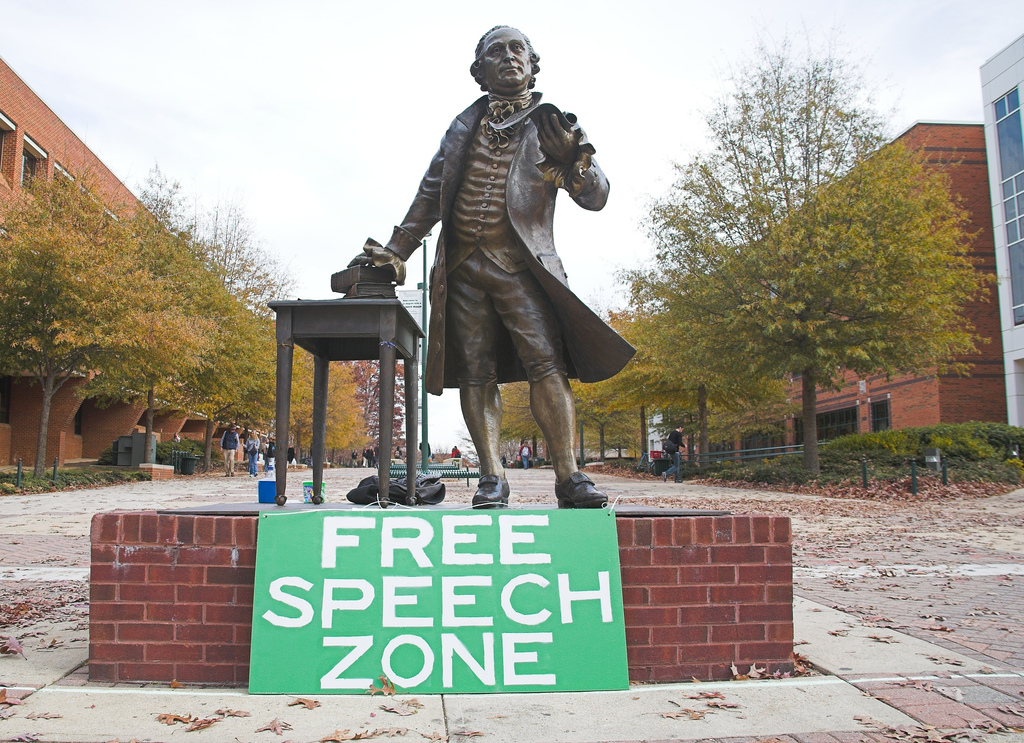 Journalism
Free speech on campus: New perspectives emerge from Gallup/Knight student survey
Sam Gill is Knight Foundation vice president for communities and learning.
In 2016, Knight Foundation, the Newseum Institute and Gallup surveyed more than 3,000 students at colleges and universities around the country (including a special look at students at Historically Black Colleges and Universities) to understand their evolving views of the First Amendment.
Our interest was prompted by a rash of campus protests in the fall of 2015, including at the University of Missouri when a photographer was famously barred from covering a public protest. A fundamental belief at Knight Foundation is in freedom of expression and in the values expressed in the First Amendment to the Constitution of the United States.
This belief has led us to want to better understand how future generations might interpret this right, and we've surveyed high school students biannually for more than 10 years. Looking at college students for the first time, we saw the seeds of what could become new ways of viewing free expression:
They seem to believe in the principle of free expression, yet are highly sensitive to who is included in the discussion and on what terms.
They are acutely responsive to kinds of speech that they deem harmful.
They are thoughtful about the growing volume of discourse taking place online, rather than in person.

Two years later, the events that prompted the first survey seem almost quaint. Since spring 2016, we've seen:
A presidential election that brought issues of language, diversity and "who belongs" in America to the fore.
Violent protests at the University of California at Berkeley in response to guest speaker Milo Yiannopoulos that resulted in $100,000 in damage and millions of dollars in security costs.
The physical assault of Professor Allison Stanger at Middlebury during an attempt to disrupt a talk by political scientist Charles Murray.
A major national debate around protests and violence in Charlottesville, Virginia (home of the University of Virginia) that prompted debate at the White House, in Congress and even in C-Suites around the country.
A huge security buildup at the University of Florida—including snipers and a SWAT team—for an event featuring Richard Spencer (who is widely regarded as a white supremacist, although he refers to himself as part of the "identitarian" movement)
Suffice it to say, these issues aren't going away anytime soon. As our latest survey found, that may be because the questions at the fore for college students—and for all of us—are questions fundamental to our democracy.
Our latest survey was in the field in fall 2017. Partners included the American Council on Education, the Charles Koch Institute and the Stanton Foundation. Some of what we found:
Students Place High Priority on Diversity as a Core Value: Students believe in both free expression and diversity, and a majority favors each as "extremely important" to democracy (52 percent for free speech and 56 percent for diversity). In principle, a strong majority of students continue to favor an open campus environment, over one that would allow prohibition of potentially offensive viewpoints (70 percent to 29 percent). Yet when forced to choose between diversity and free speech, a majority of 53 percent say diversity, with women, blacks and Democrats driving that result.
Polarization Influencing Perceived Security of Free Expression: In 2016 and in this survey, we asked students how they would assess the relative security of the five freedoms of the First Amendment (speech, press, religion, assembly, and the right to petition government). Since then, perceived security of each of the rights has declined across the board: freedom of speech (73 percent said secure in 2016, vs. 64 percent today), freedom of the press (81 percent vs. 60percent), freedom of religion (68 percent vs. 64 percent), freedom of assembly (66 percent vs. 57percent) and right to petition government (76 percent vs. 67percent). When we looked at party affiliation, the decline has been led by Democrats and Independents. Republicans actually view many of the rights as more secure, not less.
Online Discourse Impacting Views: Each new generation of college students is the most digitally immersed in history, almost by definition. This reality is shaping how students conceive of speech. First, we must acknowledge that, for students, the public square has moved online. Students say most discussions about social and political issues mostly take place on social media (57 percent) rather than in public areas of campus (43 percent). College students have also grown more sensitive to the potential downsides of social media. Students think social media can stifle expression because of fear of being attacked (59 percent) or because people block those with whom they disagree (60 percent), and eight in 10 believe social media has led to an increase in hate speech.
We have commissioned this research not to support a particular point of view or solution on how to proceed, but to enrich our understanding of the context around significant debates that will determine the future of our democracy.
What's clear to us is that the context cannot be taken for granted. Students at America's colleges and universities see freedom of expression as at least in part contingent on their broader views and experience of the world. How that will impact the ideas that have undergirded our democracy for the past 229 years remains to be seen.
Recent Content