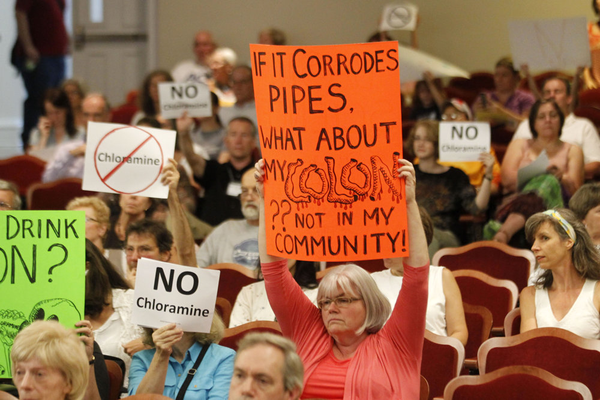 Communities
Funders find good information promotes social change
The following blog post is written by Michele McLellan, a Knight Community Information Circuit Rider. Photo credit: Andrew Shurtleff, The Daily Progress, via Charlottesville Tomorrow. The current Knight Community Information Challenge is open for applications through July 1.
Knight launched the challenge as traditional media began to contract, as a way to engage locally-focused funders to step in and help fill information gaps.
Over the past six years, though, winners have found that providing access to good information helps promote social change.
In fact, nearly half of the 50 challenge winners surveyed recently reported their efforts have brought about policy changes, according to research by FSG. The projects include:
Charlottesville Tomorrow, a grantee of the Charlottesville Area Community Foundation, which provided in-depth coverage of community water supply plan that added chloramines to drinking water. The coverage by the online nonprofit news site led to record turnout of citizens at public meetings and ultimately to a decision by elected officials not to use the additive.
Wyofile, a nonprofit news site in Wyoming that exposed the dangers of trucking hazardous waste over a scenic mountain highway. Officials banned the trucking. Wyofile is supported by the Lander Community Foundation and the Wyoming Community Foundation.
"Report and Map It," supported by the California Community Foundation, a grassroots campaign to document geographically unequal practices governing car seizures of unlicensed drivers – often undocumented residents. The city of Los Angeles ultimately changed its policy.
Foundations also said their efforts increased media attention to issues important to them. For example, 62 percent said their support resulted in reporting that wouldn't have happened otherwise. Fifty-three percent said the work increased reporting on the issues by other media.
This year, the challenge is offering up to $50,000 in seed funding to test new news and information projects. While the challenge is an open call for all kinds of efforts that strengthen community news and information-sharing, this year reviewers are prioritizing Open Government projects that improve the ways in which people and their government interact.
Community and place-based foundations can apply for the challenge through June 1 at informationneeds.org.
Recent Content