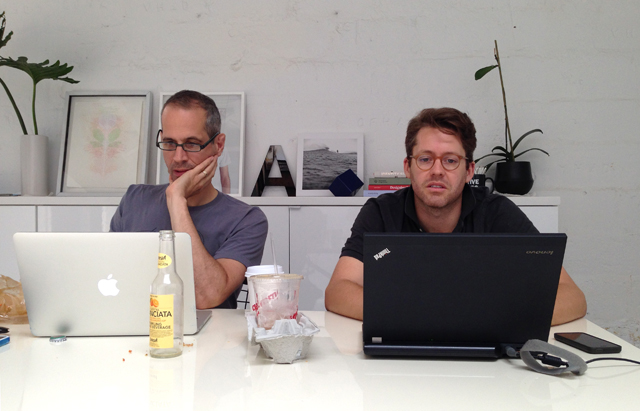 Gimlet Media proves even podcasts about podcasts can be popular
Gimlet Media co-founders Alex Blumberg (left) and Matthew Lieber (right). Photo courtesy of Gimlet Media.
Ten episodes in and Gimlet Media has already revealed a lot about the highs and lows of starting a podcasting company – in one of its own podcasts, "StartUp."
A podcast about podcasts is "meta," as Gimlet co-founder Alex Blumberg says in the introduction for each show. But it is a rare peek into the challenges startups face that often happen behind closed doors.
"StartUp" remains a leader on the iTunes podcast chart for its candid storytelling about the process of building a company from scratch. Everything from picking a company name to the grueling fundraising process is documented for listeners. Even in its infancy, Gimlet Media has already raised $1.5 million, which included an investment from Knight Foundation's venture capital arm, the Knight Enterprise Fund.
Blumberg, who has worked for "This American Life" and NPR's "Planet Money," has received a lot of publicity for "StartUp" at a time when audio storytelling is seeing mainstream re-emergence. "Serial," which recently concluded, captivated millions of listeners, becoming a viral sensation. In November, PRX's "Radiotopia" collective – which earlier received $200,000 in support from Knight – became the most-funded Kickstarter project in the publishing and radio and podcast categories.
"It's just so exciting what's happening. The response has been so overwhelming and the audience for us has been so amazing," Blumberg said.
On "StartUp," Blumberg, along with co-founder Matthew Lieber, are quite candid in revealing the roller coaster that is a startup's journey. One episode chronicled the difficult conversations Blumberg and Lieber had about deciding their equity split. Another episode revealed a mistake in which an advertising spot on Gimlet Media's "Reply All" podcast was not properly disclosed to the ad participants. The company has three podcast series in production and says there are more on the way.
"It's really, really intimate stuff," Blumberg said. But a half-hour podcast provides time to explain the nuances of the situations.
"You're telling a story," he said. "So it's like, if you're going to do everything publicly … it's nice to have the space to be able to give it the context it needs for people to understand it."
That journalistic approach is even apparent in Gimlet Media's ads. Transparently presented to listeners with distinct music to designate an ad, Blumberg often interviews advertisers on-air – so the spots end up more interesting than a typical ad.
However, Blumberg noted that his new startup life doesn't feel that different from the public media world.
"It's just a bunch of people sort of collaborating trying to tell good stories," he said.
In 2015, Blumberg said, Gimlet plans to debut more shows, experiment with ways to build revenue and determine what type of technology it needs to build out to support its mission. The company has already grown to eight employees.
"What's surprising is how awesome it feels," Blumberg said. "It's great having an office with professionals working in it who are united and trying to do something awesome."