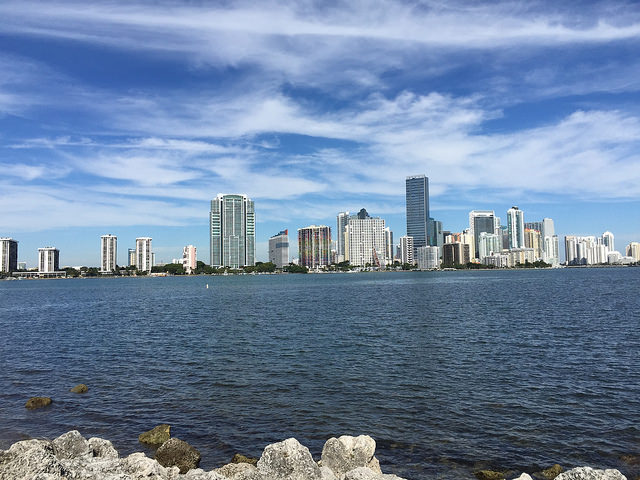 Communities
Global Impact Competition Miami seeks big ideas for addressing sea level rise in South Florida
This post was updated on April 21, 2015 to reflect that the compeition deadline was extended to April 24, 2015.
Regina Njima is manager of the Global Impact Competitions and admissions for the Graduate Studies Program at Singularity University. Photo by Michael D. Bolden on Flickr.
Attention Miami tech entrepreneurs: If you have an idea for addressing Miami's global warming concerns — the subject of recent conversation and debate — here's a competition you should enter. Related Link
Knight Foundation and Singularity University have teamed up to launch Global Impact Competition-Miami and ask the question: "How would you solve South Florida's sea level rise challenge and improve the lives of millions of people in three to five years by using technology?" The two winners with the best ideas will receive full tuition to Singularity University's 10-week Graduate Studies Program in Silicon Valley. The competition is open to all U.S. residents.
Singularity University — a unique educational organization headquartered at NASA Research Park in Silicon Valley, Calif. — is dedicated to educating, inspiring, and empowering leaders to apply exponential technologies to address humanity's greatest challenges, which Singularity University refers to as Global Grand Challenges: education, energy, environment, food, global health, poverty, security, space and water.
Each year, thousands of leaders go through Singularity University programs, including the flagship summer 10-week Graduate Studies Program. Global Impact Competitions — the program under which the Miami competition will be held — serve as a platform for identifying promising innovators and then connecting them and their ideas to a larger community of innovators.
Hosted around the world by Singularity University, in partnership with Singularity University alumni and local sponsors, the competitions are a call for innovation to address significant challenges within local communities.
What this means for Miami: a fast path for sourcing great ideas that could potentially yield great impact at the local level.
What this means for Miami entrepreneurs: connecting with like-minded individuals, and for the two winners of Global Impact Competition-Miami, the prize to attend the Graduate Studies Program at one of the world's greatest venues for designing a better future.
The Graduate Studies Program has spawned dozens of projects and companies devoted to addressing Grand Global Challenges. Singularity University companies (some born as an outcome of Graduate Studies Program team projects) have leveraged exponential technologies that form the core of the Graduate Studies Program curriculum to tackle these challenges.
We invite you to submit your best idea for helping South Florida address sea level rise and join our global community of innovators helping solve humanity's biggest challenges.
If you are interested in the program, applications can be submitted online between Feb. 23 and April 24. Shortlisted applicants will be invited to pitch their ideas during the closing event hosted in Miami in May. The two winners must commit to being available to attend the 10-week Graduate Studies Program in Silicon Valley from June 13 to Aug. 23, 2015. Travel to and from the San Francisco Bay Area will be the responsibility of the winners.
Recent Content