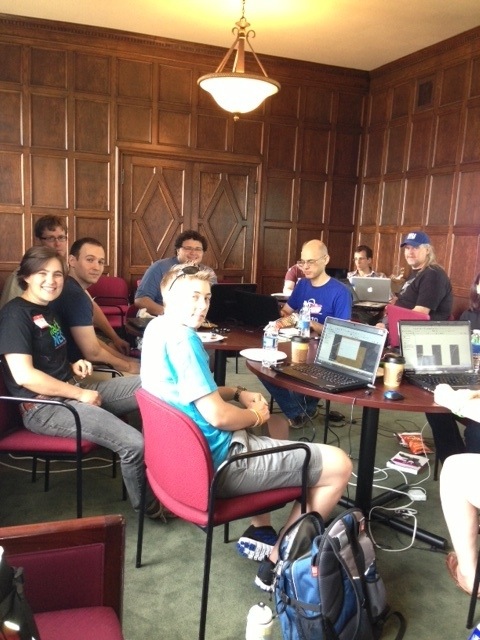 Communities
#HackForChange looks to create solutions to community challenges
Hackers crowd Jack Knight's original Akron Beacon Journal office (now the Knight-funded Summit Art Space) during #HackNeo
From June 1 – 2, the first-ever National Day of Civic Hacking will take place in cities across the country. Over 5,000 citizens, software developers, entrepreneurs and more will come together with one goal: collaborate to create solutions to community challenges using publicly-released data.
More than 90 events are being organized to solve challenges that are relevant both to local communities and nationally. Government partners include the White House Office of Digital Strategy, the Departments of Labor, Energy and Transportation and more than two dozen others.
"Cities are working in new ways. Citizens are now working hand-in-hand with their governments to help their cities work better with technology. The National Day of Civic Hacking is a galvanizing moment for this ongoing movement to bring citizens into the process, to help governments truly be of and by the people."
Knight is supporting several of these efforts locally. In South Florida, the Hack for Change day will be hosted by The LAB Miami. It will have three major themes: exploring government data sets as the raw material for artistic expression, leveraging environmental data to create solutions for a more sustainable future and helping interested individuals get started with civic hacking by creating and editing MiamiWiki.org.
Philadelphia will host a weekend-long civic hacking event – Random Hacks of Kindness. Hosted by City of Philadelphia, Technically Philly and Drexel University, it will pair subject matter experts with technologists to create tools to make the city better. In Detroit, Pain Pitch, a quarterly tech event designed to match real-world problems with technologists to craft solutions, is hosting a government edition. Over the weekend, government agencies and civic groups will present their "pains" to software developers, engineers and designers who will recommend the best ways to tackle them.
In St. Paul, Minn. the foundation is supporting OpenTwinCities.org, a Code for America Brigade partnered with E-Democracy.org, to bring together community hackers, public servants and leaders for a hackathon. Be sure to sign-up if you want to Hack For MN at the DevJam Studios. The event is open for everyone, not just coders. Participants will hear from leaders like Minnesota's Secretary of State and the Chief Information Officers of Minneapolis and St. Paul, Minn.
At HackNEO in Akron Ohio, participants will work on a variety of projects, including an app to help park visitors navigate between local park systems, a "wiki" documenting all things Summit County and an analysis of U.S. Census Data. The event, organized by the civic technology volunteer "brigade" Code for Summit County, will take place at Summit Artspace. With Knight's support, Code for America will continue working in Ohio's Summit County throughout 2013 to build tech responsive to the needs and opportunities of the community's unique park and trail network.
There are plenty of ways to get involved. Learn how to participate in an event near you, help contribute existing data, your coding skill sets or submit a challenge idea.
Additionally, the Knight-supported Civic Data Challenge, which looks to turn civic health data into useful applications and visualizations to impact public decision-making, is also inviting participants to join them to #HackForChange. Find an event near you to start working on a challenge entry.
Recent Content