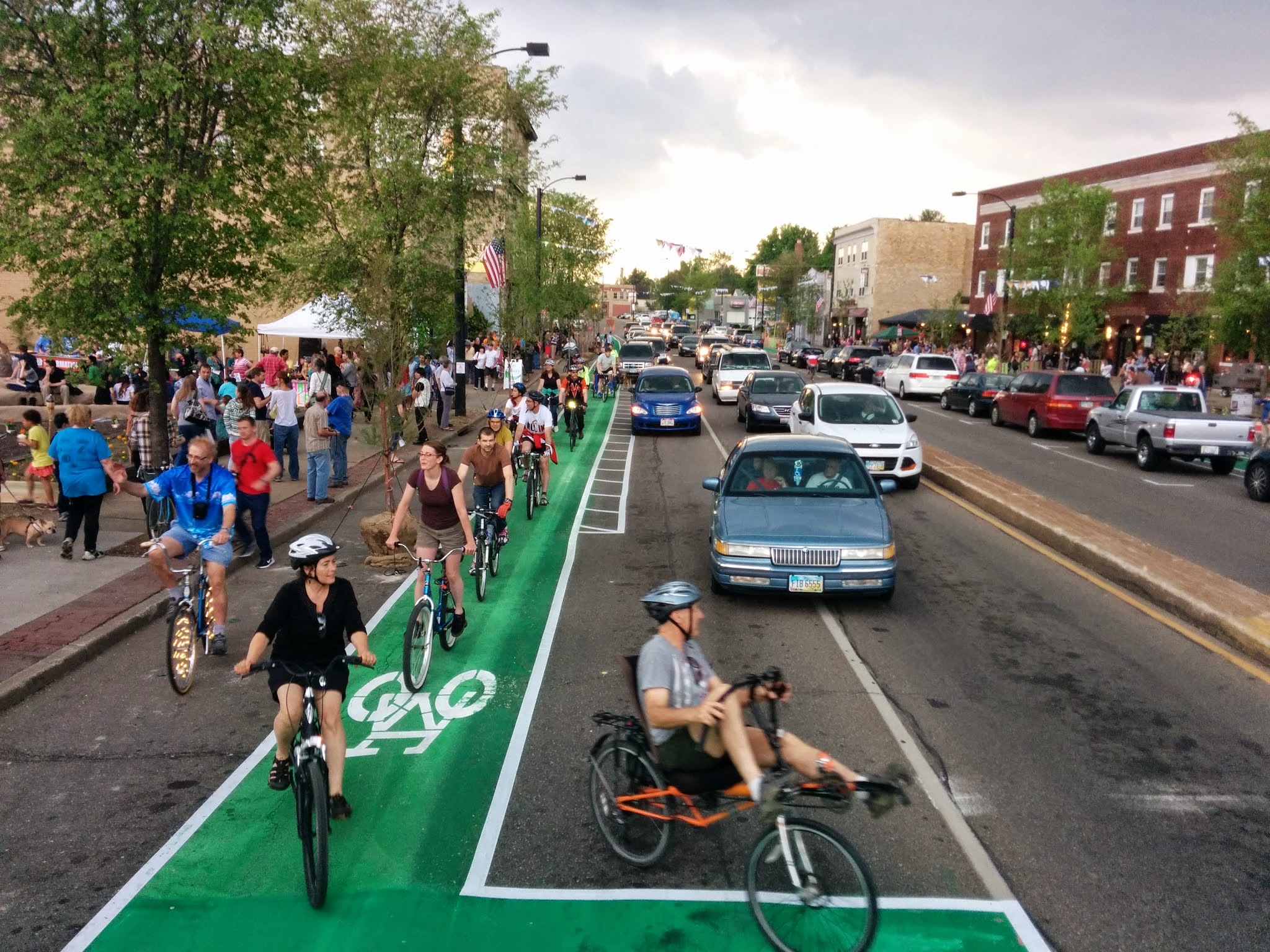 Communities
How Better Block will expand its tactical approach to making cities better places to live
Above: North Hill Better Block in Akron, Ohio, in May 2015. Photo courtesy Better Block.
Jason Roberts is founder of Better Block, an organization that seeks to improve cities through rapid, small-scale projects. Knight Foundation is investing $775,000 to help launch a foundation to scale the work.
People have grown weary of the traditional city planning processes that lay out 30-year watercolor visions that require billions of yet-to-be discovered funds to make the city of our dreams. But doesn't everyone deserve a great place to live, right now? And are outrageous sums really necessary to make these places a reality?
The first Better Block project, which took place in Dallas in 2010, set out to challenge this traditional approach. I had become disgruntled with Dallas' slow planning process and outdated regulations, and many of my neighbors felt the same way. We wanted our streets to look like what we saw in other big cities around the world such as New York, Paris and Amsterdam: sidewalk cafes, trees casting shade, unique local businesses, room for pedestrians to wander and meet, and cars sharing space with bikes. But it wasn't happening. The demand was there, but no one was supplying it, and the city wasn't making it any easier. There were hefty permitting fees for flower boxes, outdoor product displays and sidewalk seating, making it difficult for small business owners to implement these improvements. On top of that, bicycle and pedestrian infrastructure was underfunded and sat low on the city's priority list.
So, my community and I decided to roll up our sleeves and rapidly transform a blighted block in our neighborhood into the colorful renderings they'd been shown for years. We picked up brushes and painted our own bike lanes, installed street trees, built outdoor seating, and set up pop-up cafes, flower shops and art galleries. We printed out the city ordinances and zoning rules we were breaking and posted them in the windows so that attendees could not only experience what a great place could feel like, but also understand that many of these improvements were illegal or cost-prohibitive. After that weekend, change came rapidly. Temporary businesses became permanent, zoning rules were changed, street trees were planted and an open-sourced, bottom-up movement to make our city better took shape.
Within months of that first project, other communities around the country began asking for help repairing their own disinvested commercial corridors with projects of their own. Within a year, Better Block spread around the world. The hundreds of projects that have taken shape since that time have all been rooted in the idea of getting out of the public town hall, and empowering citizens to work immediately in transforming their neighborhoods into vibrant livable, walkable communities with tools of their own.
After learning and advising on more than 100 projects from Australia to Iran, I am now leading the new nonprofit Better Block Foundation, with the support of Knight Foundation. The organization will focus on creating and distributing more tools and resources for neighborhoods to further develop their own block projects and turn citizens into effective change-makers in their communities. It will accomplish this by creating year-round educational programs in the form of symposiums, workshops and city tours, and developing an online library of tools for people everywhere to implement their own projects, using the latest technology.
A major goal of the Better Block Foundation is to demystify the planning process and redefine it according to human terms, so that citizens can transform places into sustainable communities that foster economic development and neighborhood equality. Knight Foundation is making that possible.
Recent Content