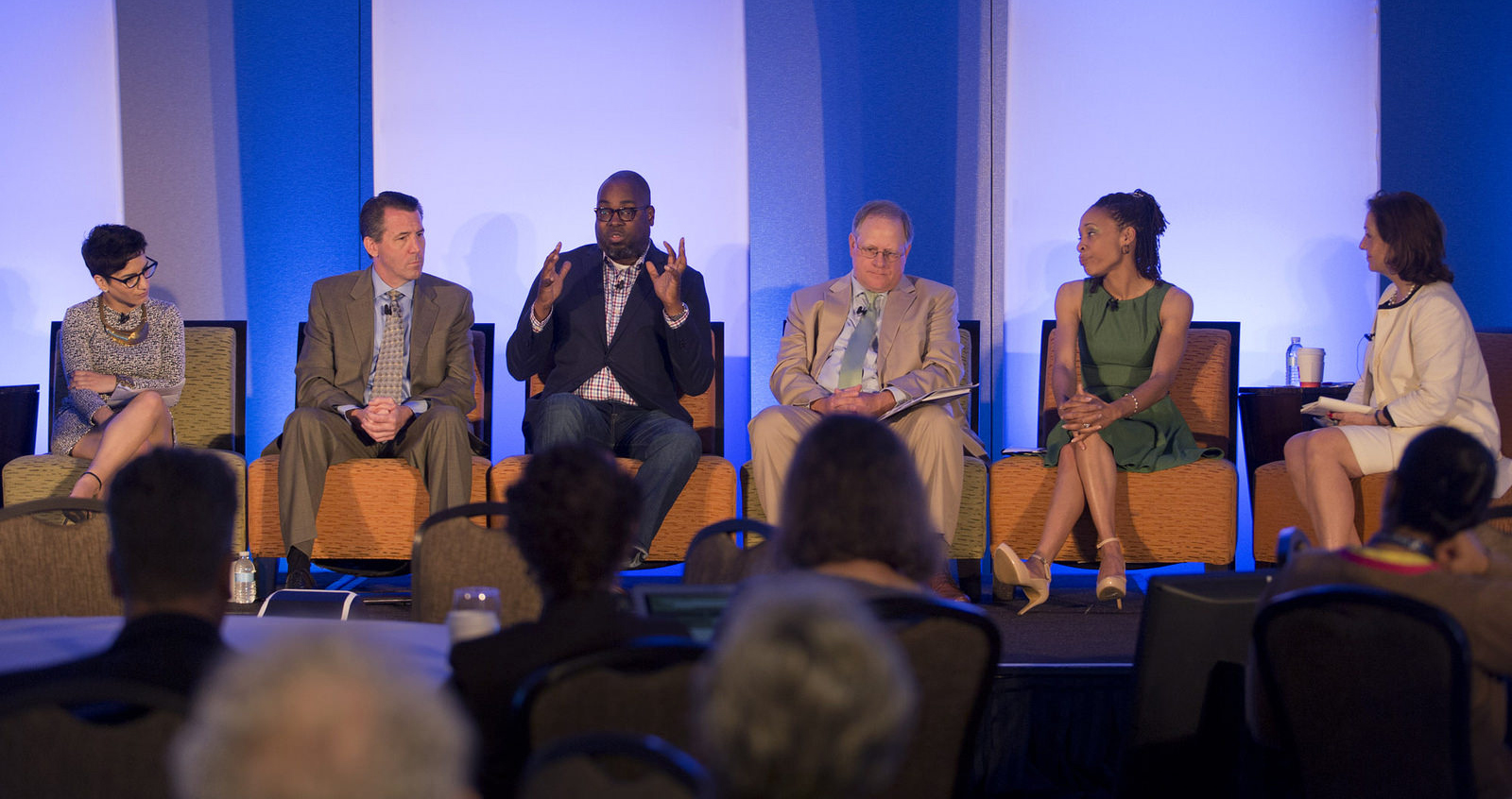 Communities
How a loose media collaboration shines more light on Detroit's big story
From left; Michelle Srbinovich, General Manager WDET 101.9FM, Vincent Duffy, News Director, Michigan Radio, Stephen Henderson, Editorial Page Editor, Detroit Free Press, John Bebow, President and CEO, Center for Michigan, Chastity Pratt Dawsey, Reporter, Bridge Magazine, The Center for Michigan and Jennifer Preston, VP, Journalism, Knight Foundation, moderator for the panel: The State of Community News and Engagement during Knight Foundation's Media Learning Seminar 2015, held at the Biscayne Bay Marriott Hotel. Photo by Patrick Farrell. Michigan's ailing auto industry was propped up by federal bailouts beginning in 2008, but that didn't resolve Detroit's troubles, culminating in the "Motor City's" historic bankruptcy filing in 2013.
Alas, Detroit-area news outlets got no bailout. Just as the biggest story of Detroit's history was upon them and demand for their work skyrocketed, they faced shrinking financial support from advertisers and subscribers and the decline of the newspaper industry.
To this day, Detroit and Michigan media struggle to keep the public well informed and cover the bankruptcy's aftermath and efforts to rebuild Detroit's economy and quality of life. But a joining together of local non-profit and ethnic media may point the way to better telling Detroit's story — and offer lessons to other communities.
"The cooperative is reprogramming us to work together" rather than think about "beating the competition," said Chastity Pratt Dawsey, a former Detroit Free Press journalist working for Bridge on in-depth community stories. That inclination of keeping a story to yourself is common among journalists, as moderator Jennifer Preston, Knight's VP/journalism and a former New York Times journalist, acknowledged in setting up the discussion: "Bringing journalists (from disparate news organizations) together is not the way many of us learned."
For Bridge, which publishes online in addition to a monthly magazine, sharing the work of the cooperative's partners is a way to expose its readers to daily coverage of the issues that Bridge cares most about and bring new readers to Bridge. And, being part of the cooperative gave the Bridge staff additional minds to collaborate with in planning the non-partisan, deep journalism for which they're known, Pratt Dawsey said.
Michelle Srbinovich, general manager of WDET, pointed out that the deeper coverage provided by the media partners to the public radio station's audience has resulted in tangible additional support. It's also helping to bolster applications to other funders to continue to grow WDET's community journalism.
The form of the Detroit Journalism Cooperative is described as "loose," in that foundation funding supports each media partner individually; there is no formal central operation. That funding was done with the collaboration in mind.
When asked about the infrastructure that supports the cooperative and how it could be improved, some panelists wished for at least a single go-to person who would work exclusively on and direct the cooperative's work. Vincent Duffy, news director of Michigan Radio, said that doing the cooperative work is but one of many things that each media partner does each day; the problem to avoid is having it become de-emphasized as everyone gets busy with other duties. Duffy suggested that funding for a similar media cooperative might be best if it could support a central editor/coordinator position.
Speaking to a roomful of community foundation executives who may be inclined to support constructing cooperatives like Detroit's, Duffy advised them to focus on themes for local news coverage, such as economic development or education, rather than specific stories. "Most news outlets will back away if you tell them what stories you want done."
As Pulitzer Prize-winning journalist Stephen Henderson pointed out, "Every news organization in Detroit is financially challenged," so a financial incentive to take part in a news cooperative is important. Because they're already strapped and struggling to keep up with the workload, when a news cooperative demands additional work without additional revenue, it's unlikely to become a priority.
The advice of John Bebow, president and CEO of the Center for Michigan, was to the point: "Don't pick a (media) partner, pick a team." The storytelling will be more powerful when telling a community's stories across multiple partners, and the reach (and thus, impact) will be greater as multiple elements of the overall story are produced and reach multiple audiences.
Recent Content