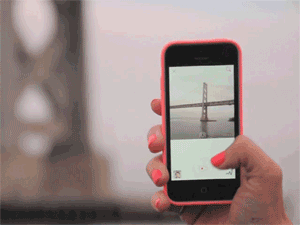 Journalism
Introducing Pop: a new way to have conversations with photos, videos and GIFs
Simple and fun, Pop is about putting two things together. Capture a photo or video and combine it with anything on the web—an animated GIF, a movie clip—whatever comes to mind. To experience a Pop, press and hold down to reveal what's underneath.
Many Pops are funny—the app is perfect for the art of setup and punchline. But Pop can also be used to tell impactful stories.
In this recent Pop, Ahmed Kabil contrasts an image of Syria in 2011 with today, allowing the change over time to be experienced in a single dramatic instant. In the caption, he writes: "When my father visited Aleppo in Syria in '11, he told us not to worry because war wouldn't reach the ancient city." Have conversations with photos, videos and GIFs
Pop is built around conversation. Anyone can respond to a Pop with another Pop—you can use either of the original clips in your response. Pop is a public forum where people interact through remix, creating a powerful venue for people to talk about what's happening—from breaking news to intimate observations of the world around us.
The web has given rise to a new language
Much of our visual history now exists online. Pop makes this media accessible as short clips for anyone to use to express themselves. Social media has largely been about sharing what you see—taking a photo of what's in front of you. By making it easy to combine your own recordings with any media on the web, Pop makes it possible to share what you see and how you feel about it.
With the widespread adoption of mobile technology, millions of people around the world have spurred the evolution of a new visual language. Photos, videos and GIFs convey emotions and ideas in a fundamentally different way than words alone. With Pop, this shared vocabulary is now available to everyone—you can express yourself in the moment by mixing the web's best media with your own life story.
We started working on Pop in October. Thanks to everyone who has supported us these past months: Alex and the incredible team at Giphy, our partners in bringing y'all millions and millions of awesome GIFs; Matt + Chris at Lowercase; Corey + Jake at Matter; Jason at Advancit; Brian and the team at SV Angel; The Academy; Ben and everyone at The Knight Foundation; Glenn, Mark and Bob; Jason, the most kick-ass advisor one could imagine; Ricky and all the good folks at The Hattery; Danny; and especially all of Pop's beta testers who amazed us daily with their wild creations.
Recent Content