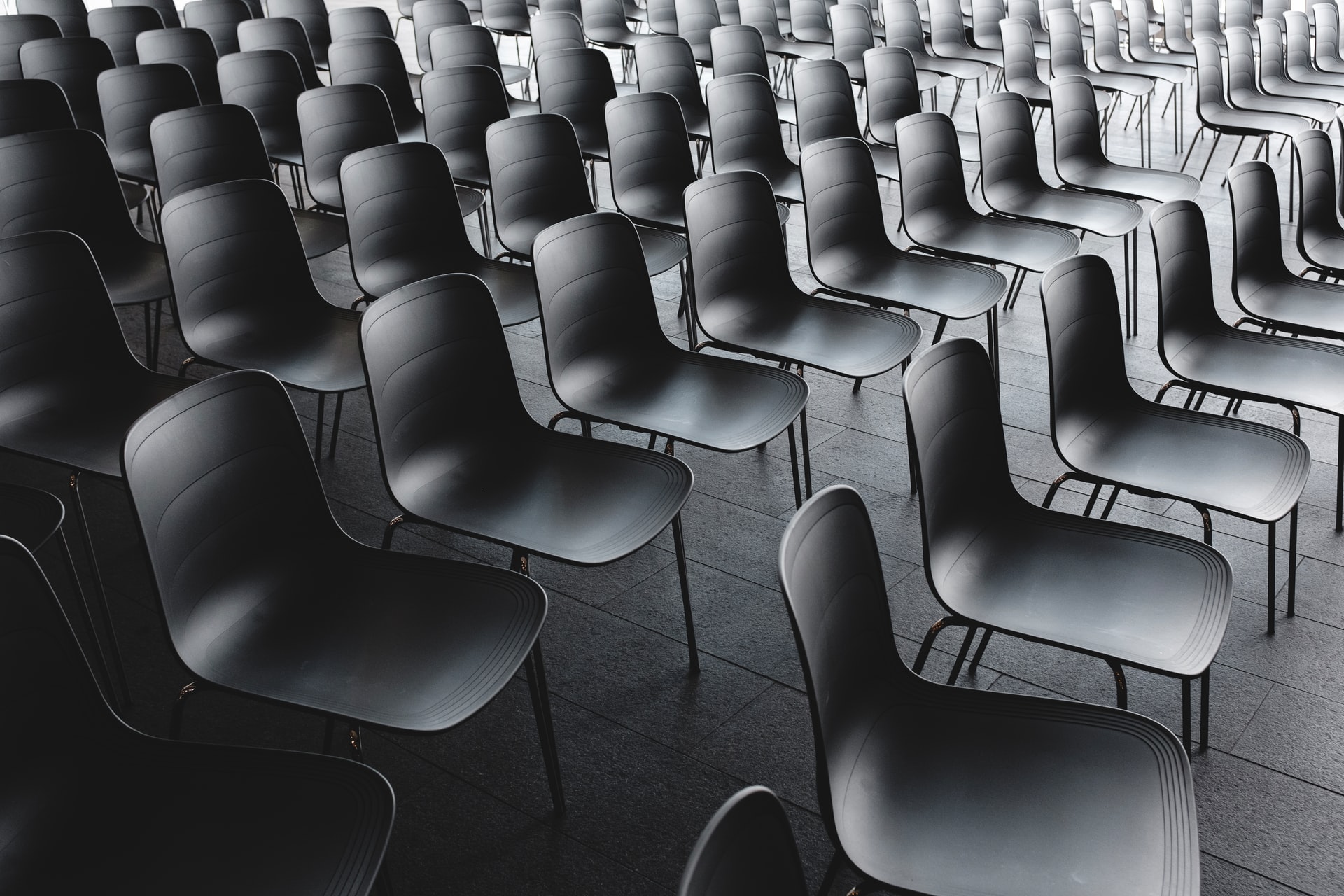 Journalism
Is It Safe to Go Back in the Water? Publishers Debate In-Person vs. Online vs. Hybrid Events
Many say they will stick to online events, but others are moving forward with some outdoor or limited in-person events.
Do you have Zoom fatigue from so many online meetings each day? I know I do, and it's starting to wear me down. As COVID-19 infections wane in the U.S. and vaccinations increase, news publishers are considering whether they should produce events in-person, online or a hybrid of both. While many publishers and associations are sticking to online events to be on the safe side, others are testing the water for in-person events, having people gather outside or in smaller numbers inside.
Rodney Gibbs, who led the Revenue Lab at the Texas Tribune before leaving recently to work at the Atlanta Journal-Constitution, said that the cohort of local news publishers in the RevLab's Events Bootcamp is taking various approaches to events this year.
"It's a mix of people sticking to Zoom until we have green lights all the way, with some dipping their toes in the water with member events in person," Gibbs said. "We're not prescriptive about it. We tell them: 'Here's how Tribune does it and how others are doing it.' They each have a coach who helps them figure out how to apply lessons to their towns."
Each town and state has their own shifting health restrictions for in-person gatherings, so event producers have to keep an eye on those. Other important considerations include:
Is the audience starting to gather in person and becoming more comfortable socially?
Are sponsors comfortable being associated with in-person events?
Are people getting tired of online events?
Will people travel to go to in-person conferences?
After speaking with publishers, associations and others involved in event production in 2021, here's an overview of where they stand.
Sticking to Online Events
Many publishers and associations are staying the course with virtual events, to stay safe and also reap the benefits of gatherings that cost much less to produce and can have larger audiences. Nonprofit publisher Texas Tribune has been live-streaming events online for a long time, but typically didn't do much beyond putting a camera in the back. That changed last year when they put all of their live events online with increased production value.
"Our total sponsorship revenue was greater in 2020," said Jessica Weaver, creative director for live events at the Tribune. "We didn't devalue our sponsorships when we went virtual. We thought there was the same value, and it opened up a lot of opportunities for sponsors to get a much larger audience. From the beginning, they've been great to experiment with us to figure out what worked."
The Tribune announced that its three-day festival would be online in September, though they are considering small in-person gatherings if the pandemic continues to recede.
In Wisconsin, the online nonprofit Madison365 will stick to online events because its audience was hit hard by the pandemic.
"Our primary audience is people of color, who have been disproportionately affected by COVID-19," said Robert Chappell, associate publisher and co-founder of Madison365. "Therefore we err on the side of caution. Besides that, even after the spread of the virus has slowed, the economic impacts will continue. It makes sense not to make people or their employers incur travel and lodging costs to attend our events. We've had a number of online events with good response, too."
Larger media conferences are largely sticking to online gatherings as well. The Institute for Nonprofit News had its INN Days online once again, and the largest media innovation conference, ONA21, will be online in June as well (though they are considering a smaller in-person event in Philadelphia in the fall).
"My main advice to publishers is that the pandemic has fundamentally shifted every area of hosting community events, and it starts first with the planning itself," said ONA executive director and CEO Irving Washington. "We previously took a long-term planning approach to conferences and events, but now we're thinking much more short-term to respond quicker to health and public safety developments."
Both the National Newspaper Publishers Association: The Black Press (NNPA) and the National Association of Hispanic Publishers (NAHJ) are planning to continue online conferences, with some sponsors saying they wouldn't send representatives to in-person events this year.
"There's nothing like being in the same room, but from an efficiency level, with sponsors, you can reach more people in the digital space," said Ron Burke, who runs national sales and business development for the NNPA. "But when you have a conference that lasts three days, I wouldn't expect you to attend all that online. But if you go to the conference [online], you can still get work done."
Gathering Again in Person
But Zoom fatigue is real and some people are excited to get back together in person, especially at outside events. The Austin City Limits Music Festival sold out its three-day passes in minutes. And some alt-weekly publications that depend on in-person events are starting to plan those this summer.
Molly Willmott, association manager for the Association of Alternative Newsmedia (AAN), says that if the markets the publications are in are opening up, then in-person events will follow. Her own events business has a slew of in-person events planned for Memphis this summer.
"We are seeing incredible pent-up demand for live in-person events, and it's truly within the past [month]," said Willmott. "There's really no appetite for consumer virtual events – no one wants to be sitting in front of a computer anymore… All the events we are doing this summer will be outside. Our staff and vendors will be masked, people attending may or may not be wearing masks, but we will have less capacity, less vendors and much more space to make it safe. It's all possible because of so many vaccinations here in Memphis and our low COVID-19 case numbers."
Plus, AAN will convene its conference in person in July in Boston. As with all in-person events happening this year, producers make sure that attendees feel safe with COVID-19 protocols. The AAN conference website states that, "Our in-person convention will be following all pertinent COVID-19 safety restrictions and guidelines, as recommended at the time of the conference."
Many other professional and trade events are also making the leap to in-person events. The Blueprint conference for real estate professionals plans to have 1,000+ people gathering in Las Vegas in October. CB Insights is planning to have its Future of Fintech conference in New York in October as well. Pavia Rosati is CEO and founder of Fathom, a vertical site tailored to luxury travel, and author of "Travel North America (And Avoid Being a Tourist)." She says that she will begin attending more travel conferences around the world, but thinks that many businesspeople will skip the heavy conference travel they did in the past.
"I keep hearing that companies are going to start limiting the number of shows they attend," Rosati said. "Pre-pandemic, they felt pressure to attend everything. Now I'm hearing hotel companies say they will be much choosier and only go to one or two events, which makes sense."
Going Hybrid, with In-Person and Online Elements
So if in-person events may be risky, and online events are getting tired, maybe there's a way to split the difference and satisfy everyone? Hybrid events include an element that's online while including a gathering of people, sometimes in multiple locations.
Henry Lopez, digital enterprise and marketing director at the Santa Fe New Mexican, has helped build a new line of business for the local newspaper by producing online events mainly for local nonprofits. He told me that hybrid events are beginning production this month.
"Hybrid is already starting to happen," Lopez said. "I'll be filming pre-recorded material for a Girls Inc. event later this month on June 25. They have organized watch parties around town and the night of the event, I'll transmit prerecorded and live material to smaller in-person gatherings associated with the event."
Travel website Skift, run by longtime publisher Rafat Ali, will go for the trifecta with its flagship Skift Global Forum available for people to attend in person, online or on demand. Tickets vary from $2,495 to attend in person vs. $345 for online tickets. All in-person attendees will be required to be fully vaccinated and will need to show their vaccination cards and IDs.
"The travel industry is in a huge bounceback mode in the U.S. and starting to happen in Europe too," Ali said. "The biggest thing for us is figuring out what erosion of pricing has happened due to COVID-19 habits… Sponsorship prices are back up to pre-COVID levels (both physical and virtual events), and in some cases even exceeding the price tags. Next year we're planning 12 or so events, four or five of those hybrid, the rest virtual-only."
Jessica Weaver at the Texas Tribune says that hybrid events have a lot of advantages for publishers and attendees.
"The last year we've been really building technologies and systems for the events, and an audience for them that we don't want to throw away," Weaver said. "We will do hybrid events when we go back to in-person events, and make them as open as possible. Texas is a humongous state so you can't get everywhere easily. We will have an engaging process for both in-person and online elements."
In the end, there are no easy answers for publishers when it comes to event productions. It all depends on audience demand, local health and safety protocols, and sponsor preferences. If online events have taught publishers new skills and a less costly way to bring people together, it makes sense for them to continue online events post-pandemic, whether they are stand-alone or part of hybrid offerings.

Mark Glaser is a consultant and advisor with a focus on supporting local and independent news in America. He was the founder and executive director of MediaShift.org, and is an associate at Dot Connector Studio, and innovation consultant at the New Mexico Local News Fund.
---
Recent Content