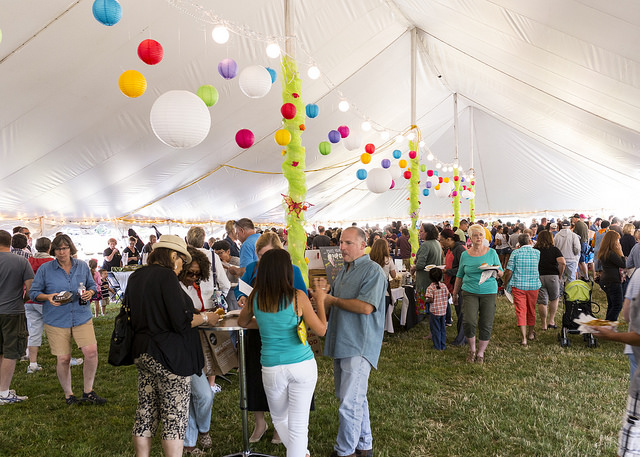 Communities
Knight Cities Challenge mines creative ideas of Akron, Ohio, and other Knight communities
Taste of Akron at Hardesty Park, July 24, 2014. Photo by Flickr user Tim Fitzwater.
The Knight Cities Challenge offers applicants a chance to share in $5 million by focusing on the question, "What's your best idea to make cities more successful?" The challenge will test the most innovative ideas in attracting and retaining talent, expanding economic opportunity and promoting civic engagement in one or more of 26 Knight Foundation communities, including Akron, the city where Knight was founded.
Akron is full of creative people who are passionate about the continued comeback of our city. The open nature of the Knight Cities Challenge has empowered a diverse range of people to develop new solutions to our community's challenges. The best moments in the meetings Knight's Akron Program Director Josh McManus and I have been convening across the community usually start with, "I'm not sure if this is a crazy idea, but…"
In Akron's North Hill, we met immigrants starting new businesses, eager to connect their fellow refugees to their new home, and full of ideas aimed at weaving their cultural heritage into the broader fabric of the community. Meetings with leaders at ASIA Inc. and the International Institute of Akron have reminded us of Akron's increasing cultural diversity and the opportunity to tap into their talents. Applications for the Knight Cities Challenge must be submitted in English, but in an effort to make the challenge more accessible to all Akronites, we have translated the promotional flier into Burmese, Karen, Mon, Nepali and Spanish. Please contact me if you would like the translated documents.
At the University of Akron, the meeting attendees have ranged from freshmen to faculty asking about ways they can use their academic skills sets to better the city, make the campus more vibrant and work to retain more college graduates after they complete their programs. In recent years, our university's enrollment has hovered at record levels, yet the population in the city has dipped below 200,000, which is the lowest total since the 1920s. The university has more than 300 degree-granting programs, and it has been exciting to hear the range of ideas from that community on how we can better engage and retain our college-educated talent.
We've also heard from many entrepreneurs, such as the ones involved with the Akron Global Business Accelerator. We met driven individuals inspired by the opportunity to quickly pitch solutions to one of our community's most respected philanthropic organizations. Several of them noted how entrepreneurs tend to be experts in talent and economic opportunity, but often can't dedicate as much time as they should to civic engagement because they work such long hours. We heard lots of great ideas on how to meet that challenge.
With less than three weeks left, we are in our final push to encourage our community members to submit their best ideas to the Knight Cities Challenge to make Akron even more successful. Let's move Akron forward.
Recent Content