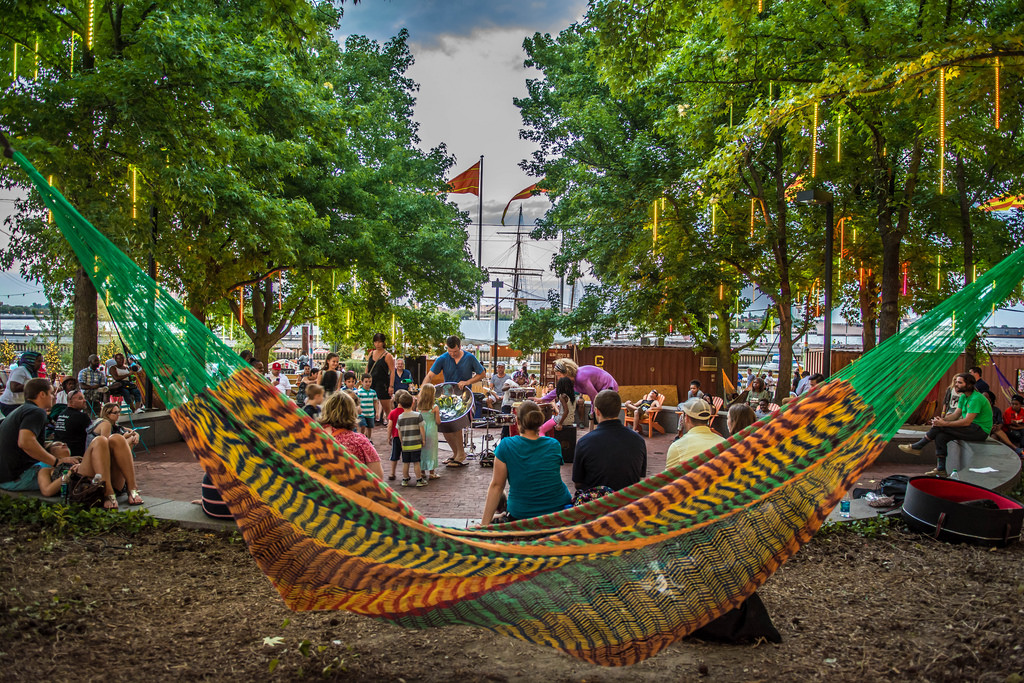 Communities
'Knight Cities' podcast: Philly park with renewed sense of purpose packs in the crowds
Every city has one. It's the civic space that once held so much promise, but is now moribund, lacking people and energy.
1. To activate a place, ask yourself the obvious question: What do people like to do? Life is busy. We don't have a whole of extra time. What do people want to do after work? On the weekend? How do people live their lives? Respond to that need.
2. Prioritize the elements of design and programming that represent what's missing for people. In Philadelphia, there is not enough green space. So that's what David and Groundswell Design provided at Spruce Street Harbor Park.
3. Program for different times of the day. Mornings at Spruce Street Harbor Park see joggers coming through and people stopping for coffee. As the day progresses, there is food available. In the afternoons, the park attracts tourists, parents and children. There is education and fun for the kids. Then after work, the park turns into a beer garden with music and socializing. It evolves throughout the day.
4. Create moments for people experiencing a place. At Spruce Street Harbor, people can choose to be part of the whole experience, but they can also enjoy smaller moments, the gardens or a light show at night. David says it's ever changing, ever moving to create pockets of memories.
5. Even the worst sites have potential, according to David. "I'm forever an optimist and a merchandiser." Everything has beauty. Everything has merit – people, sites, life in general. Everything can be repurposed and reused.
Listen to my conversation with David here. And sign up for the "Knight Cities" newsletter to get alerts as soon as new conversations are posted.
Look for new "Knight Cities" content posted every week. You can follow us on Twitter at #knightcities or @knightfdn. And if you have ideas for people you'd like to hear from, please email me.
Carol Coletta is vice president of community and national initiatives at Knight Foundation. Follow her on Twitter @ccoletta.
Recent Content