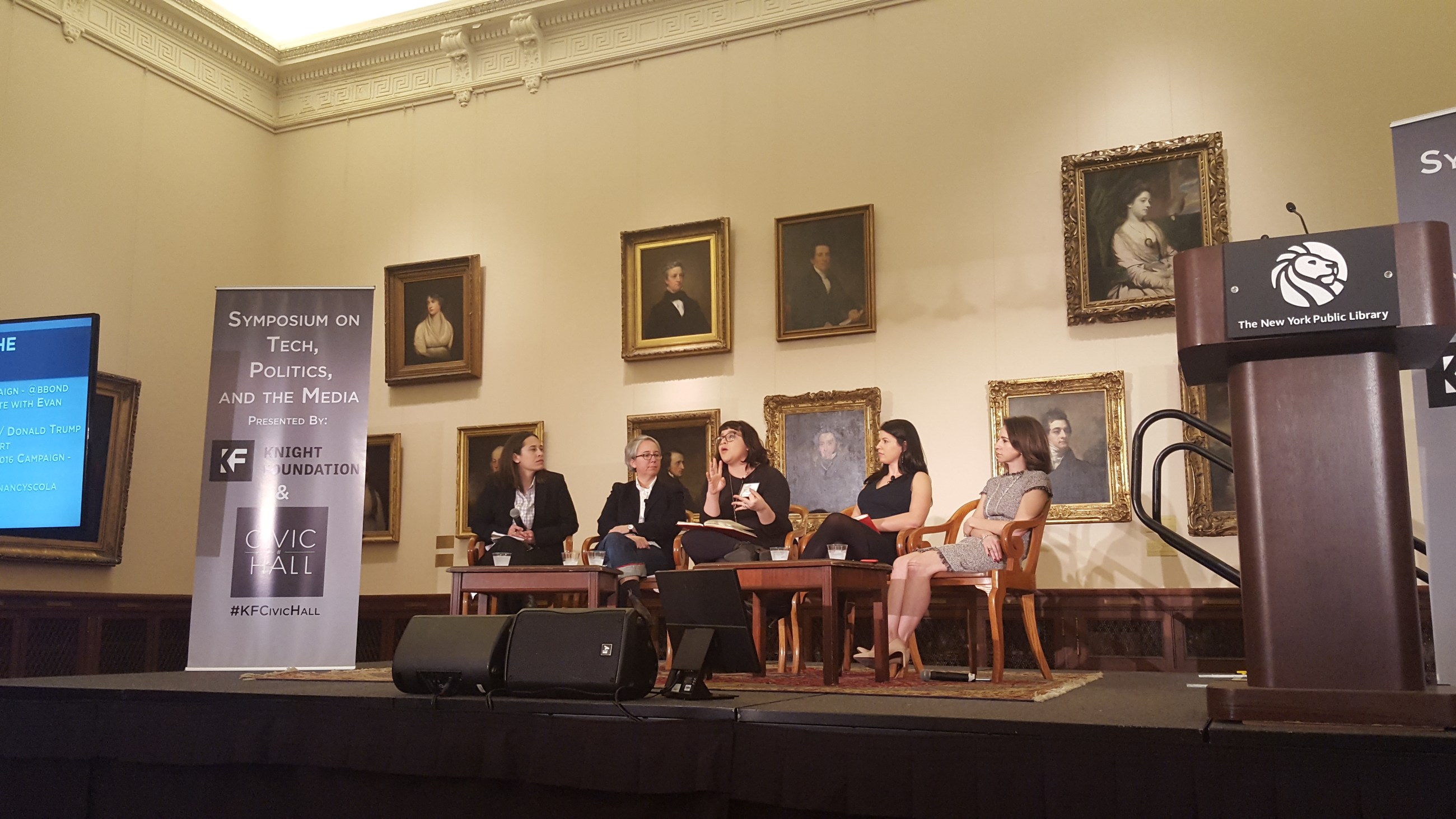 Communities
Knight-Civic Hall and the 2016 presidential election: Restoring trust in journalism
The 2016 presidential election, which saw a political outsider topple a Washington insider was marked by controversy—and a result that many didn't expect. The outcome seemed predetermined for those who were following of the polls leading up to Election Day. Why were most of the polls so wrong? And why did many newsrooms fail to detect support for Donald Trump in places that were believed to be leaning for Hillary Clinton?
Knight Foundation and Civic Hall recently gathered journalists, campaign managers and lawyers to discuss the election. Over 150 gathered at New York Public Library last month to reflect on the ways in which this election cycle was unique and to discuss lessons learned. Here are the main takeaways from that meeting.
Newsrooms need more diversity, less reliance on "insiders"
Throughout the first panel, newsroom leaders discussed how to do a better job of listening to the public and providing more robust, nuanced reporting. One of the most interesting ideas from that discussion centered around the blind spots in media coverage leading up to the presidential election. Sally Buzbee, executive editor of The Associated Press said, "We need more diversity in newsrooms: not just gender and racial, but geographic and socioeconomic diversity." Nicco Mele, director of the Shorenstein Center on Media, Politics and Public Policy, argued that too many journalists are concentrated in major coastal cities such as New York and Washington, D.C., failing to connect with the mood on the ground in other parts of the country.
In addition to geographic bubbles affecting journalism, Nate Silver, editor-in-chief of FiveThirtyEight, pointed out that journalists tend to rely too heavily on polling and quotes from campaign insiders, leading to "elite bubbles" and distorted perceptions.
"Pretty quickly reporters get sucked into insider politics. They become overconfident in expert opinions. We need to have more accurate polling in the states that matter," said Amalie Nash, regional executive editor, west, at USATODAY Network who served as executive editor of the Des Moines Register during the campaign season. She said journalists need to embed deeply in communities to do a better job of communicating how policies affect people.
Newsrooms need to change tactics to build trust in the social age
On a separate panel, journalists and commentators discussed the challenges of piercing through the fake news and filter bubbles that exist on social platforms. Sites such as Facebook enable people to curate the media they consume, leading to an overwhelming amount of hyperpartisan and fake news articles being shared.
New York Times columnist Zeynep Tufekci blamed the media industry's primary business model for the spread of fake and misleading news. "As long as the business model values page views, it's going to reward clickbait, this-moment news." She compared cheap, quick-hit journalism to a diet of sugar: unsustainable and unhealthy for society in the long term.
Eli Pariser, co-founder of Upworthy, said journalists need to focus on building trust with the public. "You can't just put the news out there and hope for the best. Fake news is 20 percent of the problem. The other 80 percent is that the truth isn't loud enough or connecting with people." He said "trust" in the social age means listening to someone who has your best interests at heart, rather than that someone has their facts correct.
Freedom of the press will be challenged
The final panel looked ahead at First Amendment challenges that journalists will face in covering the new administration. Jameel Jaffer, director of the new Knight First Amendment Institute at Columbia University, said newsrooms need to band together to fight challenges to press freedom. He said that threats to the First Amendment, such as surveillance, restrictions on freedom of information laws, and harsh penalties for whistleblowers which began under the Obama administration, are likely to continue under President Trump. Ultimately, it's not just journalists who must protect the First Amendment, but civil society as well, Jaffer said.
R
Recent Content