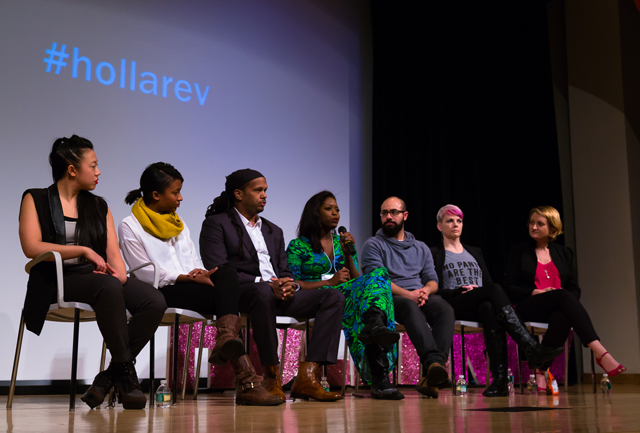 Journalism
Knight Prototype Fund winner Hollaback! convenes diverse groups to fight harassment
Photo courtesy of Hollaback!
Brooklyn-born to Palestinian immigrant parents, Linda Sarsour offered her experience as Exhibit A of what sometimes happens when her presence offends another. For example, one New York day, while queued up with her then 4-year-old son at her local bank, a nearby customer started cursing her and her "kind" of people, she said.
Loudly, that middle-aged man asked what kind of establishment dared to serve an obviously Muslim Sarsour, her face exposed but head and neck covered in her customary hijab, she said. His rant continued until the teller beckoned him to jump ahead of 14 other customers so she could handle his business and he could exit, Sarsour said.
Organized by Hollaback!, a Knight Prototype Fund winner with members in 84 cities and 25 countries, the confab drew high school students and teachers, adult community activists, college professors and clinical counselors who treat those who've been especially harmed by harassment.
Having Sarsour, the National Network's advocacy and civic engagement coordinator and the Arab American Association of New York's director, on the slate of speakers and performers at Holla::Rev's conference was one sign of how Hollaback! is expanding its focus, said Emily May, the group's co-founder and executive director.
As the Brooklyn-based organization expands its mission and turf—thus far, its affiliates have hosted open-mic nights, self-defense and rape crisis workshops, "Take Back the Bar" and "Take Back the Night" and other events—it is digging deeper into the effects of harassment on people of different races, who live in different neighborhoods, who are gay, lesbian, bisexual, transgendered and otherwise not heterosexual and who are assaulted online. In 2014, Hollback! launched an online task force to investigate and combat harassment in that sphere.
In two New York City schools, Hollaback! launched special projects aimed at teaching youth what constitutes harassment, why it's problematic, why they shouldn't harass anyone and how they might safely speak up or otherwise intervene on behalf of someone who is being harassed.
"This impacts people differently based on gender identity, based on where they live, who they are," May said in an interview. "How can we look toward more and better solutions to street harassment? And how can we look harder at our concept of how public space has changed? These same bad behaviors we've seen on the streets for thousands and thousands of years, we're also seeing online, and fears of online harassment mean people are totally leaving social media networks."
Said Holla::Rev speaker Deanna Zandt, co-founder of Lux Digital and author of "Share This! How You Will Change the World With Social Networking," during the conference: "What constitutes online harassment? Where does it come from? How long have we been dealing with it? … What is it about this tool that makes people flip out in ways they don't necessarily make them flip out offline? … The best thing you can possibly do right now is to build up your networks and build up your communities and to trust the networks and to trust one another … You should never expect to deal with this stuff [by] yourselves."
Zandt noted that Hollaback! and its online task force are not working alone; such organizations as Women, Action & the Media and Tech LadyMafia also are spotlighting and fighting online harassment.
Winning that battle requires cooperation from men, said presenter Quentin Walcott, co-executive director of Connect, a New York group that enlists males in its efforts to end domestic violence efforts and harassment of women on the streets and other public places. Walcott added that changing bad behavior requires a clearer understanding of what motivates it.
Reared by a single mom of two, the early messages he received about how to behave were all wrong, Walcott said: "Many of the men in my life were my peers. Many of the images of masculinity and what it meant to be a man came from boys … I would harass someone so I wouldn't be harassed [by peers]. I felt I needed to fit in. It was a rite of passage."
Indeed, said Holla::Rev speaker Feminista Jones of BlogHer.com, a social worker and activist who podcasts at This Week in Blackness, awareness of such differences must infuse anti-harassment work. Street harassment in black communities may have roots and characteristics unlike those of some non-black communities.
"Sometimes it tends to be harsher and more violent," Jones said. "A lot of times the guy will say 'This is what I have to do to prove I'm not gay… '"
Understanding those and other particularities are among the items on Hollaback!'s expanding agenda, Executive Director May said. As the group fights street harassment, it also is working harder to include those who do not identify as heterosexual—and men who may experience street harassment—among those who need protection.
"We've been doing this work since 2005," May said. "It's has been incredible to watch this trajectory go from being this movement where everyone thought this was crazy that there was no way for this problem to be solved—or that it really even mattered to people—to having it now considered a legitimate social issue."
The Knight Prototype Fund accepts applications on a rolling basis to help take ideas from concept to demo. The next deadline is May 15, 2015. Apply here.
Recent Content