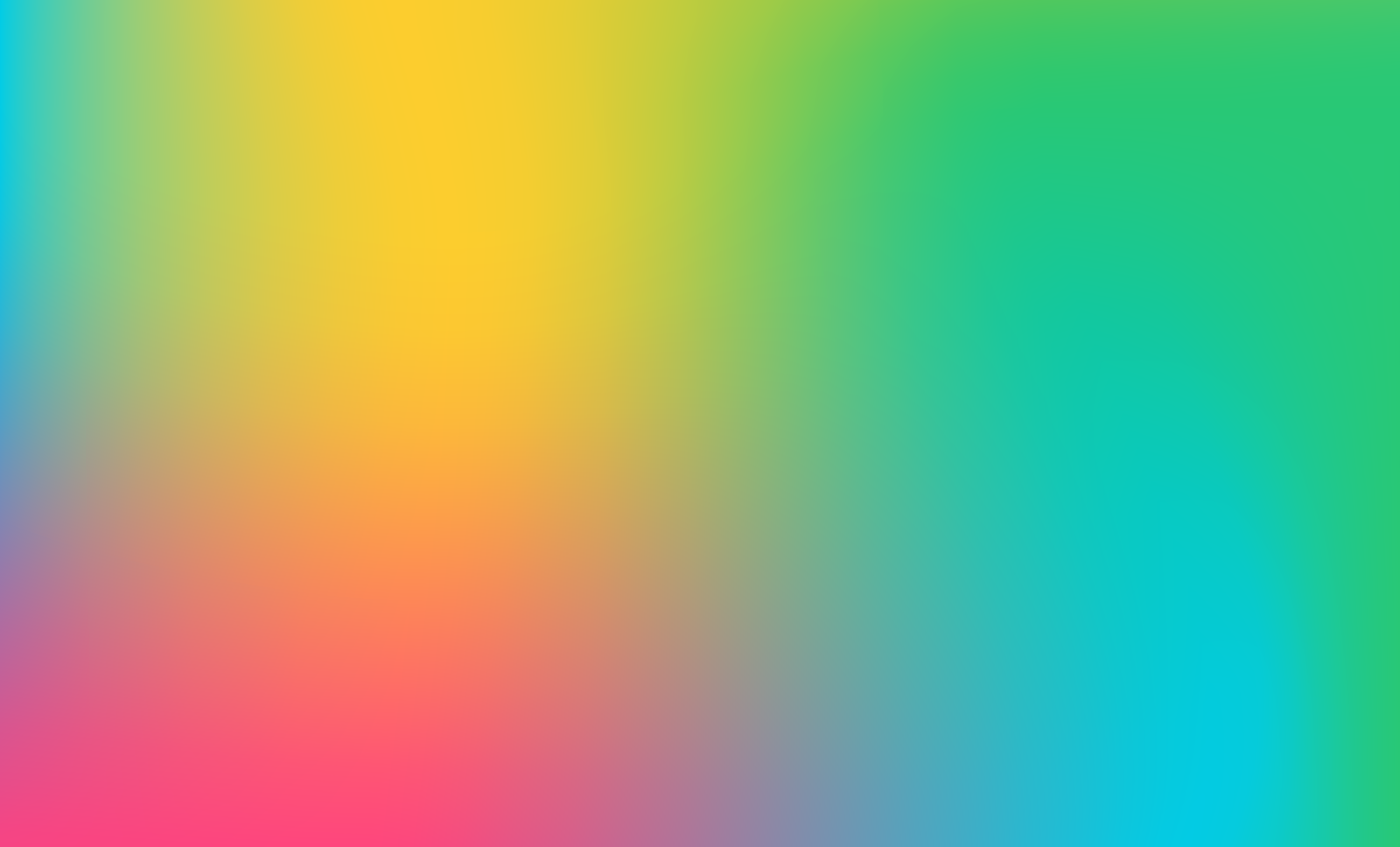 Journalism
Knight works to increase the philanthropic pie for local news
Explaining Knight's networked approach to philanthropy; local news more trusted than national news
At a recent journalism conference, grantees and journalism leaders asked the Knight Journalism team tough questions about how philanthropy operates. Outside of public media, which has been fundraising for local news for years, philanthropy for journalism is still relatively new. Keep in mind that "philanthropy" is a broad term. It now includes multiple categories of supporters like
national funders
community, family and place-based foundations
major donors
individual contributions
Knight certainly can't and would never speak on behalf of all philanthropy, but Knight has indeed been working to increase the overall philanthropic pie for local journalism for more than 15 years. The questions that came to us focused on four tension points, questions nonprofit leaders outside of journalism have been asking institutional philanthropy for years. 
Project vs. Unrestricted: How might news and journalism organizations receive unrestricted dollars to support their outlets rather than just project funding?
Startups & Champions: Do foundations favor "new" organizations with promise (bright-eyed rookies) and battle-tested champions (valedictorians) over the news outlets that live somewhere between those stages (sophomores and juniors)?
What If It Doesn't Scale? Is it enough to be a financially stable local news outlet serving your community effectively? Is "scale" the best direction for most local news outlets (or any) to go? Should philanthropy be celebrating "scale"?
Racial Bias: Are leaders of color seen as "riskier bets" by grantmakers and brought through a more arduous process to receive lesser amounts – or no – funding than their white counterparts?
Again, these questions aren't unique to journalism philanthropy. Nonprofit leaders in other sectors like healthcare and education have raised similar points. Knight's Journalism Program intends for our investments to be catalytic, with an eye towards activating philanthropic support from other foundations and donors. We simply can't do it alone. Again, we want to grow the pie, which is why Knight made such sizeable investments in programs like NewsMatch, Report for America, News Revenue Hub, and American Journalism Project; all fundraise on behalf of local newsrooms and/or provides tools and training so local news outlets grow more effective at fundraising for themselves.
And we have seen the catalytic impact. A recent study by Impact Architects reported just how Knight grantees delivered more philanthropic funding to local news outlets. One example? The Institute for Nonprofit News (INN) Major Gifts Program. INN helped participating newsrooms increase overall revenues by an average of 68% between 2019 to 2020.
We've been advising, collaborating and co-investing with funders since well before the first Knight Media Forum took place in 2008. It's heartening to see so many new foundations and donors joining the cause, with record participation by local businesses, foundations and major donors during NewsMatch 2021. 
Other News around the horn…
Sustainability
💸Publishers cash in Knight's bets on local news. In 2019, Knight Foundation doubled its investment in local news to $300 million over five years, with a focus on supporting organizations such as American Journalism Project (AJP), Institute for Nonprofit News (INN) and News Revenue Hub. So did this theory of change work? So far, the results have been largely positive, according to the Local News Sustainability report from Impact Architects, with 40 newsrooms reporting 213% average annual revenue growth from 2019 to 2020. They also had an average growth of 60% in monthly digital users, and AJP-funded newsrooms had 75% average annual revenue growth. While programs varied in boosting sustainability in this first year, it's a nice peek at just how effective these initiatives can be.
🦁LIONs' roaring growth. While the Local Independent Online News (LION) Publishers was just starting to ramp up its programs in 2020 at the time of the Local News Sustainability report, they did capture one important data point: Participants in the LION-GNI Startups Lab had an average 74% increase in digital average monthly users from 2020 to 2021. And LION just released its own sustainability report for its nearly 400 members, who saw an increase of 33% in median annual revenue in 2021 compared to the previous year. Plus, LION membership rose 71% last year, with a quarter of members coming from the Aspiring Entrepreneurs cohort, which itself has 32% of members coming from a traditionally underrepresented community. 
📺Local news more trusted than national news. If there's one thing Republicans and Democrats can agree on, it's that they trust local news more than national news. That's the finding of the latest Knight/Gallup poll, with 44% of Americans trusting local news "a great deal" or "quite a lot" vs. 27% trusting national news. Republicans and Independents' trust for local news decreased while Democrats' trust increased. Meanwhile, Knight/Gallup also found that consumers of local news were more encouraged to participate in their community or local politics vs. consumers of national news or social media. The poll also found that people relied on social media and talking to friends to learn about and promote a political group or event rather than through local media.
Events
🗓️ Mark your calendars! There are two big events to look forward to: The 3rd Annual Esserman-Knight Awards will be announced on June 1 at 6 p.m. EDT in a special virtual ceremony online. The awards celebrate and encourage outstanding investigative and public service reporting in South Florida. Also: Registration is now open for the first Independent News Sustainability Summit happening in person in Austin from Oct. 27 to 29. A co-production of LION Publishers, News Revenue Hub and RevLab (and supported by Knight), the Summit will focus on revenue and sustainability for local news outlets. And if you have a hankering for more awards, LION's Local Journalism Awards will be handed out the night of Oct. 28.
Cohorts
📸Visual journalism is going back to Cali. With nearly everyone having a powerful camera in their pockets, it seems that we're all world-class photographers thanks to filters on Instagram. But the reality is that professional photojournalists tell powerful visual stories, and the number of full-time photogs in newsrooms has been cut in half in the past 10 years. CatchLight, focused on visual-first stories, is trying to change that, and recently named five CatchLight Local Fellows to newsrooms around California, covering their salaries and allowing them to shoot daily assignments, longform features and even take on community engagement projects. Just how profound is the change this program is generating? Black Voice News in Riverside, Calif., will have its very first full-time visual journalist, Aryana Michelle Noroozi, in its 50-year history.
✨Asian leaders rising. Did you know that May is Asian American and Pacific Islander Heritage Month? The nation's largest AAPI journalist association, the Asian American Journalists Association (AAJA), named its new cohort of 20 mid-career journalists for its U.S. Executive Leadership Program (ELP). Over the next few months, they will improve their management, leadership and professional development skills with online meetings and in-person sessions at the association's national convention, AAJA22 confab, in Los Angeles in July. The ELP program goes beyond just better management techniques and keeping Dilbert happy; it's a transformational program aimed at developing the next generation of diverse journalism leaders who can build a sustainable future.
Tweet of the Week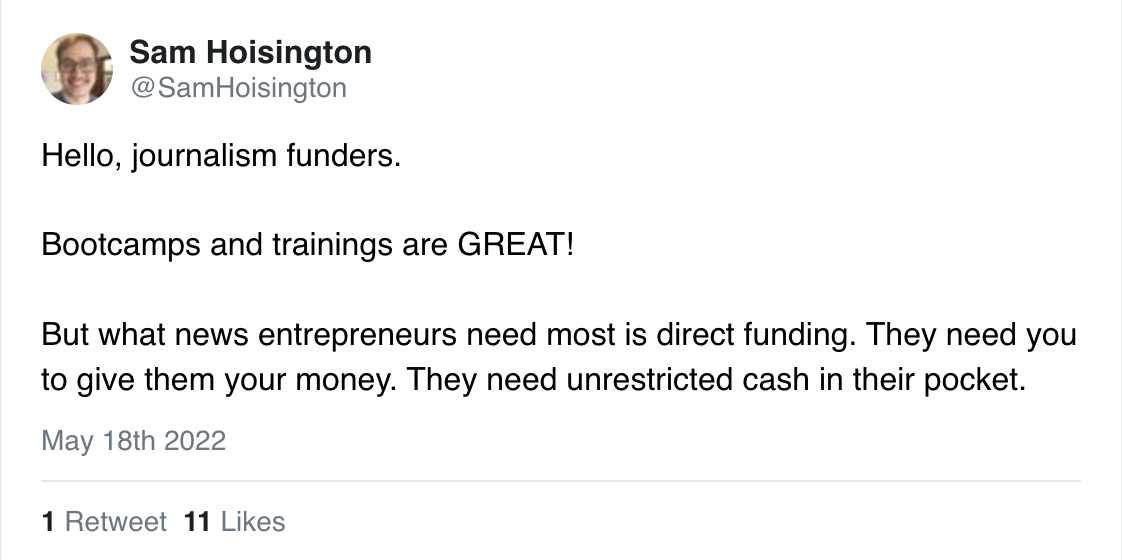 News @ Knight Credits
Written by Jim Brady, with Mark Glaser
Edited by Jessica Clark & Kenny Ma
Executive Produced by Heidi Barker & Jim Brady
Godfathered by Alberto Ibargüen
A Knight + Dot Connector Joint
Recent Content