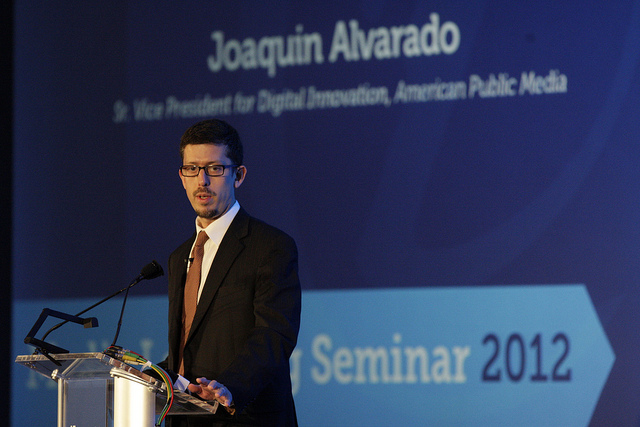 Communities
Lessons and insights learned in building community partnerships
The 70 Knight Community Information Challenge projects funded so far have led to collaborations with nearly 450 organizations – from libraries, to tech groups, universities, legacy and new media and more.
Partnerships are so prevalent, that community and place-based foundations often ask for tools and tips in making them effective. So Knight and the consulting firm FSG talked with the leaders of successful projects, gathered their insights into a new report – and organized a panel discussion at the Media Learning Seminar offering lessons learned. With less resources available for community news and information projects, collaboration and partnerships are more valuable and necessary than ever before, said Joaquin Alvarado, senior vice president, digital innovation, American Public Media. But what creates some of the most successful partnerships? Alvarado says it's about getting people from different communities active and engaged, earning their loyalty and providing long-term commitment to the partnership. It's also about using technology to really engage with residents and making sure they feel their voices are heard in the communities. Alvarado knows a thing or two about partnerships. The Public Insight Network, a service of American Public Media funded by Knight Foundation, has more than 70 partners. It provides journalists with access to a network of more than 130,000 citizen sources for stories, to help inject fresh voices and perspectives into coverage. The network also recently merged with Spot.us, another Knight grantee. Recently, Public Insight Network partnered with community members and WDET Detroit to cover the issue of truck traffic in residential areas of Southwest Detroit. The increased truck traffic was leading to an increased rate of asthma in area kids. If community members see a residential truck on their street, they're encouraged to text the word "TRUCK" to 30644 to alert Public Interest Network reporters. The website also offers opportunities for residents to share how truck traffic is affecting their neighborhoods. Alvarado says these partnerships allow for the sharing of content and reporting on issues that matter to communities all over the country. By leveraging resources, they've been able to amplify their impact to do high-quality journalism in undeserved communities. His takeaway: Never stop working on relationships. "Relationships and partnerships don't happen accidentally. When you engage people in the process, you need to ensure their voices are heard. The bottom line is to build a level of trust." Partnerships are particularly essential in low-income communities, noted Mary Lou Fulton, program manager, The California Endowment. Fulton shared several emerging themes she and her team learned from funding projects that involved partnerships, like Coachella Unincorporated.
The project, which included an investment in youth media, was done in collaboration with New America Media, a network of and advocate for 2,000 plus ethnic news organizations. What's on Fulton's do-over list? If she could, Fulton said she'd focus on creating relationships with partners first, then work on building and creating content second. She'd also focus more clearly on how to define the scope of work from the beginning of a project. Marketing, and plans for distributing content, she said, can't be stressed enough.
Recent Content