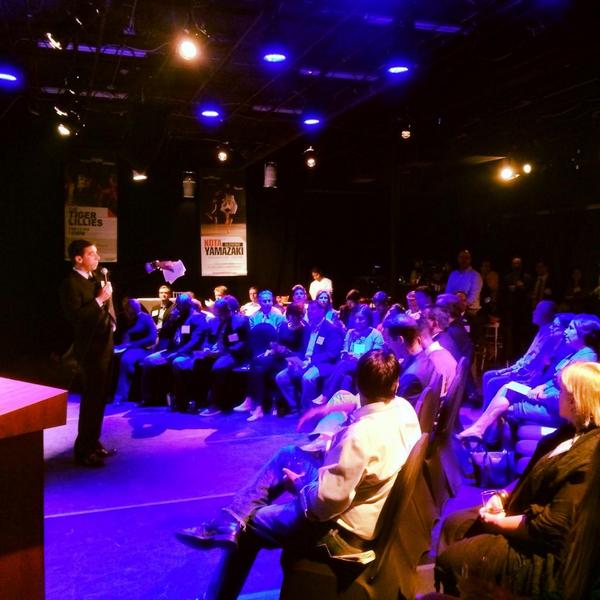 Communities
Lessons from Miami: Five insights for foundations to better serve grantees
How can we improve our work with grantees?
More than 100 Knight Miami grantees came together on Nov. 4 to help us answer this question. Among them were the innovators, entrepreneurs and creatives that have been part of Knight's journey to make Miami more of a place where ideas are built.
They provided a view into the progress made since the foundation's Miami program launched an effort to support the city's emerging community of entrepreneurs and startups nearly two-and-a-half years ago. Each had a part in the transformation that has occurred in Miami's innovation ecosystem since that time.
Matt Haggman at the Miami Grantee Gathering by Anusha Alikhan on Twitter.
Matt Haggman, Knight Foundation program director for Miami, kicked-off the discussion by highlighting the gathering as a way to share, learn and connect. He also explained Knight's thinking behind supporting Miami's community of startups, makers and doers of all kinds.
Knight recognized, he said, that backing Miami's rising innovators would reap important community benefits, creating: a stronger sense of place and possibility, increased talent retention and a greater network of problem-solvers. As hands shot up to share insights and discuss new ways to put Miami on the map as a global innovation hub, the momentum behind this message became clear.
Also obvious was a common desire on the part of grantees to support Knight's work and each other—emphasizing the importance of such gatherings as a means to do better together. With this in mind, five important insights emerged from the gathering for foundations to keep in mind:
1. Create an open space for learning:
Grantees used the gathering to share lessons on topics from monetizing the skills of young entrepreneurs to organizational diversity as a prerequisite for success. Additionally, while each of the grantees who attended were part of Knight's unified effort to support Miami's emerging innovators, many were at different stages of development: early-stage, mid-level, scale-up. The event gave them the chance to trade secrets on tackling issues such as fundraising, business development and building a loyal fan base.
Grantees also represented different building blocks within Miami's growing innovation ecosystem from places to connect such as The LAB Miami and Idea Center, to events including eMerge Americas and the Mini Maker Faire, to mentorship and funding opportunities such as Accelerated Growth Partners and Endeavor Miami, to entrepreneurship education opportunities such as Code Fever. Each was able to share their particular experiences and introduce folks to new opportunities to network, access talent or capital, and broaden their knowledge base.
2. Connecting grantees = connecting ideas:
The diversity of the grantees who attended also allowed a chance to connect the dots around the full cycle of Knight's investments in Miami's innovation ecosystem. These include support of Miami's next generation of talent through entrepreneur and tech education for high-school and college students, as well as initiatives that assist early-stage and other businesses looking to network, scale up and contribute to a growing community of mentors, investors and doers.
Felicia Hatcher talked about Code Fever as a resource for diverse tech talent in Miami. Wifredo Fernandez invited innovators to visit Miami Dade's Idea Center and share their experiences with promising college students. Kane Sarhan of Enstitute sparked interest in the apprenticeship program's official launch in Miami, which will host representatives from 12 New York venture capital companies; he invited entrepreneurs who were interested in getting funding or learning more to come meet these investors. Stonly Baptiste, founder of Miami event Smart City Startups, discussed the role that entrepreneurs can take in creating solutions for city issues such as mobility, sustainable building, and water and energy management. Nico Berardi of Accelerated Growth Partners introduced the crowd to the organization's funding and investor education opportunities.
"If you know anyone who wants to invest, tell them not to buy another condo; tell them to invest in Miami's early-stage tech companies," Berardi said.
From open calls for volunteers and mentors, to help with scaling and knowledge sharing, as well as simply "spreading the word" about events, the gathering provided grantees with the opportunity to lean on each other to fill gaps. The requests underscored the need for foundations to provide support beyond money, and create essential collisions between grantees.
4. Measuring impact starts with grantees
"The whole idea [for Knight] is not to invest in companies themselves. The whole idea is instead to try and build an ecosystem—to try and provide the connections and support that help people to better build their ideas," Haggman said.
The grantee gathering provided Knight a comprehensive picture of how far it has come in reaching this goal. In addition to the keen appreciation shown for Knight's help in establishing new ideas and scaling existing ones, the packed room exemplified the progress made over the last two years.
Knight's first investment in the space, The LAB Miami now houses 140 entrepreneurs and hosted more than 23,000 people at events in its first year. Global tech conference eMerge Americas attracted more than 6,000 participants to its inaugural Miami event. Venture for America, a program that connects top national talent with startups, has placed seven fellows in Miami. Since its launch in September 2013, Endeavor has introduced six new Miami companies to its global network of mentors and investors. Code Fever has trained over 300 students, some of whom are now pursuing computer science degrees at Miami Dade College, which recently received Knight support for launching its new Idea Center, serving 165,000 students. Accelerated Growth Partners, which works to bridge the funding gap for Miami entrepreneurs through, among other initiatives, angel investments, is hoping to finish the year with eight portfolio companies.
Knight's investment in Miami's innovation ecosystem is driven by the foundation's larger focus to evolve its giving in response to the pace of innovation. To date, Knight has made over 90 investments in Miami's innovation ecosystem totaling more than $8.5 million. Haggman discussed one of the guiding principles of the Miami program initiative was in fact to "fund experiments first," investing in a lot of ideas rather than a few big ones, to determine what works and what doesn't.
The Miami grantee gathering was part of this phased approach—allowing grantees to be directly involved in the refinement of the program. There was an overwhelming call to continue the conversation and regularly hold such gatherings as a means to discover new ways of improving each other's work.
Recent Content