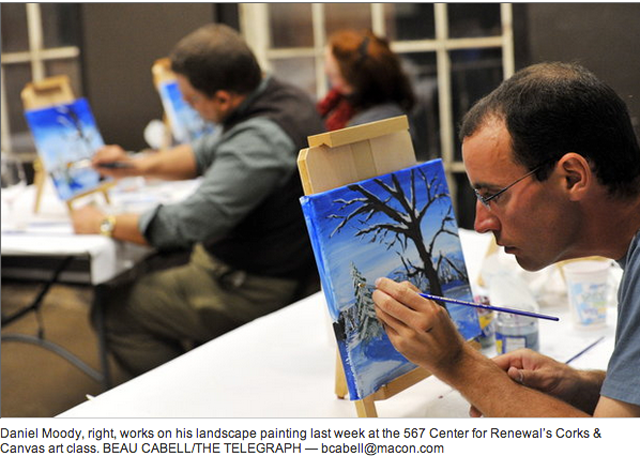 Macon's 567 Center for Renewal cultivates culture in downtown
Darlene Murphy and Kellie Jaros haven't had an art showing since they graduated from Wesleyan College in 2005.
Their collective works, dubbed "Natural Instincts," are now hanging in the 567 Center for Renewal at 533 Cherry St.
"It's a collaborative effort," Murphy said. "We both like to take photographs and do artwork."
Their photographs and paintings of wild animals and nature scenes will be featured all month in the gallery on the second floor of the old Thorpe's clothing store next to The Rookery.
In the past few years the old men's store has emerged as a hub for aspiring artists, musicians and entrepreneurs.
"We're here to help revitalize downtown through business and the arts," said Melissa Macker, executive director of the nonprofit that runs the center. "As part of that, we hope people will come and experience the local arts scene and get in touch with their creative side."
Macker, who grew up in West Palm Beach, Fla., has a master's degree in public horticulture and envisioned a career directing a botanical gardens. Instead, she runs a cultural nursery where new talent is nurtured by experienced artisans propagating their skills.
A recent grant from the John S. and James L. Knight Foundation launched the program in September.
"Knight believes that the arts are a unique way to bring people together," said Beverly Blake, executive director of the foundation. "We invest our grant funds in people and projects that will make art every day."
Blake sees the classes as a way to bring people with common interests together, folks who might not otherwise get acquainted.