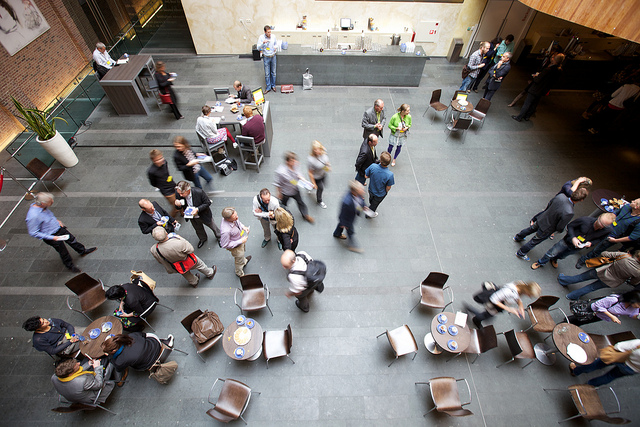 Communities
Measuring and evaluating corporate civic engagement
A new national initiative to survey, rank and recognize corporations that demonstrate leadership and investment in civic engagement issues launched this week.
The Civic 100's inaugural survey of S&P 500 companies is designed to better understand how they engage the communities they serve and how they institutionalize practices as part of their corporate cultures. The initiative is taking a scientific approach to measuring and evaluating corporate civic engagement.
Knight Foundation's Vice President/Strategic Initiatives Paula Ellis says she's glad to see the survey is built on the recognition that the business sector plays a "key role in promoting community engagement."
Data collected from the survey will include information about company's leadership commitments, their ability to leverage partnerships within the community and employee engagement efforts.
National Conference on Citizenship's Chief Program Officer Kristen Campbell says the companies' participation in the survey is voluntary, but "that it is personally reaching out to all S&P 500 CEOs and its Corporate Social Responsibility officials inviting them to participate." The organization plans on working with a number of nonprofits and associations who have corporate members to help spread the word and is also talking with PR agencies who they hope will encourage their client's participation.
Through July 31, The Civic 100 survey is available to companies to complete online at www.Civic100.org. Two webinars scheduled for June 26 and July 18 will provide technical assistance for survey participants. Responses collected will be used to generate an overall score – resulting in a rank ordered list – which will published in Bloomberg Businessweek in mid-November.
At the launch, Senator Bob Graham, a board member at National Conference on Citizenship said:
"Corporate responsibility has become a key driver for companies in employee recruitment and retention and brand loyalty. The Civic 100 is a first-of-its kind initiative to recognize companies that lead, empower and inspire the communities they serve as well as create a roadmap for businesses seeking to become better community leaders."
Recent Content