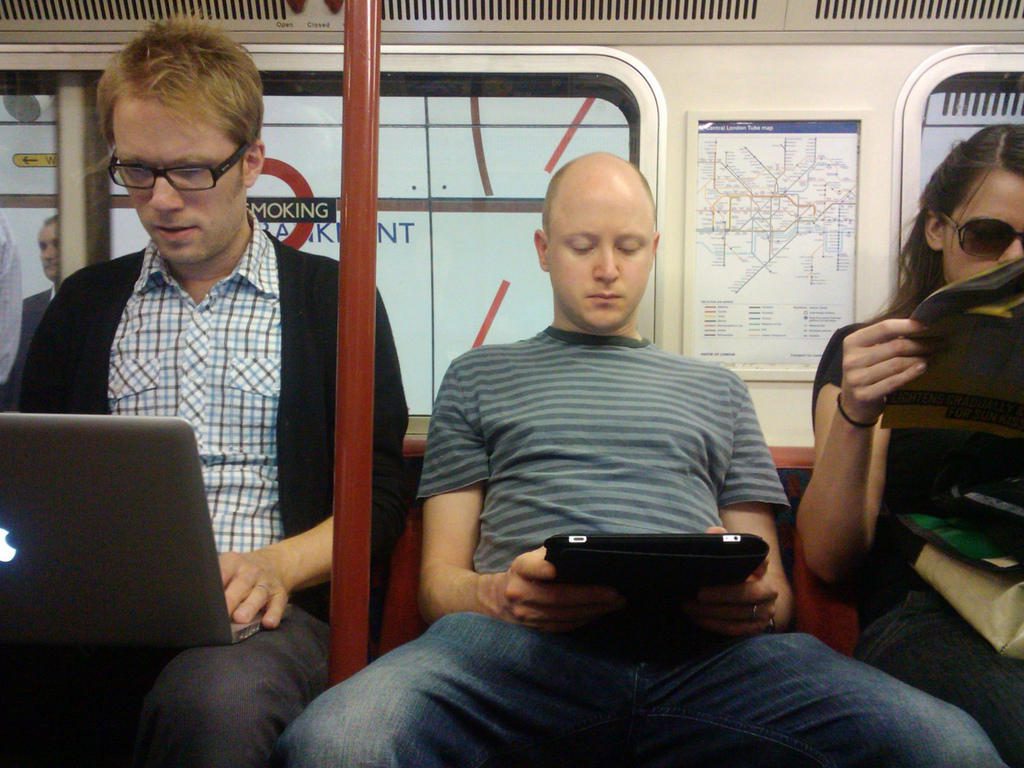 Journalism
Meeting readers where they are, with the information they need
Photo: Evolution of reading on a subway, by Alfred Lui on Flickr.com
At Knight Foundation, we are looking to support projects that advance the practice of journalism in the digital age. According to the Pew Research Center, 39 of the top online news sites receive more traffic from mobile devices than desktop computers. Newsrooms face a considerable challenge determining how to best present news and information for mobile users.
That's why Knight Foundation is investing $2.6 million in to create a mobile lab inside the Guardian US to experiment with new and engaging ways for people to consume news on smaller screens. The team will consist of reporters, editors, designers and developers, embedded within the Guardian's news operations in New York, working in real time on real stories. They will share all the data, best practices and lessons learned from this experiment so that journalists all over the world can learn from it and replicate the techniques inside their own newsrooms.
Some of the questions the team will consider include: How can they capture and engage people as they carry these highly intelligent pieces of hardware around with them, almost every moment of the day? How can news organizations use location to better serve users? How can they integrate social and mobile platforms? What are new ways for presenting and gathering data on mobile? How do we involve readers in the newsgathering process in a way that only mobile can?
Presentation of stories on mobile has been limited by small screens and other built-in constraints that come with the platform. How might we push the boundaries of presentation and user experience? For images, graphics, video and audio?
Beyond experimenting with presenting content on mobile, the Guardian will also explore ways newsroom staff members must adjust and adapt, both in structure and culture, to meet these user needs. These lessons on new roles and responsibilities for journalists will also be publicly shared to help newsrooms around the world make whatever changes they need to support journalism excellence on the platforms where people are spending their time.
At Knight, we believe improving access to news and quality information helps democracy thrive. Please share with us questions you think this pioneering work by a mobile lab inside the Guardian should address by commenting below or continuing the conversation with @knightfdn on Twitter.
Recent Content