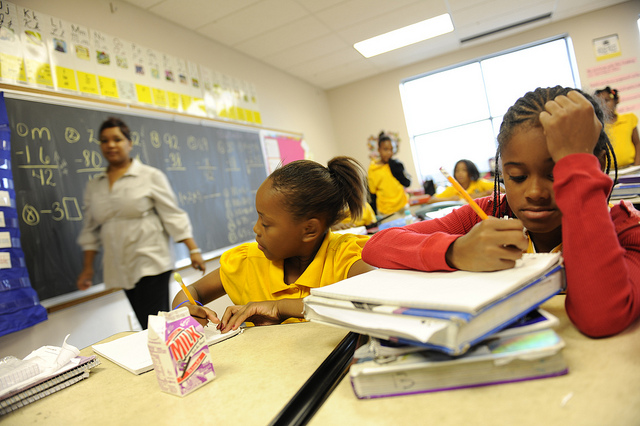 Communities
Milwaukee news site offers in-depth reporting of local issues
The Milwaukee Neighborhood News Service covers many local issues including, the arts, economic development, health, public safety and education. Photo credit: Tessa Fox.
What is Milwaukee Neighborhood News Service?
Milwaukee Neighborhood News Service grew out of a major initiative by a local foundation to improve the quality of life in three low-income minority neighborhoods. The Zilber Family Foundation and its community partners were concerned that there was very little news coverage of these neighborhoods, and most of it was focused on crime. We thought that high-quality reporting about the revitalization work going on in the communities could help fill that gap, debunk stereotypes and ultimately inspire people to get involved in improving their own neighborhoods.
We cover education, public safety, health, arts and recreation, economic development, housing and other issues.
The Knight Community Information Challenge enabled us to expand our coverage to more neighborhoods and do more enterprise and in-depth reporting. Another important component of the project was to develop a plan to generate revenue so we can reduce our dependence on foundation funding.
How far along is the KCIC project and what results are you seeing?
The KCIC project allowed us to hire two more part-time reporters to cover an additional 14 city neighborhoods. We also have expanded our media partnerships to include the Milwaukee Journal Sentinel, the city's Pulitzer Prize-winning daily newspaper; "Lake Effect," a popular public affairs show on Milwaukee Public Radio WUWM; and Urban Milwaukee, a respected online news site. Fox6 Now, the online outlet for a local TV station, continues to publish all the content we produce. National, citywide and neighborhood organizations also reprint or link to our stories on a regular basis. Grassroots Grantmakers, a national organization of funders, recently invited us to do an in-depth presentation on our project.
We continue to produce well-respected multimedia content — ranging from enterprise pieces on major public policy issues to "meat-and-potatoes" coverage of inner city people, organizations and events. Our "Post From Community" feature is becoming increasingly popular and garners a significant number of users.
As a result of all these factors, our reach has grown exponentially. In a one-year period (July 1 to June 30), page views increased 56.8 percent, to 115,833 (through June 30, 2013); unique visitors jumped 96.9 percent, to 37,237; Facebook "likes" grew 138 percent to 950 (and are now at 1,243), and Twitter followers grew 140 percent, to 600. We're excited by these numbers, and are working to achieve similar growth next year.
With two additional part-time reporters and two graduate student fellows each year, we now can devote more resources to enterprise reporting and editorial planning. For example, we're working on a plan for covering the effect of the Affordable Care Act on low-income, minority residents. We retained a consultant to create a sustainability plan, and are in the process of implementing his recommendations, including hiring a sales and marketing person to help grow our audience, seek sponsorships and explore advertising opportunities. We're also making a concerted effort to make more low-income residents aware of the news service.
Recent Content