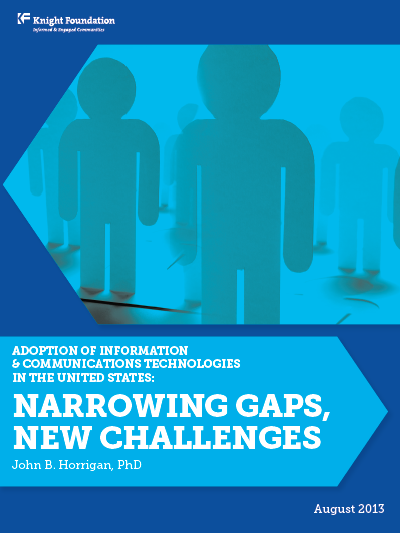 Journalism
A modern makeover for discussions on the digital divide
For nearly two decades, the phrase "digital divide" – the dichotomy between the information "haves" and "have-nots" – has shaped policy discourse about digital equity. When it first came into widespread usage in 1995, just 14 percent of Americans identified themselves as Internet users; far more people were "have-nots" than "haves." To characterize lack of access as a problem, at a time when only elites had a nascent technology, made the "digital divide" a concept ahead of its time.
Today, we still talk about the digital divide, even as the data show that the problem has flipped. By the end of 2013, 85 percent of Americans were Internet users, with only 15 percent disconnected. If the "digital divide" was ahead of its time when 86 percent of Americans lacked access, is it behind the times now that 85 percent have access?
That was the issue that Knight Foundation asked me to explore in the report released today "Narrowing Gaps, New Challenges: Adoption of Information & Communications Technologies in the United States." The report is chock-full of data on Internet adoption trends since 2000, along with changes in how people go online. Highlights include:
80 percent of Americans now have "advanced Internet access," that is, either broadband at home or a smartphone.
72.4 percent of Americans lived in homes with broadband by the end of 2012.
55 percent of Americans have at least two means of getting online (that is, a broadband subscription, a smartphone or tablet).
Uptake of new devices is changing the landscape rapidly; just last month, the Pew Research Center reported that tablet ownership jumped from 34 percent in September 2013 to 42 percent in early January 2014. Including advanced Internet access, the digital divide has narrowed by 40 percent since 2009, when roughly 100 million Americans did not have broadband at home.
Nonetheless, a number of groups trail in broadband adoption:
· Low-income Americans: 43 percent of those in households with incomes below $25,000 annually have broadband.
· Older Americans: 49 percent of those who are age 65 or older have broadband.
· Less educated Americans: 51 percent of Americans with a high school degree or less have broadband.
· African Americans: 55 percent have broadband at home.
· Hispanics: 56 percent have broadband at home.
· Rural Americans: 58 percent have broadband at home.
Notwithstanding remaining adoption gaps, the trend lines point to growing connectivity for most demographic categories. Does this mean it is time to sunset the idea of the digital divide? Not necessarily, as it is important to continue the work to get key low-adopting groups online with broadband at home.
But it would be a mistake to consign debate about equity in the digital age to 1990s framing. An emerging challenge is digital readiness – the capacity for online and offline populations to improve their skill levels and knowledge base for next generation applications. This is important because the Internet's role in our lives is about to raise the stakes in not having a digitally ready population in two ways:
· The "Internet of things": new applications, driven by connected objects, will transform how we consume energy, commute, manage health care, figure out what to buy, and more.
· Public sector uses of information technology: portable devices and ubiquitous high-speed networks will revolutionize how we educate our children, interact with health care providers and get government services.
In addition to skills, digital readiness encompasses fundamentally the new levels of user trust, i.e., that government and industry can be responsible stewards of the personal and household data on which so many new services depend.
All this means that the "digital divide," if not in not need a retirement party, is due for a facelift. Stakeholders must address digital readiness for the online and offline populations. That means developing the capacity – in cyberspace and communities – for all citizens to have trusted resources that give them the skills and confidence to use next generation applications.
John B. Horrigan is an independent communications and technology policy consultant. His work focuses on consumers' adoption and use of information and communications technologies, as well as the impact of ICTs on states and localities. Horrigan has served in senior positions at the Pew Research Center, the Joint Center for Political and Economic Studies, and TechNet. At the Federal Communications Commission in 2009-2010, he led development of the broadband adoption and usage portion of the National Broadband Plan.
Recent Content