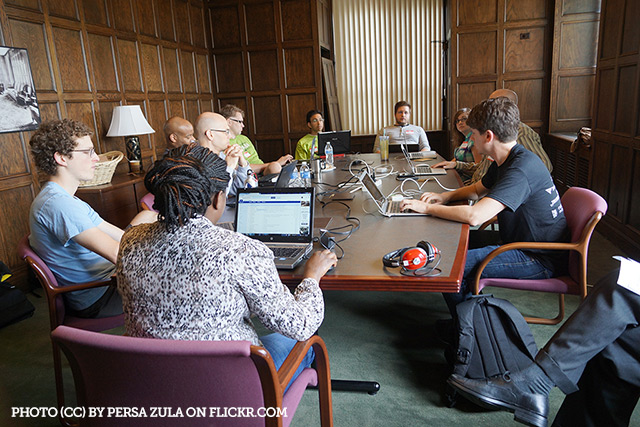 Communities
National Day of Civic Hacking enlists innovators to build community solutions
Developers worked in the office of one-time Beacon-Journal Publisher John S. Knight in Akron for #HackNEO in 2013. Photo by Persa Zula on Flickr.
This weekend more than 120 events in more than 100 cities will observe the second annual National Day of Civic Hacking, an event open to everyone who has a passion for making constructive civic change. It's for you, even if you don't know how to code or wouldn't dream of calling yourself a "hacker." Last year more than 11,000 people participated and even more are expected this year.
Participants will work together on hundreds of innovative projects that promote civic engagement and create a more open and transparent government. As part of our strategy examining the changing face of U.S. employment and how our communities can best adapt to and serve this increasingly fluid and independent workforce, Knight Foundation has posed a number of challenges that we invite participants to address.
We're asking civic hackers to think through the unique opportunities and issues that freelance and independent workers face. This includes specific challenges:
And the more open-ended question that we hope will turn up some interesting crowd-sourced information:
In Akron, Ohio, participants will work on, among others, a database challenge presented by the city of Akron and adapting the Code for America adopt-a-hydrant platform for the East Liverpool Fire Department.
At the Minneapolis-St Paul Hack for MN, in collaboration with the Minnesota Interagency Council on Homelessness, event participants will prototype solutions to the challenges that homeless veterans face when attempting to access services.
And, in Philadelphia, #HACK4ACCESS will attempt to address some of the issues faced by elderly and disabled Philly residents when interacting with technology.
We don't yet know what specific projects will emerge from the National Day of Civic Hacking; that's part of what makes it so exciting. We do know that the day is sure to produce ideas, projects and collaboration that will go a long way toward making our cities better places to live. We are particularly interested in the convening power of the event and believe that creating connections between these civic innovators can have wide-ranging impact in communities far beyond the National Day of Civic Hacking.
George Abbott is special assistant to the vice president for community and national initiatives at Knight Foundation.
Recent Content