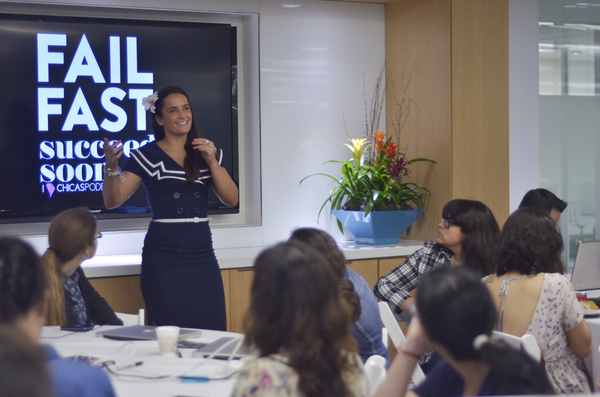 Powerful women connect, create during Chicas' first U.S. event
Dozens of journalists, designers and developers spent four days in Miami last weekend bringing change to the face of Latin American journalism. The workshop, an initiative of Chicas Poderosas (Powerful Women), aims to empower female journalists, organizers and artists in developing countries.
Attendees developed new Web applications in journalism and technology, hacked away at personal projects and refined their work while being mentored by journalists and educators from some of the world's leading publications.
"I learned how to make my stories more 'readable' or easy to understand," said Miami-based attendee Marianela Toledo. "And I learned about data mining, which led me to new stories to write."
I have seen some great women (+ a few men) learn new skills, inspire and teach each other. Thank you #chicaspoderosasMIA it was lovely! — Annabel Church (@annabelchurch) April 20, 2014
More than a dozen mentors from a wide spectrum of organizations presented on a number of topics, from a critique of recent Vox.com infographics by University of Miami's Alberto Cairo to a presentation by Alastair Dant of The New York Times about design iterations of his most recent interactive work.
The sessions also led to a creative, ambitious attempt to map the character intersections in the work of the late Gabriel Garcia Marquez, hammered out over grilled cheese sandwiches as news of the famed author's death April 17 spread through the room.
Many more advisers were on hand to talk about everything from audience development to simple story design.
Among notable projects to come from the program was a photo-driven magazine piece about water pollution and environmental degradation in Brazil ahead of the World Cup; a map of many Mexican mass graves recently discovered and reported in the local press; a database of candidates for the upcoming Columbian presidential candidates and a practical visualization of recent 311 requests in Miami.
"This is the path I want to take my life towards," said event co-founder Mariana Santos, a 2013 ICFJ Knight Fellow. "Engaging communities and helping to improve journalism in Latin America by training and mentoring journalists, designers and developers will make each country ultimately improve their social context." "The event is a place for all hearts and languages, for all people," said Miranda Mulligan, director of the Knight Lab at Northwestern University. "Magic happens."
Be the change you wish to see in the world. – Gandhi #chicaspoderosasmia over and out, see you very soon! THank you everyone for all!! — marianamourasantos (@marysaints) April 23, 2014
Chicas Poderosas Miami was funded by grants from ICFJ, Knight Foundation, the World Bank and many others. The series, founded in June 2013, has served more than 1,000 journalists and will continue with events across Latin and South America.
Kate Gardiner is director of social media and audience engagement at IBT Media.