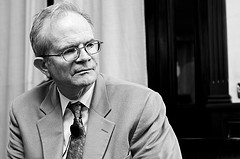 Journalism
Pulitzer Prize Winning ProPublica is part of Knight's Investigative Reporting Initiative
The nonprofit ProPublica has won its second Pulitzer Prize in as many years for a series on Wall Street bankers who sought to enrich themselves at the expense of clients and at times their own firms. Reporters Jesse Eisinger and Jake Bernstein uncovered the scandal, exposing some of the practices that ultimately worsened the financial crisis.
…the mores of Wall Street, at least in the period 2006-2008, were not consistent with the public interest or the national interest, and that greater oversight (and perhaps enforcement actions) may be in order. Our ultimate test for our work at ProPublica is impact, and we believe this reporting has helped spur activity by the SEC and the Congress — activity we continue to cover, as recently as twice this past week.
Congrats to the ProPublica team!
Recent Content