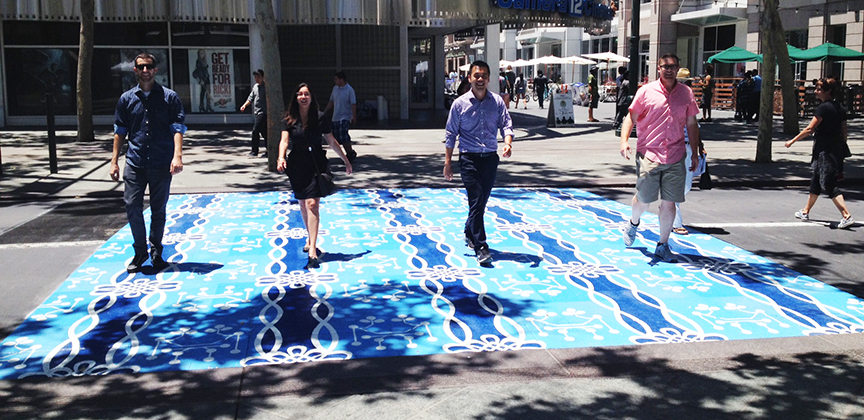 Communities
'Street Life' events enliven San Jose to entice more people downtown
Photo credit: Scott Knies / SJDA; video: Jamilah Hosan / SJDA.
We keep asking people who live and work in Silicon Valley what they want to experience in the valley's largest urban center: downtown San Jose.
It turns out they want to see more of each other on the streets and sidewalks and cafes, strolling about and enjoying places – both public and private and sometimes in-between – that are interesting, authentic and compelling.
In 2014, downtown property owners looking to invigorate the center city with more pedestrian activity completed a Downtown Street Life Plan. The plan offers a diverse range of improvement projects from temporary installations of shade structures and modular seating; to interim projects such as pocket gardens, dog runs and mural corners; to longer-term investments in parklets, medians, lighting and building re-use.
Thanks to Knight Foundation support last year, we completed a couple of prototype Street Life projects and launched others into planning stages with community members, permitting agencies and potential sponsors.
With just a taste of Street Life momentum underway, employees, residents, visitors (and city officials) are clamoring for more whimsical events such as The Big Lunch and bright additions to the urban landscape such as the art crosswalks – and wonder what's next?
With just one year gone and five to go, Knight Foundation's investment in downtown San Jose Street Life has already changed approaches towards implementation and participation:
1) Forging new paths for the community: Our Street Life manager is completely dedicated to seeing new ideas and innovative projects from start to finish. For the new art crosswalks, for example, the project manager coordinated with the city to ensure the design worked for both public art advocates and transportation officials. From now on, the push through bureaucracy will go more smoothly, and we can expect more art crosswalks throughout the downtown.
Another case in point: Our proposal to create "mural corners" that help frame intersections with elevated artwork and restore spatial definition at corner parking lots has required a city zoning amendment. We're able to get it done, presenting the opportunity for future similar projects by the San Jose Downtown Association or other property owners or organizations.
2) Opening new doors to collaboration: The success of the Street Life Plan has attracted other partners interested in improving the downtown environment and creating a network of inviting public spaces. Support from Knight Foundation helped build credibility and confidence in the Street Life projects. Just last month, Kaiser Permanente committed significant funding to a project in a series of installations connecting underused public spaces.
We expect partnership interest to grow as other Street Life and activation projects draw more people to downtown San Jose. Given the law of attraction, more partners and more projects will spawn even more opportunities – and pedestrians.
Recent Content