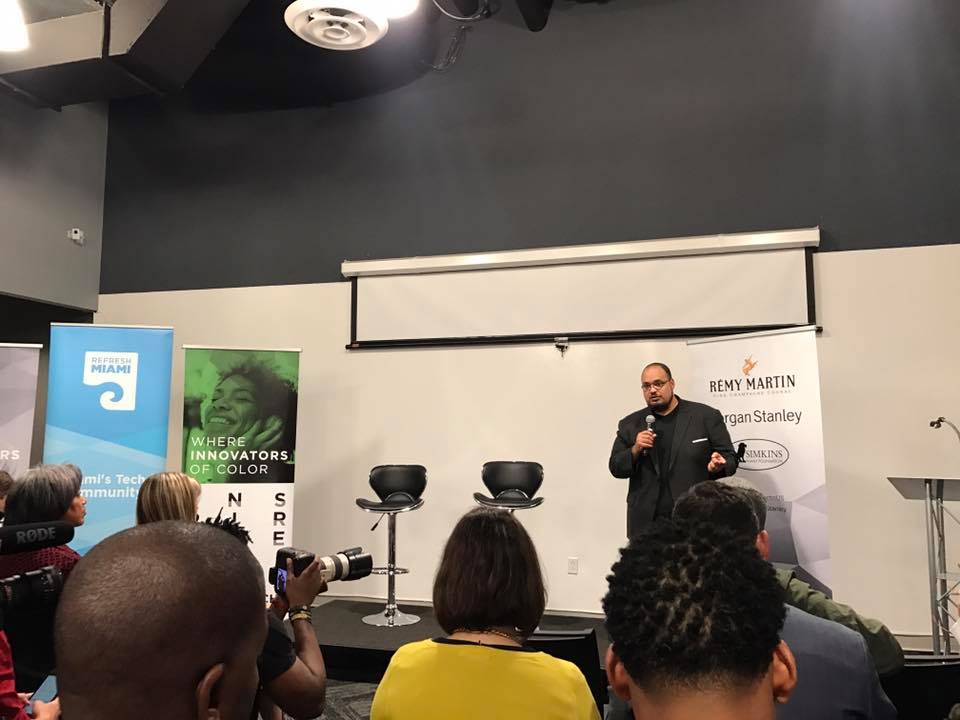 Communities
Y-Combinator CEO Michael Seibel kicks off Black Tech Weekend with tips for entrepreneurs
This post has been updated.
Black Tech Weekend kicked off last Thursday with a standing-room-only crowd that gathered at CIC Miami to hear from Michael Seibel, CEO of Y-Combinator, the leading business accelerator.
Though Seibel received top billing, the program began with advice from both Sarah Kunst, founder and CEO of Proday, a subscription fitness app that allows users to work out with pro athletes and fitness celebrities, and from Angela Benton, CEO and founder of NewME, a Miami business accelerator targeting minority and women entrepreneurs that relocated from San Francisco.
It was a fitting way to kick off the inaugural Black Tech Weekend, an expansion of Black Tech Week, which will now focus on year-round programming to help promote diversity and inclusion in the technology sector statewide, while showcasing South Florida's assets to the world. Black Tech Weekend focused on discussions, tours and networking among local entrepreneurs with experts and advisers from throughout the technology space.
Thursday's speakers had words of encouragement for the entrepreneurs in South Florida's innovation economy. In conversation with each other, Benton and Kunst both recommended marketing executive Guy Kawasaki's pitch deck as being invaluable to entrepreneurs, even those without a business plan.

Benton added that founders also should focus on "creating lists of potential investors with an affinity for your space, building spread sheets, handling criticism and taking advice."

But it was Seibel's words that most fascinated the audience. Multiple successful companies have emerged from Y-Combinator, including Airbnb, reddit and stripe. Seibel's own startup journey influenced the advice he shared. He was a co-founder of justin.tv and CEO and founder of Socialcam, both of which sold to larger companies. "Being successful in this business is like making it into the NBA; thousands don't make it and it's not a game where everyone wins," he said. Seibel has been a partner at Y-Combinator since 2013. "A lot of people lied to me when I was starting, and I promised myself I wouldn't do that," he said.
Having been presented with countless ideas that have been pitched for the Y-Combinator accelerator, Seibel explained, "It's a myth that ideas are important because you're really judged on execution and entrepreneurs succeed by being the master of their own plan." While you might need capital from investors, he said, "Don't give the investor leverage, aim to be feared rather than loved and think about the motivations of the person on the other side of the table when it comes to money — zeros make a big difference."
Seibel's other key points included:
Make a plan allowing you to build something without a lot of money.
Have engineers and coders on your team; outsourcing those functions can work against your business.
Focusing on a small market is fine; even if just a small group of people love your product, the best investors aren't going to require you to look like Google before writing a check.
Good founders should be able to provide investors and customers with a picture of the future they can believe.
If you're trying to get an investor's attention, don't stand out with stupidity; stand out because your product, team and users are good.
When an investor tells you what you need to do, don't go back to them if you haven't done it.
Keep moving the balls forward.
In fundraising, speed is key.
"When you think about startups, it's your opportunity to change the world," Seibel added, "and far better to work on a problem you care about than something you thought was cool."
Betsy F. Perry is a freelance writer based in Miami and New York. Email her via [email protected].
R
Recent Content