PUBLIC SPACES AS INFRASTRUCTURE: HOW TO USE FEDERAL STIMULUS DOLLARS TO ADVANCE EQUITY AND TRANSFORM OUR CITIES
Knight Foundation believes that public spaces play an essential role in connecting and attaching community to each other and place. This hour-long lab will focus on how communities can leverage federal dollars for public space to advance equity and transform cities.
Hear firsthand from Kelly Jin, Julia Day, and Eamon O'Connor on the most recent Gehl and Knight Foundation report findings, followed by conversation with moderator Kyle Kutuchief, Knight Foundation Director/Akron – Community and National Initiatives Program, and panelists Joe Cortright, director at the City Observatory; Ronda Lee Chapman, equity director at the Trust for Public Land; and James Hardy, deputy mayor at the Office of Integrated Development for the City of Akron to discuss real life examples of how a city is thinking through this extraordinary moment in time.
---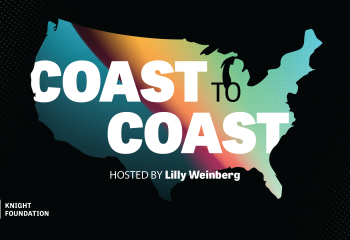 "Coast to Coast" is a weekly Knight Foundation show. Hosted Lilly Weinberg, Knight director in the Community and National Initiatives program, the program will take a weekly deep dive into cities and the important ideas and insights that move them forward.
Coast to Coast