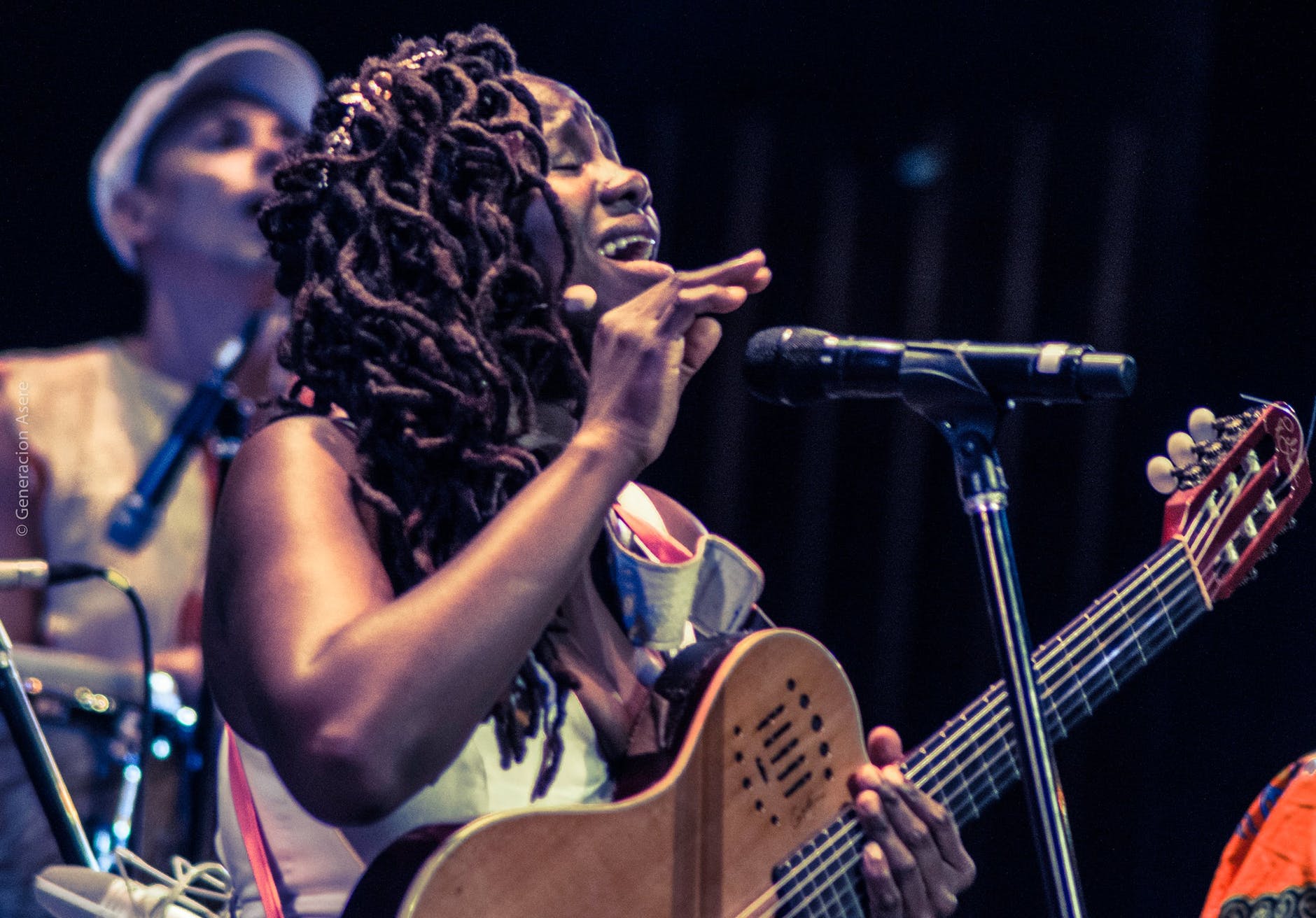 MIAMI – Aug. 14, 2017 – The John S. and James L. Knight Foundation today named 107 Knight Arts Challenge Miami finalists, all of whom are vying for a share of $2.5 million. This is the 10th year for the community-wide initiative funding projects that help make art general in Miami.
The finalists propose a range of projects that use the arts to explore the city's ever-evolving identity, employ technology and other mediums to energize public places, and create partnerships that connect new audiences with the arts.
"The arts inspire and challenge us, but they are also one of the things that brings this wonderfully diverse community together. After 10 years, we continued to be delighted by the high-quality arts ideas from neighborhoods around South Florida," said Victoria Rogers, vice president for arts at Knight Foundation.
Knight Foundation funds the arts because of their ability to inspire communities and connect people to each other and to their city. The challenge is part of a two-pronged strategy that supports established arts institutions to help them better engage the public and funds grassroots initiatives of individual artists and organizations so that everyone has a chance to make their idea a reality.
A full list of the 2017 finalists is below and at knightarts.org. Knight Foundation will announce winning ideas at a celebration on Dec. 4, 2017.
The Knight Arts Challenge Miami is open to anyone and applicants follow just three rules: 1) The idea must be about the arts; 2) The project must take place in or benefit Miami; 3) The grant recipient must find funds to match Knight's commitment within one year. Applicants propose their idea in a user-friendly 150-word application.
For Knight Arts Challenge updates, follow #knightarts and @knightfdn on Twitter and Instagram, and Knight Foundation on Facebook.
2017 Miami Knight Arts Challenge Finalists
After School Film Institute
To develop the next generation of filmmakers by expanding a program for low-income teens that teaches them all aspects of the industry under the supervision of noted local industry professionals
To celebrate Caribbean art and culture with a month-long concert series and family festival in Hollywood ArtsPark
To brighten Liberty City by having local artists and students turn deteriorated bus stops along Martin Luther King Boulevard into works of art
To explore virtual reality as a form of artistic expression with a series of experiential workshops for filmmakers of all ages that culminate in a VR project available for public viewing
To introduce Spanish playwright Federico García Lorca to a new generation with a 21st century, bilingual adaptation of his trilogy "Blood Wedding," "Yerma" and "The House of Bernarda Alba"
To use the arts to aid in healing by expanding a program that offers art classes to teenage survivors of sex trafficking
To explore a chapter of Miami's history through a youth-led art project where Liberty City students study the remains of the segregation wall on Northwest 12th Avenue and create a living memorial for the site
To transform the complex's silos, visible from I-95, by commissioning resident artist Troy Simmons to transform them into a permanent contemporary art installation
To show the connections between dance, spirituality, identity and culture with performances that look at dance traditions in Miami's Caribbean and Latin-American communities
To spark dialogue with Curator Culture, a public conversation series hosted by musician Questlove, founder of The Roots, and Tom Healy, former Fulbright Scholars program chair, that explores challenging contemporary issues through the lens of art and culture
To promote the art of improvisation in performance art and film through an international improv festival to take place in both Miami and Havana
To document black community life by digitizing family photo albums, combining them with photographic portraits created by photographer Johanne Rahaman and presenting them in public exhibitions and innovative media platforms
To ensure Miami women filmmakers' stories are told in film by expanding funding and support for their work through the NoBroZone grant program
To make music accessible to all in Miami by celebrating international Make Music Day with performances in public spaces throughout the city augmented by interactive technology, in partnership with the Rhythm Foundation and Guitars Over Guns
Broward Public Library Foundation
To foster creativity by expanding a Coconut Creek library makerspace into an art studio that features co-working and exhibition spaces and supplies for walk-in, make it and take it art projects
To inspire a new generation to become art patrons and collectors through Commissioner, a quarterly series where local artists create works on Miami themes, patrons subscribe to them and contribute to the commission, and the art is celebrated at an event
To tell the stories of South Florida neighborhoods and document the lives of the people who live and lived there, through an interactive art installation that captures audio and video and overlays it with images of those areas today to track people's cultural contributions
To experiment with theatrical formats by inviting two world-renowned theater directors to produce plays in the center's microtheatres, located in shipping containers, where each 15 minute play has a full narrative structure but is part of a larger story that audience members can see in any order
To bring more culture to the city's downtown by expanding Ritmo Doral, an international cultural event that will connect local artists and community members with artists in Doral's sister cities
To enliven a city park with Miami Solar Art, a solar panel-filled installation that uses the sun's energy to power an animated dance floor at the entrance to a city park
Community Arts and Culture
To celebrate Afro Roots Festival's 20th anniversary with 20 satellite events – from master classes to concerts, lectures and interactive kids programming – throughout Miami-Dade and Monroe counties and featuring renowned African musicians
To celebrate Latin jazz by having Cuban-American MacArthur Genius Award-winner Dafnis Prieto lead University of Miami music students in a big band concert of his new works
To provide a platform for an emerging choreographer by commissioning Miami native, dancer and choreographer Christopher Rudd to create a new ballet
To celebrate a cappella music by creating the nation's only bilingual a cappella festival, featuring music performed in Spanish and English
Deering Estate Foundation
To provide a platform for emerging artists, comedians, musicians and poets with Sugar Rush!, an incubator where artists can test new work
To celebrate African arts with a maskmaking workshop and performance series for adults and children focused on the mask and performing arts traditions of Africa, the Caribbean and Latin America
Dimensions Dance Theater of Miami
To help keep local dance talent in Miami by offering professional opportunities at Dimensions Dance Theater of Miami, which will be based at the South Miami-Dade Cultural Arts Center
To cultivate the positive impact of poetry by offering the incarcerated workshops inside prisons, writing exchanges with the public and apprenticeship programs – creating a "poetry to prison" pipeline
To create a musical score for a handcranked "Oriental Organ" – one made in Miami from Cuban models – which will be used in a production of Ibsen's "The Lady of the Lake"
To develop future filmmakers through an after-school and summer program that trains high school students living in public housing to tell stories about their lives and communities
To help Miamians explore iconic Stiltsville, the seven homes on stilts in Biscayne Bay, with a virtual reality documentary that looks at the structures, their caretakers and the underwater life formed under their protective shelter
To explore the music that has influenced Miamians through a web series featuring artists deeply inspired by the roots music of their homeland
To provide a platform for critical discourse on the Miami arts scene by expanding the Internet radio show "LIVE Fresh Art International" with a new virtual platform
To explore issues of immigration and the refugee experience by commissioning the renowned Danish artist collaborative SUPERFLEX to do a site-specific work at Miami's Freedom Tower
Front Yard Theatre Collective
To create an interactive, Miami-centric play that takes place along a bicycle-guided tour of the city and touches on issues of sea level rise, transit and the Magic City's history
To nurture the careers of the city's hidden talents, many of whom recently immigrated to the United States, by expanding its successful "From El Barrio to the Mainstage" program to mentor under-represented theater and dance artists
Glades Community Media Project
To highlight the story of Pahokee, a rural Palm Beach County town populated primarily by people of color and new immigrants, with a feature documentary that follows four high school students coming of age worlds away from the economic advantages of coastal South Florida
To delve into the story of Cuban artist José Aponte, executed in 1812 in part for creating a now lost book of 80 paintings for slaves in sugar mills, with an exhibit that explores both his work and contemporary artists' reactions to it
Historic Hampton House Community Trust
To inspire conversations on timely topics through film by partnering with Florida International University and Miami Jazz and Film Society on a film and discussion series
To explore issues women face today through an Art Song performance that combines the work of Cuban artist Ana Mendieta with a musical program presenting the work of high-caliber female composers and musicians
To turn the hotel's highly-visible digital facade into works of art by having Fringe Projects commission or select quarterly video interventions for this and the InterContinental's many interior displays
To examine three pressing issues facing Miami – transit, sea level rise and poverty – and inspire action on them through a trilogy of books by local authors
Joseph Papp Yiddish Theatre
To help reinvigorate Yiddish culture for mainstream audiences by presenting a Yiddish "Death of a Salesman" in Miami, with English and Spanish supertitles
Juan Barquin and Trae DeLellis
To build community, entertain and educate with Flaming Classics, a curated film series that pairs classic films from the queer canon with live performances from local drag artists
Juan Barquin, Hans Morgenstern
To provide critical discourse around film in Miami with a quarterly journal and online site for Miami's growing community of cinephiles
To illuminate the musical and theatrical contributions of people of color with a series of performances of works by African-American composers or inspired by African-American history
To educate and empower low-income communities to tackle important issues like climate change by having visual artists explore these themes and the challenges that lie ahead
To provide opportunities for emerging and midcareer creatives with a curatorial and artist residency program in this Little Haiti studio space and gallery
To bring art into people's everyday lives with the Commuter Biennial, a series of artistic interventions by emerging artists that take place in the suburban communities of Kendall, Sweetwater, Westchester, Cutler Bay and Homestead
To preserve the history of 1970s South Beach and the Jewish retirees who lived there by restoring the photos of lauded photographer Andy Sweet and publishing them in a book
To tell the stories of Key West's liveaboard community, boat dwellers who anchor in the shallows off Key West, in a photo narrative that explores this community living on the island's, and society's edge
To spread knowledge of and appreciation for tango by organizing a free outdoor milonga, a social tango dance party where people can take lessons and observe professional dancers
Miami Dade College/MDC Live Arts
To explore Muslim identity through the arts by presenting artists who individually and collectively defy popular stereotypes, and including a group that will use the elements of hip-hop to create new work with students around racism, xenophobia and Islamophobia
Miami-Dade County Department of Cultural Affairs
To solidify Miami's reputation internationally as a center for arts and culture by hosting the 2018 Creative Time Summit, one of the world's largest conferences on art and social change
To help artists bring their work to new heights by expanding the organization's artists-in-residence program bringing Miami creatives together with artists from around the world to work alongside and with each other
To experiment with new ways to present opera by producing works in nontraditional spaces that are transformed into stages with 3D projection mapping
To explore a piece of the city's history by partnering with local filmmakers Billy Corben and Rakontur Productions to create a stage adaption of their acclaimed documentary "Cocaine Cowboys"
Miami Urban Contemporary Experience (MUCE)
To bring new digital storytelling mediums including virtual reality to urban spaces like Little Haiti, Liberty City, Hialeah and Richmond Heights through exhibits at South Florida WebFest
Miami Wind Symphony and Miami-Dade Commissioner Dennis Moss
To engage Miami-Dade youth in music with the Youth Bands of America program, which will form marching bands composed of students who live in low-income communities to play at youth football games
To heighten awareness around climate change and showcase solutions through DEEP SEE, a multimedia installation that includes artists working in virtual reality, video, light, sound and performance
Mideastern Dance Exchange Inc. DBA Hanan Arts
To foster dialogue between Miami and Havana through film screenings, dance workshops and live performances on the themes of diaspora, dance and identity explored in the documentary film "Havana Habibi"
To experiment with technology and art by expanding the collective's offerings to include an augmented reality experience
Monroe Association for ReMARCable Citizens
To expand the bounds of creativity with the Smallest Parade in the Universe, where artistic floats the size of a shoe box travel on a conveyor belt while float photos are projected on a large screen, creating a larger-than-life cartoon experience for the audience
To present South African artist William Kentridge's Triumphs and Laments: A Project for Miami, which combines the artist's animated film series and theatrical works in combination with musical performances at Miami Beach's Soundscape Park and Downtown's Bayfront Park
To present new, multimedia work from Kaoru Ishibashi, a Japanese-American singer, songwriter, and multi-instrumentalist exploring the involuntary internment of Japanese, German and Italian-Americans during World War II
To use dance to explore two cities' relationships to water by collaborating with Detroit's Artlab J on a performance examining the importance of the Miami and Detroit Rivers
To honor Brownsville's Lincoln Memorial Park cemetery and the lives and stories of the city's black luminaries buried there with an art and research project led by artists Domingo Castillo, Adler Guerrier and their collaborators
To build on Miami's spoken word scene by creating Taberna Fábula, a live storytelling series in Spanish at the Olympia
Opa-locka Community Development Corporation
To inspire the next generation of creatives through an artist residency where local poets of color work with middle school music students to write, perform and record new works
To chronicle Overtown's musical history – from the early 1900s to today – by having students in the challenge-funded Beats Academy create, record and tour a multimedia project that tells the neighborhood's story
PATH: Preserving, Archiving & Teaching Hip-hop
To introduce teens to Miami's landmarks by having them create site-specific performance pieces that explore their stories and traditions, under the leadership of director Teo Castellanos and Brimstone127
To bring the arts into people's everyday lives by presenting established musicians in diverse performances at Metrorail stations on Monday mornings
Performing Arts Center Trust
To build community through song by partnering with acclaimed Massachusetts-based Young@Heart to build a chorus of seniors who perform popular music not typically sung by older adults
To bring attention to West Palm Beach's music community by expanding Bumblefest, which features local bands from the tricounty area performing on multiple stages throughout the city's downtown
To support the knowledge of global African Diaspora arts and culture with a new gallery and an array of multi-arts community programming in Liberty City
To celebrate Steampunk, a genre of science fiction that envisions a technologically-advanced future as seen through the eyes of someone living in the Victoria era, with an event featuring its representations in the arts
To create a sound art gallery for the city by redesigning its space at ArtCenter South Florida to host sound art residencies that lead to exhibitions
To tell the story of Miami's first African-American burial ground, Lincoln Memorial Park Cemetery, with an immersive art and video documentary project
To explore the international importance of Cuban modernist architects and architecture, both on the island and in the United States, with an online and traveling exhibition
To raise awareness about climate change with a pop-up, irreverent, traveling talk show where mermaids interview guests and debate issues of biodiversity, global warming and other environmental challenges that affect life on Earth
To tell the stories of South Florida's pioneer families through Foreverglades, an interactive photography and photo book exhibition in downtown West Palm Beach
South Florida National Parks Trust
To celebrate Biscayne National Park's 50th anniversary with art-driven events including exhibitions by emerging artists inspired by the park, musical performances and more
Southeast Overtown/Park West Community Redevelopment Agency
To help bring high-quality, live musical performances back to Overtown through a monthly concert and workshop series held at the new Overtown Performing Arts Center
To tell uniquely Miami stories with a production of short plays by local playwrights about Miamians, while maintaining gender parity for playwrights and directors
Theatre Lab, the professional resident company of Florida Atlantic University
To empower at-risk and incarcerated youth in Palm Beach County to reflect on and share their stories through theater workshops led by industry professionals and teaching artists, leading to a production of their work
To help Liberty City teens develop a passion for and prepare for careers in the arts by creating a stage management, lighting and sound training program at the Sandrell Rivers Theater
To share the perspectives of Haitian writers by offering a three-week residency for authors of note and translating their works for publication in the Rail
To bridge generational and cultural divides through the universal power of music with a podcast where African-Americans play "DJ for a day" and share the soundtracks of their lives
National YoungArts Foundation
To spotlight Miami talent by bringing locally-raised YoungArts alumni home for week-long residencies, and showcasing their new works in the neighborhood where they grew up
To showcase emerging world music with a festival curated by Grammy Award-winning Spanish composer, guitarist and producer Javier Limón at the North Beach Bandshell
SWWIM (Supporting Women Writers in Miami)
To promote Miami's women writers through a reading series, a podcast and public arts projects where, for example, poems are inscribed at the bottom of pools or on lifeguard stands
To examine a pressing issue in Miami, immigration, by dedicating the 2018 International Hispanic Theatre Festival of Miami to the topic, and commissioning a playwright to write a piece on the topic that will premiere there
To bring Miami together through a web series, "Miami Irregardless," that captures funny and sad aspects of Miami life told in interconnected vignettes
Third Horizon Caribbean Film Festival
To expand opportunities to view Caribbean-American film by programming for the festival by commissioning work from emerging Caribbean and Caribbean-American filmmakers
To preserve the tradition of rara, or Haitian festival music, with year-round workshops in Little Haiti that culminate in the creation of a youth rara orchestra/band
Tribal Arts Project – Upper Room Art Gallery
To raise awareness about the danger of discarded balloons in Florida waterways by collecting old balloons, then inviting tribal members to use them to create panels of indigenous patchwork designs in a large-scale artwork
To bring Cuban dance into people's everyday lives by presenting pop-up Afro-Cuban performances in Little Havana's public spaces
To provide a hub for artistic talent in Little Haiti with a series where local singers, dancers, storytellers and other creatives tell the stories of traditional Haitian culture and the modern Haitian-American experience
To bring more art into communities with a series of nomadic exhibitions of national and local artists and curated by Gladys-Katherina Hernando in empty commercial spaces
WDNA 88.9 FM Public Radio
To expand the station's nascent Miami Downtown Jazz Festival with jazz piano and festival poster competitions and a jazz jam session
West Palm Beach Community Redevelopment Agency
To create a cultural hub in the city's Northwest community by having residents and community artists work with artist Lily Yeh to create a block-long sculptural park
To celebrate South Florida and all its quirks by commissioning playwrights to create radio theater plays inspired by real stories in the news, which will then be performed on stage and broadcast on WLRN
To expand the conversation around the visual arts in Miami by growing Work Untitled, a Miami-based artist magazine that gives most revenues from magazine sales to participating artists
To bridge generations with art by inviting African-Americans living in Fort Lauderdale's Sistrunk area to share their stories and art over a barbecue meal, document their songs, dance and poetry and then share it with the larger community
To inspire both space and sea exploration with Over/Under, a multimedia exhibit created by local artists that takes visitors to a digital aquarium of corals off Miami's coasts and to the surface of a faraway planet
To introduce jazz to Overtown youth by working with the Overtown Youth Center and Booker T. Washington High School to create an Overtown Open Community Jazz Band, providing the youth with free music lessons and mentorship by some of Miami's top musicians
To nurture the development of new plays about or inspired by Miami with an incubator program for South Florida-based, early-career playwrights
Communities / Press Release

Communities / Press Release

Communities / Press Release

Communities / Press Release

Communities / Press Release

Communities / Press Release